BY OLAYINKA AJAYI
When little Beulah lost her limb as a child after suffering a missing kneecap at birth, her  mother, Crystal Chigbu, the CEO of "Irede Foundation"  after that harrowing experience vowed to provide solution to children in similar situation. In this interview, she expresses her determination to serve humanity by providing functional artificial limbs to amputated children. Excerpts:
Your background
I will liken myself to the average Nigerian woman with a large heart giving assistance to anyone that needs it. I am a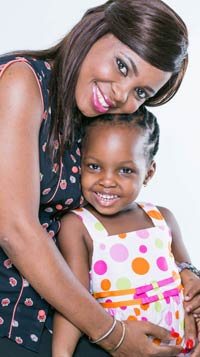 graduate of Bio-chemistry, a volunteer of IREDE Foundation. I was blessed to have the vision and like every other woman, I work for one of the FMCGs in the world.
What inspired you to start up the Foundation?
The IREDE Foundation came as a result my amputee daughter, who is about fouryears old. She was born with a congenital limb infection and we were told that they had to amputate her leg. So out of worry, it took us about two years and three months to do that.We amputated her as a child. She currently uses artificial limbs and that was what spurred me to start IREDE Foundation.
When did you actually start the Foundation?
The Foundation started precisely 23rd of August 2012, but the plan began in June 2012. We had done six limbs on five children and presently, we have a child that both legs have been amputated.
How do you source for funds?
It cost us about N1 million to get one limb done and so far, it cost about N8 million to fix the limbs of six children. Today, most of our funds come from friends and kind- hearted people from all over the world who go out of their way to give their widow's mite to see children fulfilling their dreams in life. Indeed, it is a lot of work for the team rendering voluntary and selfless service to see a child become great in life. As a result of the instability of costs in providing limbs for children, we always inform our donors on the fluctuation of the costs and how we expend their generous donations.
What are the challenges?
The biggest challenge we have today is cash because we cannot just walk up to people and start requesting for N1million to fix a limb for a child. The second challenge is that materials to be used are not always available in Nigeria. We work with doctors from different parts of the country. Sometimes, there is delay in the importation of these materials and sometimes, we would have projected to spend one month with a child and we'd end up spending three months trying to fix a limb for a child.
Are there times you get frustrated on the job?
Well, for every great project, sometimes you get discouraged especially when the project is not flowing in line with plans. Sometimes, if we had planned to treat a child within a month and it is taking longer period, it could be very challenging and frustrating. Also, there are times when we are sourcing for the funds and it was not forthcoming, it could be very challenging and most times we will feel like quitting. But as a mother of an amputee, I feel very cold and seriously challenged.
How have you been able to conquer these challenges over time?
It takes the grace of God to keep moving on with a capital intensive project such as this and when I look at my team who are committed to the projects, it builds my inner strength and makes me to be more committed to the project as well. I also derive joy in seeing smiles on the faces of the children.
You talked about walking on 24 limbs in the next quarter, how feasible is it to achieve considering the cost?
Determination is our driving force and since there are children who are in need of it, we put our strategies in place and the funds will definitely come. As a matter of fact,we are looking towards the time IREDE Foundation would deliver about 250 limbs within a year not just in South-West but in every part of Nigeria.
What will you say is your philosophy of life?
I believe that when you do not see yourself restricted, people will see you as someone who will achieve something great.
Subscribe for latest Videos