It is 20 years since one of Africa's most recognisable faces made his first mark on the international stage at the FIFA U-17 World Cup Japan 1993.
In the centre of Tokyo's Olympic Stadium, Nwankwo Kanu lifted his first piece of international silverware of what was to be a prestigious career, but also took his first steps to becoming a legend in the green of Nigeria.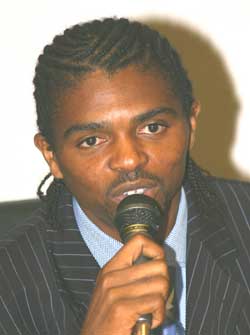 Speaking to FIFA.com, the former Super Eagles forward looks back on his trip to the Far East fondly, having opened up the path to becoming his nation's second-most capped player.
"It's a long time ago isn't it! I've got great memories of that tournament," he said from Lagos. "Representing your country is always an honour and to go on and win the tournament was huge for all of us in the team – it helped put us on the map.
"Personally I did well, and it started me on the road to joining clubs like Ajax and the ones which followed, but without it I wouldn't be here today. It was very important."
The tournament began well for the former Inter Milan and Arsenal man, scoring in just the first minute of Nigeria's opening match against Canada, on the way to scoring 14 without reply in a group that also contained Argentina and Australia. "That goal relaxed me, and it's very important to score early to settle the team," Kanu recalled. "From there the team were able to gain more confidence and just grow from there."
The tournament culminated in a West African grudge match, pitting the Golden Eaglets against Ghana, making a huge game for the then-youngsters that little bit more important.
"Of course it was a big game, particularly with it coming against Ghana. They are clearly one of our major rivals," he admitted, "but while we are brothers there is always this desire to be the better than one another."
Goals from Wilson Oruma and Peter Anosike secured a 2-1 win, and the fact it was against the Black Starlets made it all the sweeter for Kanu and his team-mates. "Because it was between the two of us it was even bigger. It meant that when we walked away with victory it was almost a double win!"
Talent production line
It was Nigeria's second title of three so far at the FIFA U-17 World Cup, as well as claiming a further three runners-up medals, making them the most successful team in the tournament's history. "In Nigeria we are blessed with talent, and we have a lot of young players coming through," he said. "Any opportunity given to them, they want to prove something."
The veteran forward believes there's no reason why the latest iteration cannot take up the mantle and continue their world-leading performances in UAE. "I've watched them play. I've seen how they perform and since then I've believed they could be a champion, so let's hope they can go do that, as they have a good team."
Kanu's exploits in Japan led him to pulling off arguably his finest achievement in the green of Nigeria, when the team claimed gold again at the 1996 Olympics in Atlanta, USA. The tournament even began memorably for him, smiling broadly as he recalls the opening ceremony. "I remember when I was there, being asked to be an Olympic torch bearer, it was something special. For us to go there, becoming the first African team to win it, beating three some huge teams in the process, is something special."