By Charles Mgbolu
A video showing Nollywood bad boy Jim Iyke in a deliverance session at the Synagogue Church of all Nations has surfaced online.
This is not a movie. The video captured the actor thrashing about and in fits as a group of men believed to be part of a prayer team at the church battled to restrain him while another continued to scream "Out!!"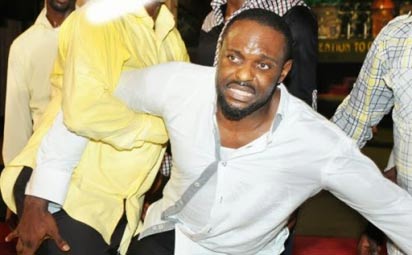 The Synagogue church has posted a confirmation on their Facebook wall that indeed it was the actor who was delivered.
Their statement reads in part… As Wise Man Daniel ministered prayer in Jesus' name, Nollywood Actor Jim Iyke, of international fame, was arrested by the power of the Holy Spirit. The evil spirit that had tormented his life for so many years began to manifest, confessing that it was the cause of his setback and disappointment. It (evil spirit) confessed that it was the biggest and that it was only God's grace that had kept him (Jim)…
The actor has also confirmed his deliverance at the church…
Watch video of his deliverance session here…
Subscribe for latest Videos