By Desmond Ovbiagele
Some attribute this cruel but recurring phenomenon to nerves, burnout, inferiority complex, inadequate preparation, inexperience, unpaid allowances … there's a whole host of reasons why that green and white vest continues to flap futilely in the wake of the overachievers (usually several meters ahead).But none of them provides any relief to that dull ache in the pit of the stomach created by swelling hopes that have been abruptly violated.
So … if the foregoing is true, why the quiet exuberance on August 10? A proclivity to masochism?
No. More like the steady rise and rise in the months leading up to August of the Sapele Gazelle (a title I only came across for the first time after the World Championships; success is good)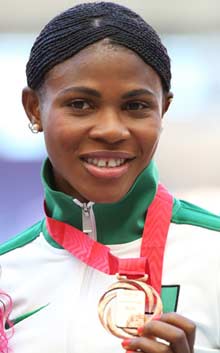 Yes, starting from the onset of the outdoor season last May, Blessing Okagbare slowly but surely launched a quiet but relentless assault on every barrier that stood between her and a place in the history books of athletics.
An unheralded long jump bronze medallist for Nigeria at the 2008 Beijing Olympics, she broke into unchartered territory in 2013 by leaping out to the magical 7.00m distance for the first time in her life (whilst also possessing 3 of the 10 leading jumps in the world this year).
Her sprinting feats this year have been even more spectacular; she –
'Yeah, yeah … we know Okagbare. Isn't she the one who carried last in 100m final at last year's Olympics after teasing all of us by winning her semi finals in a 10.92s personal best??'
Well, that was last year. Her first major sprint final; the result a distant memory, an irrelevance compared to her exploits in 2013.
A year in which she inched ever closer to her pint-sized Jamaican Olympics conqueror in their series of battles on the athletics circuit, culminating in a comprehensive victory in London, right on the eve of the World Championships, where she broke the African 100m record twice in one day, running 10.85s then 10.79s. If this was not enough, she had also set a personal best of 22.31s in the 200m during the course of the season.
Yes, the lingering taste of several bitter pills of disappointment swallowed on past occasions was still there. But this year felt different.
For the first time, here was a genuinely world class Nigerian athlete who was in the absolute form of her life at just the right moment; in contrast to her compatriots who in times past frequently arrived at the major occasions as hollowed shells of themselves, burnt out from chasing lucrative dollars on the gruelling circuit with no restraints whatsoever imposed by the sports supervisory officials who instead were greedily tallying up the avalanche of medals expected.
Even the international media, in the wake of recent high profile doping scandals and the attendant paucity of genuine competition to a certain Usain Bolt, switched their hyperbole artillery to the women's sprints and commenced to ignite the airwaves with the latest compelling rivalry in athletics: the double Olympic, double World 'pocket rocket' 100m Champion from Jamaica versus the leggy multi-eventer from Africa whose penchant for sluggish starts combined with an explosive kick made for a truly mouth-watering contest in prospect.
Yes, there were theoretically a few other potential title contenders including the usual feisty Americans and the ever-smiling Ivorian, but they could scrap it out for bronze. Gold and silver had been long destined for Nigeria and Jamaica; only the order of merit was in question.
So for the first time in my life, I became an unabashed apostle of Nigeria's prospects at a major athletics championship.
I preached to the unbelievers, those who still wallowed in the self-pity of heartbreaks past, those deliberately hardened by a shell of cynicism donned in self-protection from another rapacious assault on their tender expectations, those who had switched emotional allegiance to Chelsea, Roger Federer, Lionel Messi, Real Madrid, Tiger Woods or anywhere else (Arsenal excluded) where morale-boosting victories and super-human heroics were not just available but guaranteed.
I assured them it was a new dawn. A new day. The storm was over. The light had come. Forget the other members of our selected contingent (none had turned up any noteworthy performances during the season, and the World Championships featuring the sport's elite athletes consumed with patriotic fervour was never going to be the place to begin).
This was the chosen one. Had I not studied her assiduously throughout the season? Watched her pre-race facial expression slowly change from the former wide-eyed pleasure of one just happy to be in the same starting line-up with the world's best, to the stern focus of the battle-ready warrior for who second position was now equivalent to ignominious failure? Was she not even aptly named for her mission – to be a blessing to her oppressed countrymen and women, waiting for deliverance from perennial underachievement?
My friends scoffed, mocked, grumbled, appealed for reason … but slowly I saw a faint light of hope dawn deep in their eyes. They were hungry to believe. As I already did.
The first twinges of disquiet came when, knowing my irrepressibly optimistic compatriots, I investigated a suspicion and discovered that the gazelle from Sapele had been registered for combat in 4 events at the Championships, three of which were individual (100m, 200m, Long Jump; plus the 4x100m relay).