For Senator Francis Spanner Okpozo, an elder statesman, the current state of affairs in  Nigeria leaves much to be desired.
Not one to keep sealed lips when speaking out is called for, he flayed the alleged role of the Presidency in the Rivers State crisis, backed the call for the removal of the state Commissioner of Police over his alleged involvement in the impasse, and advocated harmony among power brokers in the South-South in this interview with Saturday Vanguard's SIMON EBEGBULEM.  Excerpts:
What's your view on the Senate's recent decision  to jettison the agitation for autonomy of Local Governments and six-year single tenure for governors and the President?
That decision is in pursuance of the presidential system of government that eight years is enough for any political office holder to perform, and that is a system that led to the establishment of a Republican constitution. So it would be wrong for Nigeria to make a renovation fundamentally different from what the American system entails.
So since the American government has been maintaining that system well from the inception of that constitution, it is left for Nigeria to emulate them.
So there is nothing wrong about the rejection of that six-year single tenure by the Senate. It should be eight years, four years' tenure each. And for the issue of Local Government autonomy, the Senate is totally wrong in their decision. It means they are not taking the feelings of Nigerians into consideration.
That constitution that has to do with local government autonomy has been there all the time, and until the military era, the funds of the local governments were well manage.
There were developments at the headquarters of the local governments. But today, no roads, no water and who is responsible? It is the state governments. When the money comes, they share it amongst themselves and give little to local governments. The local governments will not have enough to pay salaries let alone buy equipment like bulldozers and others. So, to insist that they will not be made autonomous, it means the Senate is conniving with the state governors.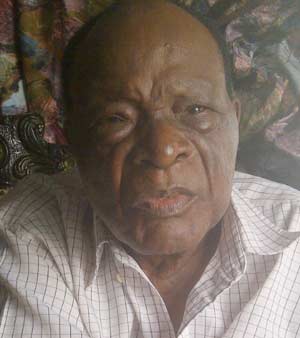 They carried out a public hearing and everywhere they went, people said local governments should be made autonomous. So when did they come up with this decision? It was unanimous that local governments should be autonomous, the senators cannot go and make an alteration to the decision of the people.
We sent them there. What they have done is an illegality, it is not the voice of Nigerians. At this juncture, I urge the House of Representatives to take over the leadership of the legislature by voting according to the wishes of the masses of Nigeria and override them with their numerical strength.
How many of them are in the Senate? Ninety three. They cannot mislead Nigerians. It is the duty of the House of Representatives to overrule the decision of the Senate by their voting. And if the law is manipulated, the  President should not sign it.He should reject it because that is the wish of Nigerians.
Is the crisis in Rivers State necessary?
It is my appeal to the President to see that there is no fire in his house. Somebody who is preparing for war cannot wage war in his house. What is happening is that the President is waging war against his people in the South. Until the creation of Bayelsa State, the President was resident in Port Harcourt. Now, having gone to Bayelsa, he should be a father maintaining two states. It is to his own credit because they are people of the same blood. They are people who have lived together for a very long time.
It is economic and political considerations that made them to be separated. So the President should stop listening to those people surrounding him, giving him wrong advice. Even if the advice is coming from his own personal house, he should reject it because Rivers is his own, Bayelsa is his own. Elaborately, they will talk of South-South because of the political division they did by dividing Nigeria into six zones.
The President should see everywhere in this country as his home, not to talk of causing crisis in his house. It does not speak well of his administration. If he travels to the North, Sokoto and other places to make peace, why not his own house? How can five legislators go and say they impeached a Speaker in a House of 32? Even those who did that should have been apprehended long ago. So my advice to the President is that he should not encourage crisis in his house.
Nobody is happy in the South because we all are praying for peace  which will help him in his political career. Without peace, there will be no progress anywhere and those legislators causing unnecessary crisis for Jonathan should go home and rest. They are not helping him or the people of the South-South.
How do you view the persistent comments from the First Lady of the Federation and some of the President's aides against some influential Nigerians?
People will always make their comments, but as a President, you take what is good and leave the bad ones. People have different opinions about issues. A President can make mistakes and people can correct him with their comments.
There are some persons who are mature that speak the truth. Nwabueze, Wole Soyinka, these are people who are mature and are not looking for political appointments.
They just want to enjoy peace in their country. An old man cannot run fast, it is only young men that can carry their bags to the airport and run away but we old men cannot run anywhere. So, they have a right to advise the President and the President should listen to people like that. But there are people working with Jonathan who are not even good enough to step into the gate of the Villa. He calls them brothers and his elders, but those are the people giving him wrong advice. He should stop them from entering the Villa.
I will not advise the President to do something wrong, and it is good to tell him the truth when he errs because the truth is an order from God which nobody can fight. But if you begin to manipulate things because of your selfish ethnic interests, then you are fighting against God and it does not take long before you see the consequences. Jonathan should listen to the elders.
I have not seen where Mr President has said 'there are many tribes in this country, let me spend a week to know the opinion of each of the ethnic groups.'  That is how a good ruler should behave. When Obasanjo started his regime, he invited some elders like us and we told him our own opinion. But since Jonathan entered there, he has never called any Isoko leader or Nupe leader to ask them what their problems are or even gone to Kaduna where you have different ethnic groups to ask them what their problems are.
There are people he has not seen in his lifetime that will tell him the truth. I am not asking him to call me, but there are people God gave us in this country that can advise him better. Unfortunately, the President is not accessible to the people.
If he were accessible to the people, they would tell him the truth. Let the President spend one week to ask people their problems or he should detail sincere people to source for information for him that will help him. He can even select people  who are not connected to his government; they will tell him the truth. Will I be writing an application to Mr President that I want to see him? See him for what?
He is the one that will ask for advice. Like in Rivers State now, you have Ikwerre people, you have Ogoni and all that, call them individually and they will tell you what is wrong with the Presidency, what is wrong with the state government and what is wrong with the legislature. He has advisers but because they are receiving salaries, they tend to tell the President only what he wants to hear. They don't tell him the truth but there are people who can tell him the truth. They can even tell him off whether he likes it or not. So, that is the mistake the President is making.
The crisis in Governor's Forum is still on
I have said it before that it should be abolished. Abolish the NGF, give them their entitlements according to the law. If every governor is getting his own share of what accrues to their various states, they have no business going to Abuja every day.
The governors are squandering our money, they travel abroad every day, carry retinue of servants saying they are touring. If there is any constitutional issue that they are not happy about, they should inform the public and not  the President. What should even bring the governors and the Presidency together is the issue of security. Another thing is the issue of finance.
If the revenue allocation is not well shared, the governor can raise alarm that I am entitled to this amount but this is what I was given. It is not about gathering the whole governors to look at every corner where money is coming from and begin to question the presidency.
They can question the President on how the money is collected and how much is collected, not a governor going to Abuja everyday and carrying lots of women,saying  they are serving the people. Governors should be banned from traveling abroad. What are they bringing into their states? I could remember from 1979-1983, Governor Aliu was here. How many times did he travel out?
The way they travel nowadays does not show financial discipline. How many times have you seen the Governor of Lagos traveling? Governors  should learn to sit in their states. The money meant for the people are being squandered, so, that forum should be stopped. And it should not be used as an avenue of militancy against the President. Governors should concentrate on how to help their people.
The problem between the Commissioner of Police in Rivers State and Governor Rotimi Amaechi brought to mind the agitation for state police, what is your take on that?
The Federal government manages the police, the Army and other security apparatus but they must not misuse them. There are some governors too who have been using police to oppress their people. But the Police Commissioner  cannot say because he is under the Federal Government, he cannot respect the Governor of the state . That is wrong because the Governor is the Chief Security Officer of the state.
The authority of the state rests on the Governor. People voted for the Governor but a Commissioner of Police is appointed by the IG. A situation where a policeman will want to dictate the affairs of the state for the Governor is very wrong. I remember when I was in government, there was a Yoruba man who was posted here as Commissioner of Police in the then Bendel State. He was trying to exercise superior powers, Shagari was in power then but we told him no way, not here. So we went to the Inspector General of Police and we told him we don't want this Commissioner of Police.
As a result he was posted out of the state. If a Governor says a Commissioner of Police is not cooperating  with him in the areas of security, he has the right to cry out as the Chief Security Officer. Police means peace. They should not bring crisis to any state. So what happened in Rivers state is highly condemnable.
Arewa Consultative Forum has insisted that the next president must come from the North in 2015. What are your thoughts on that?
I will not be at loggerheads with the Arewa Consultative Forum. It is a political organ. It must try as much as possible to preserve its own interest and that is why it is coming out with this position. But let Nigerians know one thing clearly, that there is no provision in the constitution that warrants the shift of power to the North or to the South. What brought Jonathan to power was the decision of God and not man.
Jonathan did not kill Yar'Adua. Again, Nigerians should know that this issue of power shift is PDP's constitution. PDP doesn't own Nigerians, it is not the only party in this country. Arewa is taking this matter as if the PDP constitution is Nigerian law, that is their business. This PDP matter of power shifting to the North or South is PDP's constitution. It is not binding on Nigerians, it is unconstitutional.
The same thing applies to states where political leaders will be insisting that the Governor must come from here or there. It is not right because some of us believe that somebody who has the pedigree must be allowed to be Governor of a state or President. So, talking of power shift is unconstitutional. I did not say a Northerner should not be President of Nigeria when the time comes, but they must not tell us it is their turn by  causing crisis.
The North led this country for over 20 years, nobody brought this issue of rotation. Is it because they are no longer ruling that they started talking about power shift? Rotation is unconstitutional and so they should stop using it to make noise. Every group must stop provocative comments. Arewa or Niger Delta militants must stop threatening themselves.
Whats your take on Ijaw/Itsekiri crisis?
This crisis is not new to some of us but they are re-occurring due to bad governance. The crisis started when the military came into power. At that time, Rewane, late Bakomo, late Chief Agbaza and many others I cannot remember now are still alive. There was no crisis between the Ijaw and the Itsekiri. They settled themselves together. There were no  discrimination in villages.
They marry each other.  If these men I talked about were still alive, I don't think this problem will come up again. However, when the matter came up, we the Isoko played a prominent role and I initiated peace. At Okpakpor's house, I called the first meeting. Mabiakor and the leaders of Ijaws and Itsekiri assembled and we settled the problem. And since then, they were living together happily until we left office.
The Ijaw, Itsekiri and Isoko constitute the South senatorial districts of Delta state. That time, we political leaders are always gathering together, speaking to ourselves. So, we were understanding the issues and were tackling them. We had what we called the three eyes, that is, Ijaw,Isoko,Itsekiri leaders of thought. But when we left government, things changed in Delta state and they started giving the young ones who are now causing crisis the impression that they are enemies.
It now got to a point whereby if an Itsekiri man is in the council, the Ijaw man will say no, he cannot be there or Itsekiri will say no Ijaw cannot be there. So that was when elements of cheating, elements of boasting, war over oil money from the  oil wells started. Unfortunately, the government of the state is unable to manage the crisis because they are indirectly involved.
The present Governor went to bring what is called G3 and killed the Ijaw, Itsekiri,Isoko Leaders Forum. We were managing the affairs but the Governor killed the Forum. There is no common forum to manage what goes to the Ijaw and what goes to the Itsekiri. I am an elder statesman today, so I cannot lie at this age. It is the inability of the Delta state government to do the right thing that s causing the killings today.