By Donu Kogbara
GOVERNOR Chibuike  Amaechi of Rivers State – and his indigenous supporters and opponents – take delight in upsetting each other, regularly engage in vitriolic wars of words and use every tool they have at their disposals – including public funds, the compromised Nigerian legal system and their influential non-Rivers cronies – to inflict various humiliations and annoyances on each other.
Last week, Amaechi went looking for his critics' trouble – and gave them something to shout about – when he appointed Justice Peter Agumagu, the President of the Customary Court of Appeal (who is said to be his staunch ally), as the Acting Chief Judge.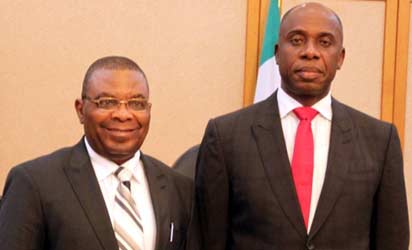 Shortly after  this appointment was announced, Emmanuel Chinwenwo Aguma, Esq, a lawyer who comes from Port Harcourt and has been a leading light of the Nigerian Bar Association for many years, distributed a written statement in which he angrily accused Amaechi of acting illegally and pointed out that:
"Section 271(4) of the 1999 Constitution makes it absolutely clear that when the office of the Chief Judge is for any reason vacant…the Governor shall appoint the most senior Judge of the High Court as the acting Chief Judge.
This week, anti-Amaechi individuals who recently seized control of the Rivers State branch of the Peoples Democratic Party, PDP, hit back by expelling 18 senior Amaechi loyalists – including the Governor's Chief of Staff, the Secretary to the State Government and the Attorney General.
Their "crime"? They failed to appear before The Committee on Performance Assessment of Political Office Holders, which sounds like a kangaroo court to me but is regarded by some as valid because it was set up by Felix Obuah, the Rivers PDP Chairman, who has not made any secret of his interest in making life as uncomfortable as possible for Amaechi and his closest associates.
Obuah's team also claims to have uncovered a dastardly "subterranean plot" by Amaechi and the Acting Chief Judge, to sabotage the upcoming PDP sub-Convention via a court injunction.
The Chief of Staff, Chief Tony Okocha, responded robustly to this allegation and the expulsions by insisting that Obuah's faction does not possess the power to expel him or his colleagues from the PDP…and that his boss was not trying to stop the convention and would not waste time on "a fight of fools".
Such toxic tit-for-tat games and heated verbal exchanges have dominated newspaper headlines for several months, not least because the President and First Lady have been accused of secretly participating in the conflict.
And many Rivers people, this columnist included, are sick and tired of a drama (which is a farce as well as a tragedy) that is undermining our state's image, demoralising those of us who prefer harmony to conflict and distracting Amaechi (who has hitherto been an impressive performer) from his duties.
The issues at stake and terrible things that have happened within the context of this battle for supremacy should not to be taken lightly.
If major stakeholders and their Governor are at loggerheads, it's a big deal. If elected local council officials are ejected from their seats, it's a big deal.
If a legislator invades the State House of Assembly with a bunch of dubious-looking followers, in a bid to unlawfully impeach the Speaker, it's a big deal.
If the House Leader is provoked and is then filmed assaulting a fellow member, it's a big deal. If visiting Governors have stones thrown at them by thugs who have been hired to embarrass the host Governor, it's a big deal.
But, even though some of the antagonists on both sides are friends and relatives whom I would rather not offend, it is my job as a journalist to be objective; and I HAVE to say that the seriousness of the situation does not change my view that some of the main players are behaving like children.
At the risk of sounding as if I am trivializing the status quo and insulting the protagonists, I must tell you that when I watch them landing hefty physical, psychological and political blows on each other at regular intervals, I shake my head sadly and wonder why they can't stop carrying on like kindergarten kids who are squabbling in a school playground over a toy that can easily be shared.
Pride of the Niger Delta
Most of them used to be the best of pals and should grow up, put their egos on hold and patch up their quarrel – which is totally soluble, if you ask me.
As a former senator said to me the other day: If they truly care about our state and want it to become the pride of the Niger Delta – and to be on a par with vibrant oil producing regions in foreign countries (Texas, for example) – they will calm down, quit tearing it apart and learn how to work together.