By Henry Umoru.
Chief Olisa Metuh, the immediate past National Publicity Secretary of the People's Democratic Party, PDP is a lawyer, a real estate manager, and an administrator.
Metuh hails from Otolo Nnewi, Anambra State. The former PDP National Working Committee (NEC) member, who has picked the form to return as the party's spokesperson, was a Zonal Youth Leader, National Auditor and National Vice Chairman, South-east.
In this interview, Metuh bares his mind on his plans as he prepares to come back to Wadata Plaza, among other issues.
You resigned recently as National Publicity Secretary of your party following what happened at the 2012 Convention. Why do you want to be returned?
When I assumed office on March 24, 2012, I made a commitment to myself and to my party to change the way we do business. We moved from a reactionary apparatus to an innovative and proactive directorate. My team was determined to rebrand this party and restore the confidence that was eroding by the day. I reorganized the publicity department into a full-fledged research and operation based directorate and created tactical units, streamlined to operate under the direct supervision of the National Publicity Secretary.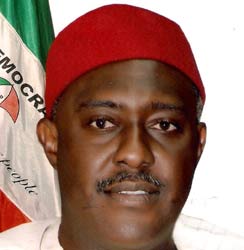 With very minimal resources, we developed many units like the media monitoring and surveillance, event planning, rebranded the Umbrella magazine to a world class content oriented magazine, arranged ministerial scorecard sessions; and created the social media unit to manage the PDP website as well as PDP Facebook, twitter, blackberry messaging, blogs. Due to our drive, our Facebook participating followers moved from less than 300 to almost 18,000 people in less than three months and the followership is still growing.
We continued to reach out using the social media even without funding from the party. All these innovations have brought great dividends to our great party. Reckless and unfounded attacks and blackmails against our party have declined tremendously. But we are not done; we have achieved all these in just 14 months. Our commitment and resolve to achieve more cannot be deterred by sabotage and elements of undemocratic process.
For me, it is not a question of just being National Publicity Secretary. It is that of building institutions. I have laid a solid foundation which has effectively curtailed negative media reportage against the party. The National Publicity Secretary of the largest party must have a sense of responsibility to help the nation to have a good image. We have more work to do. That is my drive and that is my commitment.
What stands you out among other contenders? 
While I encourage active participation by Nigerians in governance or in the political process, nevertheless every position in the work place comes with requisite qualification and experience expectations. The National Publicity Secretary of a great party like PDP is no different from other corporate entities with regards to that expectation. I possess both practical and institutional knowledge of the process necessary for the effective dispensation of the duties of this office. While these aspirants are hoping to be elected so that they can learn on the job, I bring experience, I bring capacity, and I bring access to credible relationships that help in managing the image of our great party.
As you know, I rose through the ranks of this party, from youth leader, ex- officio, National Vice Chairman Southeast and to National Publicity Secretary. I am no stranger to the workings of this party. While some appreciate these qualities, others antagonize me because of that, but I always welcome a healthy competition. That is the beauty of democracy.
What is your take on some individuals who are engaged in campaigns of calumny and law suits against you despite the fact that you have a large support base in the South-east and across the nation?
You know that success begets envy. As you rightly mentioned, I have the support of party members from the South-east and across the nation. That support comes from tested and trusted engagements over the years. When it matters, I have always stood tall with my people even at the expense of personal comfort. The records of my performance in all my previous positions are public record. The complexities of the Southeast politics are common knowledge to all, but I have been able to manage these conflicts for the greater good of our party.
While I am not perfect, I have always strived to be fair and consistent in my dispositions, and that has brought me reverence from many stakeholders and attacks by a few. That is what democracy is all about. But you will agree with me that most candidates that are driven by content and quality do not engage in politics of calumny. Just tell the people why you are a better candidate. But you cannot say that when you don't have a record. When people have no credible record of service, that's when they resort to desperate actions to destroy others.
With regard to the various law suits, I am a lawyer and therefore encouraging citizens to seek redress in court as key to sustaining a true democracy. However, engaging in frivolous legal actions amounts to abuse of the process and an attempt to deny the citizens of their fundamental rights. But these are signs of desperate people and our people are no fools. Our courts are equipped with men and women of reputable jurisprudence experience. The Supreme Court is equally taking steps to curtail these abuses.
Do you foresee any internal opposition against you?
I don't understand what and who you describe as internal, but I do know that these desperate individuals will stop at nothing to advance their cause including infiltrating the hierarchy of our party to perpetuate lies, unfounded attacks and even inquiries in my office activities seeking for anything to malign my person, my family and to undermine the good works we are doing for our party and our country. Be rest assured that we are not perturbed by this; our focus is on the opposition who is bent on undermining the good deeds of the President. If any member of our party allows himself or herself to be used by the opposition, to make unnecessary allegations, and unwarranted inquiries, that shows how much they love our party.
I hear that some elements are looking at my records to see how they can tarnish my image. There is nothing about my life family, my business and my tenure as party official that has not been subjected to all kinds of scrutiny by these undemocratic elements but thank God we are answerable for our actions and we are waiting for them. Some have questioned the publishing of the PDP magazine; that we were charging people money for interviews and I laughed. Let me tell you, we independently sourced for funds and printed the magazine without financial assistance from the party. It is only PDP members who participate in the magazine that provide the funding. We rebranded the magazine and have been running it successfully. So we are waiting for these undemocratic elements and I know God is with us.
However, I must state that the fight is not within the party and that is why I have not paid attention to them. The problem is outside the party. There are those who want to scuttle the progress of the party and bring down our government. But we will not lose focus. We have to prove to them that President Jonathan is doing well for the country and to showcase that the PDP is the only option for the country. By the time we engage in negative campaign with these undemocratic elements, we lose the moral advantage of fighting for the general interest of the party and the people. So I will refrain from focusing on intra-party matters. My job when I am elected by the grace of God is to engage in inter-party matters and focus on projecting the image and achievements of the PDP. My job is not to start fighting our members or to discredit them.
What innovations are you bringing in especially with the registration of the APC?
We believe in integrity. We will say the truth and allow Nigerians to decide. We will not engage in any campaign of calumny or go about pouring vituperations on people. Ours will be to stand by the truth, say the truth and allow Nigerians to decide. We will continue to showcase the achievements of the party. PDP remains the only national non- tribal party that is fighting for the interest of all Nigerians and we will continue to drum it to the ears of the people with all vigor. PDP is the only party that is committed to the unity of this country.  It is the party that has the best governors and the best legislators at the federal and state levels. Our ministers are doing well. The truth is that we have capable hands. Most of all, we have a President who is humble and forthright. We have a President who has done well and, by the time, he leaves office, Nigerians will know that a great man has passed through this country.
Your party has been passing through a lot of crisis recently. What really is the matter? Do we have any solution in sight?
Our party is not having any crisis. What you see is ordinary politicking. It is normal in politics especially as the general elections draw nearer. PDP is a big party. We have millions of Nigerians as members all over the country and people are trying to get involved in one way or the other. So it is normal politicking but the PDP is so strong that it has been able and will continue to withstand such things. So there is no cause for alarm. The National Chairman, Alhaji Bamanga Tukur, has been able to steady the ship of this party and he is doing well.
Recently, the Interim National Chairman of the APC, Chief Bisi akande, described President Goodluck Jonathan as kindergarten President. What is your take on this?
I think the Presidency has already answered that, but we need a President who is a kindergarten and not a graduate of corruption. We need a President who is not a graduate of violence or a graduate of deception, or a graduate of ethnic and tribal politics. We need a President who is a kindergarten and not a graduate of nepotism. So if he is a kindergarten in the sense that he is at the least level in corruption, that means he is fighting corruption. If it means he is at the least level in playing ethnic politics and promoting violence, then that is what we need.