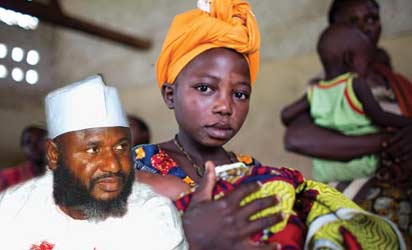 Senator Ahmed Yerima
By Donu Kogbara
LAST week and the week before, I condemned men like Senator Ahmed Sani Yerima who think it is OK to lure underage females into premature marriage.
It has to be said that paedophilia is a perversion that is not restricted to any geographical location or religion…that there are paedophiles in every habitable corner of the globe, including Western nations and Southern Nigeria….and that many of these paedophiles are Christians, Buddhists, Animists, Hindus, etc.
However, different cultures have different attitudes towards this social evil; and there's no getting away from the sad and shameful fact that too many Northern Nigerian Muslims either defend paedophilia or turn a blind eye to it.
I will continue to speak out, at intervals, against those who subject fragile little girls to sexual exploitation, emotional trauma and serious health problems.
But it's hard to achieve change from a distance; and the question I keep asking myself is this: Why are privileged Northern women – who are much closer to this human rights violation than I can ever be – not making a huge fuss about it?
I know several Northern Muslim women who are highly educated, professionally successful, politically powerful, financially independent No-nonsense types. And I know that none of them would dream of handing their small daughters over to predatory adult males.
I wish that these sophisticated and strong Northern Muslim ladies would loudly express their objections to child brides and use their clout to seek protection for fellow females who are voiceless and not in a position to protect themselves.
Readers' responses
LAST week, I also wrote about the political crisis in Rivers State and criticised the mob that threw stones at the Northern Governors who visited Amaechi. Here are responses I received.
+2347084903928 : Odii Okeke–a pharmacist
The four Northern and River states governors were voted into power to better the lot of people in their states and not  to fan the embers of conflict or distract the Presidency for some selfish reasons.
It's irrational for Gov. Amaechi  to scheme to unseat a president from his region in connivance with Northern governors just for him to be number two man? This ambition is first  class self- centeredness and an insult  on psyche of Niger Deltans
+2348067275228: Tony Ajayi
I am a big fan of your column but was incredibly amazed at the naivete you displayed  in yesterday's edition. While Femi Falana's  intentention  may be altruistic ,the motive  of the  five Northern governors is not only selfish  but also  sinister. Is what is happening in Rivers State worse than the Boko Haram insurgency in the North?
Decorum and patriotism
Why didn't they rally former heads of state to find a solution to that crisis? Why is it that opposition governors who also visited Amaechi showed more restraint, maturity, decorum and patriotism in their advice to Amaechi? Donu try to see beyond your nose!
+2348033598186: Ovuorie
Dear Donu, the crisis in Rivers State is not beyond the Governor and the President to settle between themselves  but the Yoruba and Northern intruders would not want that to happen. Use your column to tell the intruders to leave Rivers State alone.
+2348023206209  Anonymous
Donu, Nigeria is a tradition-based society. We welcome visitors; we don't throw stones at them. I am shocked that the elders in Rivers State defend this type of action. Let us see whether  there will be a need for them to visit the North.
+2348030861967: Bassy Lekam
Donu, some of us are disappointed in some of you South-South people, especially those of you who claim to possess all the civilized knowledge in the world. Your write-ups, as far as this Rivers crisis is concerned, have already shown that you have taken sides with the Governor's camp. What makes you feel that  if Rotimi  becomes the president today the same treatment the North is giving  Jonathan will not be meted out to him? In your write-up of August 2, 2013 in the Vanguard, you did not even mention how a fellow lawmaker almost murdered a colleague, a lawyer for  that matter.
+2347082934271: Ven R Y O Ayadju
Since l developed interest in your write-ups, l have been praying for you. You are bold, arrow-straight, pragmatic, objective and thruthful. But I am afraid you will attract a mass of enemies through your sharp pen! Our society is so rotten and full of heartless people who didn't  want to hear the truth! However, God will continue to protect you.
+2348036195863: Collins
Donu, your article "Xenophobia" which  centered on the Rivers State crisis is excellent, but remember that when PDP have problems, it is a family affair. When it comes to early child marriage in the North, the customs were none of your business; then in Rivers State, no Nigerian is an outsider. We from the South should think of knowing ourselves.
+2348082477787: Ayodele
I wonder how many walks and visits and protests these so-called leaders have paid to the victims of terrorists attacks in the North. They love Rivers money not the people. Rivers people are not stupid, the interest  of these so-called friends have only fueled the problem instead of dousing it. They have been taking sides rather than try to bring all sides to the table. They are not wanted in Rivers, period. They are crying more than the bereaved. Are they professional criers?