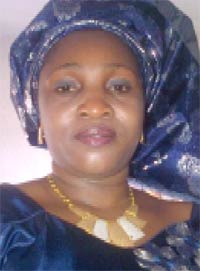 Princess Akinbile
By Ronke Adeyeri
Beautiful and industrious Princess Uzamat Folasayo Akinbile has an exemplary story that  inspires young women. Her youthful  looks no doubt will make many think  she is probably a 20-year old who was born with a silver spoon. But at 40, her  story tells how she rode her way to success through determination at a time when many of her mates depended on handouts from "generous" men .
Humble beginning was not born with a silver spoon as many people believe. At a very tender age, I was exposed to the world of buying and selling. I have been in business since my secondary school days when I used to accompany my mother on business trips to various communities where she purchased foodstuffs to sell. I also helped her to sell at the shop. We were then living at Ile-Ife, Osun state.
I actually started my own business after I left secondary school and continued when I got admission into the University of Ibadan(UI) where I studied Biochemistry for some time. I opened a shop called Princess Ventures at Sango area of Ibadan in Oyo State. Then, I was already an accredited agent of Procter and Gamble. I was selling some of the company's products like biscuits and diapers. I later left UI because I did not like Biochemistry. So, I secured another admission into University of Lagos to study Pharmacy. Even at Unilag, I was still juggling business with studies. I got another shop and continued to sell foodstuffs like rice, beans, flour, sugar, etc.
The turning point
Along the line, I established a computer school and a cyber café that attracted a lot of patronage from residents. My journey to success began in the year 2000 when I was encouraged to go into oil business by one of my mentors, Alhaji Olaoluwa Adeogun which I grabbed with my two hands. With the assistance of Alhaji Adeogun, an oil magnate, I started building a filling station even before I graduated from the University. The start-up capital came from my personal savings from the foodstuff business . Presently, I own a group of businesses, a chain of filling stations, a pharmaceutical company and also an information technology organization.
Challenges so far
Combining studies with business was not easy at all. It affected my studies in a way. At a point, I had epyremisis for about five months when I was pregnant. I had to abandon my studies. Hence, I had an extra year and graduated in 2006. In 2007, my business experienced a terrible blow.
In October the same year, armed robbers visited one of my filling stations and carted away millions of naira. Few weeks later, another filling station located in Ajasa, near Meiran, Lagos State was also attacked. As if that was not enough, on November 12, 2007, a fire incident arising from generator explosion during the discharge of fuel, rocked one of my filling stations. I lost almost all my money but I thank God that five of my employees who were victims of the incident survived.
Source of motivation
The source of my motivation is God. I am relatively successful because I have adhered to certain principles of running medium scale businesses into greater heights. The rules of running a business and making a success out of it are not cast in iron but require a deep understanding and relative financial discipline to apply those rules.
Why politics
I threw my hat into politics because of the love I have for humanity. Politics was a personal sacrifice I had to render, not only to protect the interest of the people around me but to further serve them better. I have been successful in business before I ventured into politics. It started in 2011 when I contested for a seat at Lagos State House of Assembly on the platform of Action Congress of Nigeria, ACN. Although, I did not secure the ticket to represent the people of Alimosho Constituency 02, I was later appointed as Supervisor for Agriculture, Rural and Social Development in Agbado/Oke-Odo Local Council Development Area of Lagos State.
Projects
In order to serve my people better and to complement the effort of Hon. Augustine Arogundade- led administration in Agbado Oke-Odo LCDA, I inaugurated some projects on June 22, under my pet project called "The Goodwill Project." The projects include a 12-feet culvert in Omoroga/Akintan, Meiran while about ten Community Development Associations were given N50,000 grants each. I also gave about 100 artisans tools under my "Tools for job initiative."
Many residents have benefited from my charity especially in the areas of health education and free treatment for infirmed mothers and their children.
I have distributed drugs, mosquito nets and other items to empower indigent residents who do not have means of livelihood or resources to prosecute their children's education. Presently, I am not tired of doing more because politics should be a calling to help humanity and not to actualize self-seeking goals.