POPULARLY  called "Father of Nutrition in Nigeria" Professor Babatunde Oguntona, who clocks 70 tomorrow, August 28, has contributed immensely to the development of the nutrition profession in Nigeria.
Starting from his days as a lecturer at the University of Maiduguri in the mid 1970's he pioneered the teaching of nutrition to Agriculture of Medical Students in that Institution. His efforts to create a department of Nutrition led to the establishment, firstly of the department of Animal & Food Science and finally a department of Food Science & Technology.
As part of his pioneering efforts he started the Maiduguri Nutrition Club in 1979 when the profession was little known. He also played the key role in the development of the Nutrition programme at the Ahmadu Bello University, Zaria.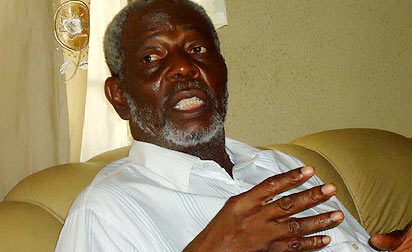 A past President of the Nutrition Society of Nigeria,and currently the Chairman of the Nigerian Beverage Panel, Oguntona, who is retiring as the Head of the Department of Nutrition and Dietetics, which he  and his colleagues established at the FederalUniversity of Agriculture, Abeokuta, FUNAAB,  in this interview, tells SOLA OGUNDIPE, about his major achievements  as a nutrition advocate. Excerpts:
On human nutrition
For me, Nutrition means life and quality of life. The whole essence of life is nutrition and for me what is important in proper nutrition is knowledge , food, and care. Knowledge because if you have all the money, resources and you can't put it together to get good food is a waste; then the food can be grown or bought while care is important because it includes health, hygiene, environment, sanitation and all that. Care is very complicated but very essential as an element of nutrition and if one is missing, there is no nutrition.
People really think nutrition is cookery and its always there like water but that is not true. There is so much more to nutrition than just food and eat. One could kill one self with bad nutrition. It is the whole essence of life and the way the body uses food.
Food science is preparatory but food stops where nutrition begins and you need to take one for the other to take off.Food helps to maintain what one has in the body, the working of the eyes, heart etc and then to grow, and fight infections and the body is doing this because one has ingested elements the body needs to do the function. That is working of nutrition-how the body uses the food to grow, maintain and fight off infections. That is why it is important
The start of life in the embryo needs good nutrition to form and become healthy and no one must lose sight of this. There is the school of thought which has propounded that whatever a child is fed on while in the embryo stage come to really affect the lifespan of the child.
Problem of malnutrition
Malnutrition is a big problem. In Nigeria, the leadership is missing the point and not really appreciating nutrition. We do not assert the right value to nutrition, and have not given it its rightful place and recognition
A few years ago , just befroe former President Obasanjo left office,  the nutrition and paediatric community had audience with him on the need to for urgent action on nutrition in the country.  He was gracious to listen to us. He called in the Minsters for Health, Agriculture, Education and National Planning and invited all the partner agencies.
I made a presentation as the President of the Nutrition Society of Nigeria at that time. I showed all  the indices and we proferred solutions. Afterwards, he  asked what we wanted. We wanted a national nutrition commission, the type for HIV/AIDS, so that we can bring the issues to the attention of the public and work out solutions.
He said he was going to give us an institute. It wasn't what we wanted, but it was something. Unfortunately it couldn't be inaugurated. We we had a small window of opportunity we tried to use and it didnt work.
It is not that the leaders are not aware of the magnituide of the problem, they are just wishing it away, but it will not go away. It is actually getting worse. Most of the problems we are having with infant death has to do with nutrition. More than 60 percent of the underlying causes of death can be atrtibuted to malnutrition.  Isn't that enough reason for us to be more serious abouit it?
Major achievements
Let us say some happenings have given me intense satisfaction over the years in this profession. Let me just mention a few. I have initiated and galvanised the establishment of Nutrition programmes in many Nigerian Educational Institutions.  I have published (with another colleague) the only text on the Composition of Foods commonly consumed in Nigeria.
Published about 15 years ago, it is standard text for Nutritionists and Dieticians in Nigeria. The only truly National survey of 'Food Consumption and Nutritional Status of Nigerians' was conducted between 2001 and 2003 by a team of which I was the zonal Co-ordinator. That was a seminal work that surveyed families in every nook and corner of this country and it is an indication of the state of commitment of the cognate Federal Ministries to Nutrition issues that such a survey has not been attempted ten years after.
As President of the Nutrition Society of Nigeria, we took Nutrition Advocacy all the way to the Presidency in Abuja and got the President (Obasanjo) and Ministers of all relevant Ministries and other stakeholders to listen to why Government should do more for the nutrition of Nigerians. Regrettably, despite the President's commitment and directive on that day, not much has happened.
In the last five years I am very happy to be able to establish a fruitful linkage between the private sector and academia. About 50 students studying Nutrition at postgraduate level in several Nigerian Universities have been beneficiaries of Scholarships provided by a Food manufacturing company through this linkage.
Nutrition Club
For me to have been able to develop a programme for the department was indeed a thing of joy for me. Secondly, to create awareness on nutrition, we were able to start what we called the Nutrition Club, a small club where we brought together al the people who were in disciplines and in tangential to nutrition because we couldn't find anybody with a nutrition qualification.
One of the achievements of the Club was the production of a newsletter which circulated in the community and we were able to invite notable people to come to major activities like the world food day on October 1. This galvanized into celebration of world breastfeeding day which later metamorphosed into the breastfeeding week which is still celebrated till today. The most important effect of the Club was that we were able to generate sufficient awareness to encourage people to want to study and become nutritionists. To cap it all, we succeeded in hosting the national society of Nutrition in 1984/1985.