By Muyiwa Adetiba
If the stories around a 'certain deportation' leave an unpleasant taste in the mouth, the division it has caused leaves a more bitter taste. Almost every account you read has some ethnic colouration. It is even worse online where the comments tend to be down right rude and abusive— and these from our young minds!
The intellectual dishonesty— on both sides— that attended Professor Chinua Achebe's book 'there was a country' was disheartening; but I tried to put it down to the lingering emotions of the civil war which the book evoked in a way. But the hue and cry about who attended and didn't attend the funeral was difficult to ascribe to anything logical.
More worrisome was the fact that the leaders of this ethnic battle cry were men of letters; people who by their training and disposition, were supposed to live in the realm of ideas and not primordial emotions.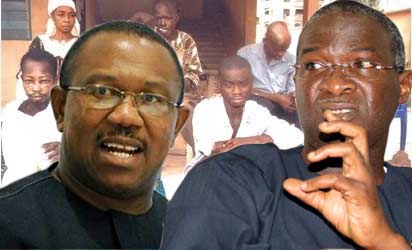 It is one thing to defend your turf. We all have to do that from time to time. But to use ethnicity and tribal sentiment as the core reason for attacking— or defending— every position is taking us out of the 21st century.
Simply put, the ethnic etchings in our country are getting deeper and the tribal cleavages are becoming more alarming. It is time for our leaders, especially the intellectuals, to pull back. As they say, real men discuss ideas and objectives, not sentiments and personalities.
Now, let us go back to the idea behind the badly executed 'deportation' of 14 or 72 (the emotion of the moment doesn't even allow us to know the true figure) people to the eastern part of the country.
We should, if we want to be fair, concede that Lagos has been a generous host to most of us. It did not invite us. We invited ourselves and it has accommodated us. After all, we all have our villages should 'push become a shove', to run back to as some people demonstrated during the June 12 fallout when they fled the city. But the indigenes of Lagos have no where to go.
Worse, they have been hounded and pushed out of their homes. Even Isale-Eko is no longer exclusive to them. They are as naked and exposed as the Ogoni people whose waters have been polluted, whose livelihood has been taken away from them by commercial exploitation.
Just like the Niger Deltans, Lagos has been crying for a just recognition of its role in the economic and cultural life of Nigeria, but nobody pays any heed.
Every census puts the population of Lagos down and inflates the population of certain cities. I remember the exasperation of Brigadier Mobolaji Johnson, the then Military Governor when Lagos was put down yet again after another census.
He said 'we know how many mouths we feed' —a loaded statement given the times. Asiwaju Bola Tinubu had to release his own census figures when Lagos was again under counted; again in exasperation. Nobody came to the aid of Lagos then. These latter day 'Lagosians' knew where to defend with their pens.
Right now, all manners of job seekers, miscreants and smugglers find refuge in Lagos. If we can not help with the burden of feeding, clothing and housing people who stream into the state daily, we should at least show some understanding. There comes a time when a generous man will tell his kith and kin not to come on extended visits again because his house is full.
Lagos has had to do this, not only to the Igbos, but to our brothers and sisters in the North and even to Yorubas in neighbouring states. (I heard some other states have also emptied themselves of miscreants.)Only a small mind will read tribalism into this.
A Yoruba adage says that 'while we blame the roadside thief, we must also blame the farmer who put his yam on the road unguarded'. In other words, we can blame Lagos for its insensitive self-righteousness; we can blame it for a policy that is not well articulated; we can remind it that the reason people pay tax is so that the destitute can be rehabilitated.
Yet all the states that looked the other way as their people pour into Lagos in search of livelihood stand indicted. Why should another state bear the responsibility of looking after your people? One reason they are in Lagos is because of economic survival. What have you done to create jobs in your state? What have you done to arrest urban migration? Nobody will leave a friendly village environment for a hostile life in the city if he can help it.
What is the way out? I believe we should create economic zones as well as political zones. All states in a zone irrespective of political leaning should come together to develop at least two industrial cities that can absorb the growing list of the jobless. The burden is simply too much for Lagos and Abuja.
Meanwhile, those who are passing out blames should stop. Nobody is blameless in this case. And the cry for reciprocity should stop. I don't think any state in Nigeria can win any war of reciprocity with Lagos, least of all those who are crying the loudest for it. Those who call Lagos a no man's land are insulting the sensibilities of the indigenes who have lost their land and culture to mercantilism. We all know our roots.
Finally, with the furore this exercise has generated, leading unnecessarily to the question of who owns Lagos, it is time for Fashola and subsequent governments, to begin the deepening of the indigenous character of Lagos to avert future rancour and possible bloodshed.