BY JACOB AJOM
He was a member of the Saudi '89 squad that produced one of the most remarkable results in Nigeria's recent football history.
Like most goalkeeper's, Amadi's contribution to the squad's historic feat, the Damman miracle  – coming from 0-4 down in the first half to win against Russia through penalties in a quarter final duel – have greatly been undermined by chroniclers of Nigerian football.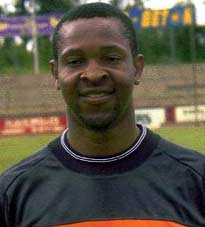 "I was in goal for the squad and it was a great feeling when we won that match. We were fired by a patriotic zeal and the determination not to disappoint our teeming fans back home," A madi said. He said the tournament was the turning point in his career as he left the country to live in Germany.
His stay in Germany has been exciting and challenging. "In Germany, I am a coach, a social worker and a lecturer in schools. I combine all to affect the society positively."
Currently, the former youth international is Golden Eaglets goalkeepers' trainer. To give informed coaching and make effective use of his expertise, Amadi sponsored himself to a coaching course in Germany last year.
"Every winning team must have a good goalkeeper," he started. "To ensure I dished out the best instructions to our goalkeepers, I attended goalkeepers' training course in  Germany, between June and July last year".
He assured that the Eaglets being built for the FIFA U-17 by the Manu Garba led technical crew would be up-and-doing when hostilities begin in United Arab Emirates in October this year. "We are preparing them very well as there will be no excuse when the chips are down."
Amadi said, "we do not have a number one yet. You have to train all of them to be at their best If you make one number one now then there will no longer competition; there will be stagnation. There has to be competition in order to witness improvement among them."
The former youth international said the problem about goal keeping at the national level could be traced to the neglect of grassroots development.  "We should copy what obtains abroad. Let us retrace our steps to the grassroots. We must also not ignore the aspect of training quality coaches that will go down to primary and secondary schools to bring up good goalkeepers.
"You must not necessarily be a good goalkeeper to become a goalkeeper's coach.  With adequate training and the desired interest, anybody can become one.  We still have young, talented goalkeepers but they lack the skill. That is the job of the coach. Emphasis must be in grassroots development."