By Donu Kogbara
I KEEP asking myself how a once-civilized city like Port Harcourt gradually morphed into the kind of place in which legislators-who
are supposed to uphold the law and be shining role models and pillars of polite society – physically attack each other so savagely that some of them wind up being hospitalised.
The internet is awash with horrifying video clips that show computers being smashed, punches being thrown, the mace being used as a weapon and a forlorn wall in the State House of Assembly chamber that is spattered with blood.
Tears came to my eyes as I watched these disgraceful visuals on my laptop screen. It was a real horror movie. It's a miracle that nobody got killed.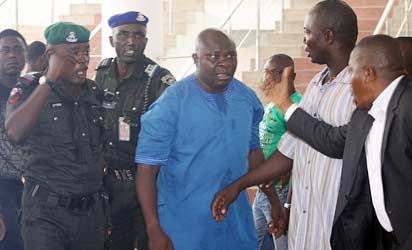 Meanwhile, various witnesses say that some of the security personnel who were at the scene of this crime either folded their arms or egged the antagonists on.  
And I hope that the authorities will rigorously and honestly investigate these extremely damaging allegations and sack any officer who failed to do his duty.
Some of the lawmakers should also be punished. It is fine to defend yourself if someone launches an assault on you while you are minding your business. But those who were instigators and those who used unreasonable force should go.
I keep hearing that Evans Bipi, whose determination to impeach the Speaker of the State House of Assembly (Otelemaba Amachree) triggered off this fracas, started the fight on Tuesday because the First Couple told him to make trouble. 
But I'm sure, on reflection, that this rumour is totally false. Twenty six local lawmakers are supporting Amachree. Only five, including Mr Bipi, are against him. And I think it is safe to say that even if Mr President and Dame Patience Jonathan do indeed regard Amachree as a toxic opponent and want him to be turfed out, they a) are smart enough to know that five cannot out-vote 27!…and b) smart enough to know that their reputations will be irretrievably tarnished if they encourage anyone to resort to illegal and thuggish tactics.  
A friend called me a few minutes ago to tell me about a radio report that claimed that tear gas cannisters have been tossed into Governor Amaechi's residence and that gunshots have been heard in parts of Port Harcourt.
I wasn't able to reach anyone who could officially verify or deny these claims before the deadline for submission of this column to my Editor. But even if the claims turn out to be exaggerated or mendacious, something has to be done about the anarchy that threaten to consume Rivers State.
Interventions from Elders, the House of Representatives, etc, might ease the tension and even lead to a cessation of hostilities in the short-term.
However, this political hooliganism was largely caused by the fact that our leaders have formed the habit of elevating the wrong type of individuals to important positions they simply don't deserve. And
we will probably continue to suffer outbreaks of hooliganism until selection criteria are radically reviewed.
I once challenged a Governor who kept bestowing influential jobs on guys who were obviously ill-equipped. Since he himself was polished, well-educated and capable of delivering good results and boosting his state's image, I told him that I couldn't understand his allergy to quality individuals who were on his level.
The Excellency in question was not accustomed to being confronted so boldly. But, to his credit, he calmly tried to explain his recruitment policy and told me that loyalty was the characteristic he valued most.
And I was  SO disappointed because I felt that what he REALLY meant was that he only felt safe with cheap, sychophantic praise singers who would do  ANYTHING to please him.
It is time for Nigerian decision-makers to stop putting their egos first and foisting rubbish on us because what we REALLY need are exemplary public servants who can deliver results and conduct themselves appropriately.
Remembering Daddy
MY beloved father, Ignatius Suage Kogbara, was born 85 years ago. But he passed away in 2002. And I will never stop missing him and
praying that we will be reunited whenever God decides to remove me from this mortal sphere.
Most daughters reserve special corners of their hearts for the men who gave them life; and my darling Daddy was my Hero, my Friend, my Protector, my Conscience, my Inspiration, my Teacher, my Mentor, the Centre of my Universe and the Rock on which my morals, self-esteem and dreams were anchored.
He was a quintessential Old School Rivers Gentleman who had sound values and wholeheartedly believed that integrity, refinement, compassion and intellectual development were far more important than money, power or appearances.
And I'm willing to bet that he can see, from the Greater Beyond, the chaos and crudity that are being inflicted on our state by people who are shaming all Rivers indigenes with their dangerous antics. At the risk of sounding morbid or fanciful, let me say that I won't be surprised if my Dad is turning in his grave.