By Nnamdi Ojiego
It seems the most effective way in getting government's attention on any issue in Nigeria by its employees and other unions is to embark on industrial action, otherwise called strike.
The strike option is a common phenomenon adopted by many, from truck/tanker drivers, teachers/lecturers, Judicial workers and transport workers(bus drivers) among others, to air their grievances.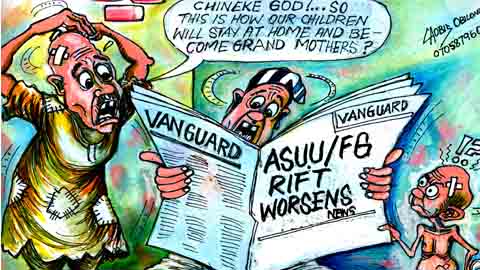 Surprisingly, strike action is a common occurence in our educational sector as academic and non academic staff resort to it in calling goverment's attention to their welfare and decay in the system. How effective strikes have been in resolving these issues are highly debated.
But, there is no doubting the fact that the incessant industrial actions have crippled the varsity and polytechnic systems and caused disruptions to the sector,including untold hardship to students.
For example, the indefinite strike embarked upon last week by the Academic Staff Union of Universities, ASUU, stemmed from the federal government's failure to implement agreements signed in 2009. Also the Academic Staff Union of Polytechnics, ASUP, has been on strike for over two months over the welfare of its members and the provision of infrastructure for the institutions.
Do join the debate:
Is strike action effective in resolving conflicts in Nigeria's educational system?
Should ASUU and ASUP find other methods of airing their grievances? Suggest ways by which government and the academic unions can resolve industrial disputes without or with minimal disruptions to the system?