By Ebele Orakpo
The war to save the planet cannot be won without plants as they play a very crucial role. Plants, along with algae and cyanobacteria, are essential for the planet to function properly hence the need to ensure their survival and conservation. Apart from providing food for us, they also provide oxygen which is essential to human life. They take up the greenhouse gas, carbon dioxide and produce oxygen through the process of photosynthesis.
It then follows that the planet cannot survive without plants; any wonder then that a scientist like Mr. Andrew Chibuzor Iloh, is preaching the gospel of not just forest but biodiversity conservation. In this chat with Vanguard Learning in Abuja, Iloh, a staff of Biotechnology Advanced Laboratory, Sheda Science and Technology Complex, Abuja, is a molecular ecologist, a Climate Protection and Bio-resource Conservation Fellow, Alexander von Humboldt Foundation, Germany, spoke on his work on plant biodiversity. Excerpts:
The Research:
According to Iloh, Nigeria is richly blessed with diverse plants and the one he worked on is a plant called Chasmanthera dependens (ato in Yoruba), a medicinal plant with economic values. However, as a result of its many economic values, it is being threatened across West Africa so in order to ensure that it does not go extinct, he decided to assess the genetic diversity of the plant using molecular technology.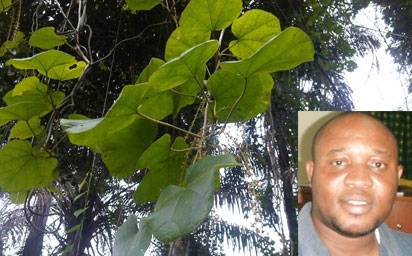 "I apply molecular technology in ecological matters basically in plant biodiversity matters and I believe that when you do research, you do research for development so basically, the research I do specifically should lead to development," said Iloh.
"Most villagers and medicine men in Nigeria mix extracts from Chasmanthera dependens with shea butter to treat bone problems and in the East and West of Nigeria, the big stem is crushed to make native sponge. So because of its high economic value, it is being over-exploited. People want it so much because of one or two things, not just this particular plant but many others. In my study, I use this plant as a model to assess the genetic diversity of threatened plants," he stated.
Why we assess genetic diversity of threatened plants:
"Most conservation programmes have failed because they just bring in conservation practices without actually assessing those things that need to be conserved. Basic biology has taught us that the genetic makeup of anything determines the quantity of that particular thing in a particular place so by assessing the genetic biodiversity of any plant or animal, you will be able to plan conservation strategies for that plant or animal. The bottom line is that you are having a model system to plan conservation strategies.
"We are moving with the times, using DNA-based marker technology to do the genetic diversity studies instead of the earlier method of using morphological characters, counting the number of seeds and the number of leaves. "
Results:
The results show that there is low genetic diversity in some places while there is high genetic diversity in other places. There is little gene flow in some places, ie genes moving from one place to another in those places where we have low diversity and much gene flow in those places where we have high diversity. More importantly, we found out that climatic conditions play an important role in shaping the plant's distribution in West Africa so with our findings, we will be able to restructure our conservation strategies.
Diversifying the economy:
A conserved/protected biodiversity leads to yield in economic values. This is a medicinal plant and we are thinking of diversifying our economy. If we want to diversify our economy and the biodiversity that can provide the income is gone, how do we diversify the economy?
"Also, the whole world is shifting, going back to nature. We are talking about Nigeria going towards a green economy and I am saying that a green economy has to do with getting our biodiversity and eco-services right therefore, if these plants/animals are not conserved, how do we work towards a green economy? We are going back to nature and if our nature is not there, then no money, no wealth and Nigeria should not be left out in this exodus.