President-General, Association of Nigerian Market Women and Men and mother of former Governor Bola Tinubu of Lagos State, Alhaja Abibatu Mogaji, is dead.
She died yesterday evening in her home in Ikeja, Lagos. She was 96 years. Family sources said she will be buried today at Vaults and Garden, Ikoyi, Lagos at 11am.
The burial will be preceded by prayers at Lagos Central Mosque, at 10.a.m.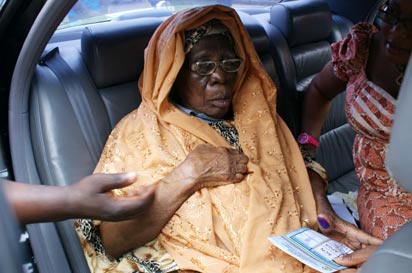 Governor Babatunde Fashola of Lagos State paid glowing tributes to the deceased, describing the passage as a "great national and personal loss."
A former governor of Ekiti State, Mr. Segun Oni, also commiserated with Tinubu, praying God to give the family the fortitude to bear "the irreparable loss."
In a condolence statement signed by his Special Adviser on Media, Mr. Hakeem Bello, Fashola said the mother of his predecessor in office and the national leader of the Action Congress of Nigeria, Tinubu, "throughout her life time was a forthright defender of the people and their right to economic empowerment" adding that "this trait has been imbibed by anyone, who has had the opportunity or privilege to fall within the ambit of her influence".
According to the governor, this peculiar trait is evident in the personality of Tinubu, "a leader with the love of the people at heart".
He said Mogaji was a frontliner in the commercial development of Lagos State, particularly Lagos Island, which was formerly dominated by the Lebanese and Greek merchants.
"She was one of the pioneer traders, who ventured into the capital intensive and risky business venture of importation of consumer goods, thereby breaking the monopoly previously enjoyed by the foreign tradesmen and her business acumen attracted the attention of Multi-National Enterprises operating in Nigeria then, who had no option but to register her as a business partner and distributor of their consumer goods in Nigeria, Fashola said."
Describing the late Iyaloja-General as a great matriarch, the governor said she did not limit her business and social networking to the confines of Lagos State alone, as she was always seeking for the welfare of market men and women as well as ways of opening up more business opportunities for them.
"This attribute of hers must have informed the unanimous decision of all commercial traders regardless of ethnic, religious or political persuasion to select her as the pioneer Iyaloja/President-General of Nigerian Market Men & Women. A position she has handled with utmost responsibility and diligence", he said.
Fashola said the deceased would be sorely missed, noting that he would personally miss the motherly guidance and affection of the deported matriarch of the Mogaji Family.