By Monsur Olowoopejo
Lagos State government Friday banned the activities of Tri-cycle popularly called Keke Napep from the major roads in the state, saying, "it is meant to protect the lives and property of the residents of the state."
The state government however vowed to impound any disused and abandoned vehicles across the state, explaining "4,632 vehicles were currently abandoned on over 9,100 roads in theState.
Commissioner for transportation, Mr. Kayode Opeifa  disclosed this at the 2013 Ministerial Press Briefing held in Alausa to mark the sixth anniversary of Governor Babatunde Fashola's administration.
Opeifa said that the state government had held several meetings with the unions on the development, adding "they have agreed to stay away from these roads."
Some of the roads tri-cycles operation was outlawed were: the entire Victoria Island, Government Residential Area, GRA Ikeja and Ikoyi. Also on Awolowo road and Awolowo way, Alausa and entire major roads in Surulere Local Government.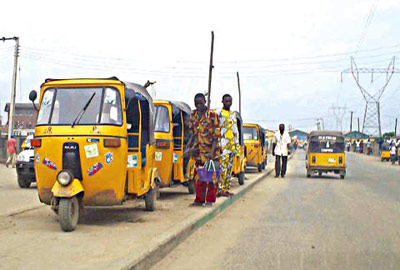 Opeifa warned that tri-cycling isn't a replacement for motorcycle popularly called Okada in the state, adding "it isn't a sustainable means of transport for the state especially Lagos that is a megacity."
According to him, "I learnt that some Okada riders have began to sell their motorcycle to by tricycle but they can no longer operate on these major roads again."
The commissioner explained that section 3 of the 2012 Lagos road traffic law also outlawed the operation of the tri-cycle in the state.
It will be recalled that Fashola signed the road traffic bill into law last year, aimed at improving safety on the Lagos roads.
"After that law was gazetted, the state government allowed tri-cycle to operate on some of these roads because vehicles available in those roads weren't enough to convey the passengers plying the road," he said.
Opeifa stated that today, the state has enough Bus Rapid Transport, BRT and LAGBUS buses, taxis and others are now available on these roads and the tricycle wouldn't be needed.
ON ABANDONED BUSES
The commissioner said "They constitute threat security of lives and property in the state."
According to him, "While we are proud to improve on information of the removal of over 4,300 abandoned and disused vehicles from Lagos roads, it is saddening that recent survey by the CDA/CDC's under the supervision of the Ministry of Rural Development have again in the last 3 month identify another 4,632 vehicles abandoned on over 9,100 roads in Lagos State."
He added "These vehicles are veritable tools for hoodlums, miscreants, armed robbers and other forms of social vices. So also they pose health risk. We will not relent on enforcement."
"To spare part dealers vehicle/Auto sales dealers please be advised as vehicles illegally displayed on road setback will be treated as abandoned/disused vehicle," Opeifa said.
On this, the commissioner said "we have instructed officers of the Lagos State Traffic Management Authority, LASTMA and Vehicle Inspection Service, VIS, to  immediately begun to impound any abandoned or disuse cars in the state."