By John Egbokhan
Ex-internationals, Christian Nwokocha and Andrew Atuegbu have urged the Super Eagles of Nigeria to show their worth as African champions in next week's 2014 World Cup qualifier against the Harambee Stars of Kenya.
Nigeria battle Kenya on June 5 in Nairobi in a match that observers feel might decide the winner of the group and in a statement made available to Sports Vanguard, Nwokocha and Atuegbu, members of the Association of ex-internationals in the Diiaspora, said that the Eagles should approach the match with optimum focus to ensure that they bag the three points at stake.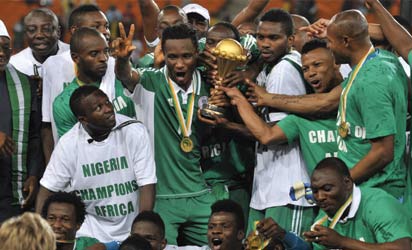 "To the Super Eagles; you are the current champions of African football. Next on your plate is the return leg of the World cup qualifier against Kenya. The first leg in Nigeria was a tied game because you were faced with many barriers and distractions fashioned by external forces.
"As you prepare for the second leg, ANED urges you to focus on your game plan, tune out any distractions and go into Kenya and let them know that the road to 2014 World Cup in Brazil goes through Nigeria first. We have unwaveringly confidence that you will beat Kenya . We wish you all the best", the duo wrote.
The group also saluted the Nigeria Football Federation, National Sports Commission and Governors of Lagos, Delta, Anambra, RiversState for their commitment to sports development in the country.
"ANED appreciates the manner in which you all performed your duties. You are all most valuable leaders who care about the national team and the struggles of Nigerian football players. You are all noble leaders and have been great assets to Nigeria and the NFF. Be assured that your accomplishments will be etched in the sports history of Nigeria as you transition to the challenges of the future.