By  Okechukwu Ogboo
Many well-meaning Nigerians and international figures have said so much in tribute to this literary giant since his death on March 21, 2013.  The world is celebrating Chinua Achebe!  What else can my humble self say about him?
Chinua Achebe has been my greatest hero, and I believe that I gave him the greatest tribute that I can even while he was alive – in 2008, I named my son Chinualumogu!  I chose that name for my son chiefly because of my admiration for this idol, icon, and greatest and most objective anti-corruption crusader of all times – Chinualumogu Albert Achebe.
I do not only dislike corruption, especially the type that has become endemic, and the only thriving industry in Nigeria, I hate it with all the energy and vehemence in me.  It will not surprise anybody, therefore, why my tribute to Achebe will touch more on his protest against the evil monster called corruption in Nigeria.
I have said in many fora that if corruption is not fought and dealt with in Nigeria, then the monster will swallow Nigeria and all Nigerians, ultimately.    And to me, Chinua Achebe was the most prominent personality who spoke truth to power as far as corruption in high places is concerned in Nigeria.  He used his unrivalled writing skills and objective mind to, in his own words, 'protest against corruption.'  Chinua Achebe rejected the Nigerian government national honours awards twice, as part of his protest against corruption!
Things Fall Apart – Chinua Achebe's first novel (and master piece of all times) – has been acclaimed by all as his greatest work.  It is difficult for me to say which of his many works is the greatest.  But putting things in contemporary perspective, Chinua Achebe's greatest work, to me, is in two of his books – The Trouble with Nigeria and There Was a Country.
The two books contain Achebe's biggest protest against corruption, especially among our so-called leaders.  I am particularly happy that he published There Was a Country before returning to the Creator who endowed him with so much talent and courage, to act well his part on earth.
In The Trouble with Nigeria Chinua Achebe wrote on corruption:
"…corruption in Nigeria has passed the alarming and entered the fatal stage; and Nigeria will die if we keep pretending that she is only slightly indisposed."
"… Nigerians are corrupt because the system under which they live today makes corruption easy and profitable; they will cease to be corrupt when corruption is made difficult and inconvenient."
"… corruption goes with power; …therefore to hold any useful discussion of corruption, we must first locate it where it properly belongs – in the ranks of the powerful."
"…we are all living witnesses to the failure of helpless integrity to solve the problem of rampant corruption which threatens now to paralyse this country in every sinew and every limb."
"…but to initiate change, the President of this country must take and be seen to take, a decisive first step of ridding his administration of all persons on whom the slightest wind of corruption and scandal has blown.  When he can summon up the courage to do that, he will find himself grown overnight to such stature and authority that he will become Nigeria's leader, not just its president.  Only then can he take on and conquer corruption in the nation."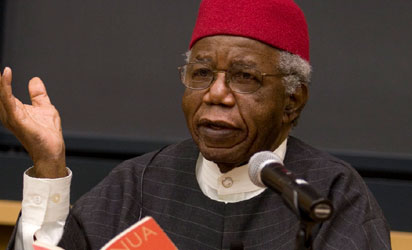 Above are excerpts on the chapter on corruption, from Chinua Achebe's The Trouble with Nigeria.  It was first published in 1983!
I admire and have great respect for men who see tomorrow, and speak out objectively and courageously.   Chinua Achebe belonged to this rare group, like the late Emeka Odumegwu Ojukwu (Ikemba), and the late Gani Fawheimi (SAN).
Achebe's protest against corruption preceded the publication of The Trouble with Nigeria, and continued thereafter, even till death.  Unfortunately, Nigeria is a country where things do not improve.  In Nigeria, progressive deterioration is the name of the game.  No thanks to corruption and poor leadership – the evils Achebe protested against till he died.  Hence, when other countries are daily recording improvement and advancement in every facet of life, Nigerians relish in talking about the good old days!  The good old days when the railway was functioning, the good old days when portable drinking water ran from the taps, the good old days when electricity was stable, the good old days when our education system was the pride of all, name it.
Yet, those countries where leadership and governance are about constantly ensuring that the citizenry have quality life at all times are the ones Nigeria says it wants to overtake come 2020.  In the present state of things in the country, one can only say good luck to us!
There Was a Country – Chinua Achebe's novel published twenty-nine years after The Trouble with Nigeria – has a chapter on corruption. Corruption again, you would ask.  Yes, corruption again, because twenty-nine years on, our so-called leaders could not pause for a second and pay attention to Achebe's protest against, and prophecy on, the evil and its destructive consequences.
In fact, decades after Achebe lambasted a sitting Nigerian president for saying that corruption had not yet reached alarming proportions; another sitting Nigerian president appears to be celebrating corruption by concluding that corruption in Nigeria is exaggerated.  What an irony!  Yet, even the most uninformed knows that the only thing that has been standing between Nigeria and greatness is corruption in high places.
Excerpts on corruption from Achebe's There Was a Country:
"Corruption in Nigeria has grown because it is highly encouraged."
"… I can state categorically that the problem of corruption and indiscipline is probably worse today than it's ever been, because of the massive way in which the Nigerian leadership is using the nation's wealth to corrupt, really to destroy, the country, so no improvement or change can happen."
"The World Bank recently released numbers indicating that about $400 billion has been pilfered from Nigeria's treasury since independence.  …this amount – $400 billion – is approximately the gross domestic products of Norway and Sweden.  In other words, Nigeria's corrupt ruling class stole the equivalent of the entire economy of a European country in four decades!  This theft of national funds is one of the factors essentially making it impossible for Nigeria to succeed. …"
With all this revelations and condemnation of corruption in high places, have our so-called leaders cared?  No, they refuse to care.  On the contrary, they will find ways to justify corruption and corrupt practices.  You will hear statements like – corruption in Nigeria is exaggerated or Nigeria is not the only corrupt country in the world – from those who are supposed to take the issue seriously and ensure that corruption is fought and dealt with.   I'm alarmed.  I weep. I'm frustrated!
I take solace in the fact that my hero, Chinua Achebe, spoke out.  He spoke truth to power.  He protested!  I thank God for Chinua Achebe's life.  I will continue to thank God for all Achebe's works, particularly for the publication of There Was a Country, before he was called by Him.
I think that the greatest tribute Nigeria as a country can pay to Chinua Achebe is to pass a resolution that anybody aspiring to any position in the public service – be it elective, be it appointive, be it selective – should first read the chapters on corruption from all Achebe's works, and pass oral and written examinations on those chapters.  This way, we may begin to appreciate the critical importance of purposeful and corruption-free leadership that will put Nigeria on the path of recovery, to greatness; and make the citizenry genuinely happy.  Do not ask me who will set the examinations, but the saying that conscience is an open wound, only truth can heal it, is apt here.
Chinualumogu Albert Achebe, you saw tomorrow, you have not died, you have only moved on!
Okechukwu Ogboo, wrote from Calgary, Canada.