Professor Chinua Achebe, without any iota of dispute, one of the best and greatest minds of this century, died a few days ago. And since his death many persons have composed different kinds of eulogies in his honour. The compositions clearly are in consonance with the engagements and preoccupancies of the universal man of letters who happened to have Nigeria, our country, as his birth-country. 
 It was never my wish to offer any eulogy or oration or tribute in commendation of Chinua Achebe the First or Chinua Achebe the only Monument or Chinua Achebe the Unique. After all, I uttered last Saturday in the Nigerian Tribune the only words I deemed it necessary to  utter when the news travelled to us to announce the death of the literary man of valour who, ironically, some dilettantes have been valorizing. But dilettantism on this occasion must not be hateful and alien to us. If Chinua Achebe's death can give birth to new tastes in the arts and literature in particular may the approbations and eulogiums continue ad infinitum. 
 Am I de-railing or interrupting myself? The arts editor of this paper, who is my young friend and colleague in the pen enterprise requested me to do for him something in connection with the current temper relating to our pre-eminent craftsman of supreme, sublimely profound and profoundly sublime thought. I am obliging him not necessarily to preserve our friendship but because of the genuine depth of feeling he showed on the death of the great personage he talked about when he was on the subject of the request. Of course, I was immensely touched by his real depth of feeling which was in no way different from mine, although our reasons for our respective moods originated from different angles and sources. And could I compose any long tribute the good and mourning editor, a product of the Achebe school at the University of Nigeria, Nsukka requested?
 I am pained that our most worthy novelist could not reject the monstrous hour when it arrived to pluck him from us. Why should the appointed time and hour come for him at the material time our splendid artist, whose work evidently was apportioned him by the Supreme Force, was still expected to keep on fulfilling his mission of trail-blazing? But why really should I ask this question when I know too well that everything passes at the appointed time decreed by the Supreme Force whose will displays itself time after time discernibly in the "laws of destiny as in the laws of nature"? Chinua Achebe's destined time and hour came for him at a veritable time and hour of his destiny. 
 As we already know, he died in the midst of the torrents of controversial opinions his last published book generated in the land. How did he enjoy them all, especially what some of his ardent admirers might call the visible torrent of reactionary mud poured on his magically skillful head? 
In my last research visit to the United States, I promised myself that I would ask our most illustrious and graceful novelist and universally acknowledged grand-man of letters this and other questions, personal and private, public and familiar, but from unusual angles and perspectives of the would-be questioner, my good self. I assumed that Chinua Achebe would, in his especial manner, give me veritable answers that would make affirmation of his magnanimous scholarship and academic generosity, so to say, and that would also bring to our country a new aesthetic arsenal that would help us to "replace the false by the true".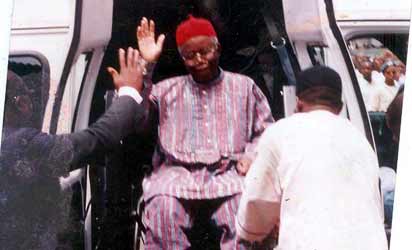 Not many of his Nigerian readers, admirers and detractors know that Chinua Achebe was an in-law of Yorubas and Itsekiris. In fact, until they read this piece of an unusual eulogium of the eloquent writer, they certainly did not know that his first daughter, Chinwe, has an Itsekiri husband as his second daughter, Nando, has a Yoruba as her husband. At least, knowing what the superbly monumental Obafemi Awolowo meant to Yorubas and Itsekiris and their cousins and friends, why did he not show some modicum of restraint and respect for his in-laws as per his remarks on the great man and acclaimed personage of glory who will forever be adored by Yorubas and Itsekiris who by marriage were now his own people? I was going to ask Chinua Achebe this question, with, in addition as a follow-up, this Itsekiri saying: An in-law is the third arm of a family. I pictured in my mind what Chinua Achebe's responses would be. I dreamed about his encyclopaedic answers and replies to my submissions. 
 Some other questions I wanted to ask him included the following: How did he take the pathetic death of Ken Saro-Wiwa? Why did he not, as our leading writer in the United States, lead an international protest and out-cry against the pre-hanging plight of Ken Saro-Wiwa? Why did he also not condemn the tragic hanging of the mirthful and witty writer who was a President of the writers' association Chinua Achebe founded? I was also going to ask him why he did not deem it wise or see it as his divine duty to use There was a Country to promote, proclaim and preach the blessedness of love, forgiveness and reconciliation: Why did he not invoke the doctrine of let bygones be bygones in his relationship with Obafemi Awolowo? Of course, I had in mind the necessity for him to dwell on the blessed need for Yorubas and Igbos, at least, to comprehend and accept true love. 
Should it not be right for him to use his nearness to the tomb to dwell on the glorious idea of the sovereignty of radiant and holy love that we would expect in our healthy thought to banish from our body of civilization all distempers and infirmities that would disturb and curtail its enzymes of peace, forgiveness and unity? These questions and other pertinent ones I meant to ask our philosopher-novelist last November. And I meant to publish his answers then in the Nigerian Tribune, Vanguard, The Guardian and Daily Sun before appropriating other aspects for literary and academic journals. But that menacingly monstrous storm called Sandys that devastated much of New England where we were made it impossible for me to realize my dream. I said I would realize the dream this year even though it was sensed since last November that his health was menacingly failing him. (I can imagine how Okey Ndibe, the Nigerian novelist and his young bosom friend who is also a denizen of New England, is feeling now!).
Now why the form of this tribute? It is simply to underline this gloomy helplessness: Chinua Achebe should have delayed his death until we had exhausted our debate with him, as Odia Ofeimun put it, in his own tribute, although not exactly in this manner. 
 The illustrious spirit of this great writer, who was the first to publish my writings in Okike (the literary journal he founded and edited for many years) when my literary career was in its fledgling state, has shed its physical manifestation courtesy of the ever triumphant Supreme Force. What else can we say or do but to accept that even though Chinua Achebe has died immortal, his hour, with all its superb responsibilities, has passed, as everything passes…. 
 Soon he will enter the tomb with a blessed blaze of glory, to be seen no more. Yet we must speak finally: "since night issues from the thrones," let light issue and spew forth from Chinua Achebe's tomb. No more our questions for this personage who was more than a personage. Alas! We must write it on his tomb: Chinua Achebe was greatness personified – despite his faults divine. 
 
Tony Afejuku is a poet and Professor of English and Literature and Creative Writing at the University of Benin, Benin City.