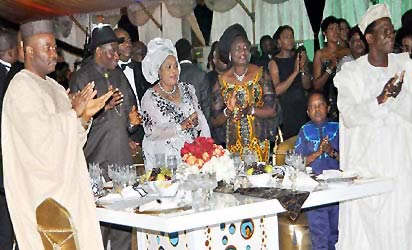 L-R Governor Godswill Akpabio of Akwa Ibom state; President Goodluck Jonathan, his wife Patience; Wife of the Senate president Mrs Helen Mark; Nollwood actor Chinedu Ikediezu (aka Aki) and President of the Manufacturers Association of Nigeria Chief Kola Jimodu at the Presidential dinner to celebrate Nollywood
President Goodluck Jonathan at a presidential dinner to celebrate the industry at 20, held at State House, Marina, Lagos unveiled a N3 billion  package to help turnaround Nigeria's movie industry, Nollywood, which has seen growth in production and sales within past years, but remains heavily criticized for low content quality.
The president said the package, to be launched as "Project Nollywood", will include grants for the best film scripts, a capacity development fund, and funds for supporting the industry's infrastructure".
He added that the scheme will be launched in the first week of April, and will be managed by the Ministry of Finance in collaboration with the Ministry of Culture and Tourism.
"I assure you that my Administration will continue to give Nollywood every possible support and assistance to take the Nigerian movie industry to even greater heights of success," the president said. "I have invited the private sector to this dinner because I believe that they can also support efforts to further develop our entire creative industry." said Jonathan.
A previous revolving loan scheme of $200 million (N32 billion), announced by the president in 2010 has been plagued by complaints of inaccessibility.
The president said only N766 million of the loan had been released.
"I have asked NEXIM and the Bank of Industry to redouble their efforts in assisting the industry to access loans," he said.