By Godwin ORITSE
CONTRARY to claims by the management of Global West Specialist Vessels Limited that oil theft has reduced  by about 70% percent in part of the Niger Delta region, Secretary of the Indigenous Ship owners Association of Nigeria, (ISAN), Captain Niyi Labinjo,  has said that oil theft is now better controlled by militants in that region.
Speaking to SWEETCRUDE in Lagos, Capt Labinjo  also said that the situation in the region is a bit calm because the boys are in charge of who is moving what.
He was of the opinion that non professionals have taken over the regulation of  both maritime, oil and gas industries.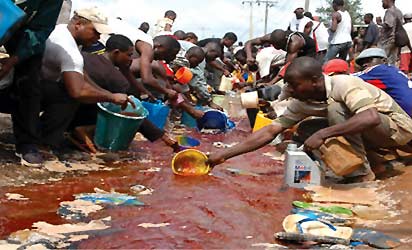 He explained that the nation is experiencing some level of peace because the militants are having a field day at the expense of the nation.
Speaking in a similar vein, an official of the Presidential Implementation Committee in Maritime Security and Safety (PICOMSS), who refused to have  his name in print, said that the issue of oil theft is going on in the Niger Delta area.
Nigeria is currently losing an estimated $1 billion a month to oil theft, while fraudulent natural gas deals with international oil companies have cost the West African country $29 billion over the past decade, official reports say.
"The world is in the midst of a sustained oil boom. Yet Africa's leading producer is hemorrhaging the proceeds," the Financial Times observed Monday.
"The Nigerian treasury, which should be raking in record revenues, has been squeezed at both ends of the oil trade — upstream, by one of the biggest frauds in Nigerian history related to a fuel subsidy bill worth upward of $16 billion in 2011, and downstream, by the theft of oil of an industrial scale at source."
Nigeria is one of the top 10 crude oil exporters, but after decades of institutionalized corruption and inept management of the oil industry, the country's economic backbone, the country has to import most of its refined fuel requirements.
Official estimates state around 180,000 barrels of oil a day are siphoned from pipelines and wellheads in the Niger Delta in the south, Nigeria's main oil production center.