By Ochereome Nnanna
SOMETIMES it is difficult not to be ashamed to be a Nigerian. The stories that come out of our country these days portray how hard it is to imagine the workings of evil minds. Penultimate weekend, this year's vaccination against the polio virus was launched across the nation. It went well in most parts of the country except in two states of Northern Nigeria – Kano and Yobe.
In these two states, terrorists opened fire and murdered nine women, all medical workers who were administering the polio vaccines on children. Stories in the media had it that some radio presenters in Kano "incited" the violence, saying that the vaccines were created by the American Central Intelligence Agency CIA) to sterilise Muslim children to disable them from having babies when they grew up. This cock-and-bull story, which usually comes from renegade preachers in dark corners of the world such as Afghanistan and tribal areas of inner Pakistan, the core theatres of Taliban and Al Qaeda activities, was once bruited here in Nigeria about some years ago.
Polio, the virus that cripples people, especially children, and renders them helpless for life, had all but been eradicated in Nigeria until the likes of Dr. Datti Ahmad and some emirs in northern Nigeria suddenly took it to their heads that the vaccination was a ploy to harm the Muslim population. While the vaccination was suspended polio made wildfire resurgence in the north and started endangering other parts of the country. It took the intervention of well-meaning Islamic leaders, particularly the Sultan of Sokoto, Alhaji Sa'adu Abubakar III, before the exercise could resume.
Now, terrorists, particularly Boko Haram, appear to have appointed themselves as the enforcers of the war against polio and other vaccinations in the north. Nine angels of mercy, deployed to save children from a life of disfigurement, destitution and begging, were summarily put to death by people who want us to believe they are soldiers of a religion.
After this incident, tell me how easy it is going to be for health workers to agree to participate in this laudable exercise in the north? How will polio ever be eradicated without first eradicating the forces of darkness perpetrating terrorism, including those supporting them through funding and propaganda? How are we going to stop the ugly sights of disfigured citizens in all major towns of Nigeria (especially the more prosperous south) littering the streets in their thousands and begging for a living when, if sanity had prevailed, they could easily have been like any of us contributing their quotas to the greatness of this country?
Why is religion used by northerners as an instrument to destroy their region, its peoples, and infrastructure; a tool for hatred, violence and bloodshed rather than a model for development? Why is it that only destructive precepts are imported into this country with a view to wreaking havoc? Why can't those killing innocent people and destroying expensive public and private property copy the positive attributes of progressive Islamic countries, such as Malaysia, Indonesia, Qatar, United Arabs Emirates, Kuwait, Saudi Arabia, Turkey and others? Must it be the lands forever bound for self-destruction through extremism, such as Iran, Afghanistan, Pakistan, Somalia, Chad, Sudan and Algeria that our people want to copy?
As I mentioned above and repeatedly before, it is about time people came out of the delusion that the terrorists are fighting the cause of any religion. We are made to understand that the nine murdered women were Muslims working to save the lives of children of (predominantly) Muslims. A few weeks ago, it was Alhaji Ado Bayero, the Emir of Kano, the fourth most prominent Islamic leader in Nigeria that was gunned down and is still being treated in a foreign hospital.
It is time we all got up to apprehend this scourge or else the north will soon be overcome by anarchy. Terrorists are dangerous, both to themselves and everyone else!
Saving the Papacy
FATHER Joseph Rat zinger, the man who assumed the identity of Pope Benedict XVI, has done what is common in the civilised world, especially the West, but uncommon for occupants of the Papacy. On Tuesday, February 12th 2013, he suddenly announced to a stunned world that he would be abdicating his seat on February 28th 2013 because his body and mind, at nearly 86, could no longer carry on the enormous duties of governing the world single largest religious denomination: the Roman Catholic Church.
This is dramatically opposite to the disposition of his now beatified predecessor, the late Pope John Paul (II) who held onto the seat until his demise, despite years of gradual but obvious physical and mental deterioration. In fact, when a reporter asked the late Pope if he shouldn't consider coming down from his seat, he replied that since Jesus did not come down from the cross he would not come down.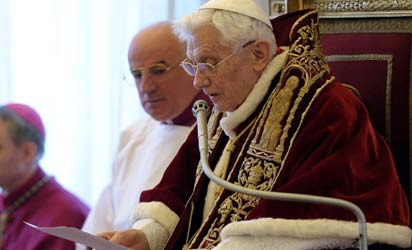 It is a matter of style, isn't it? But I admire the decision of Pope Benedict to break a 600-long trend of dying in office to give the Papacy and the Catholic Church an opportunity to march on, rather than being tied to the ageing circumstances of its Holy Father. One man should never be considered bigger than any institution, let alone the oldest Christian sect with over 1.2 billion faithful worldwide.
The Church is faced with many challenges, especially the steady push of worldly liberalism against the principles of Christianity as Christ divined them. Homosexuals want to be accepted as "normal" people, perhaps "normal" enough to produce a pope one day! Women want to be Catholic Fathers. So far, the conservative attributes of modern popes have kept them at bay.
It is only a physically and mentally fit pope that can cope. I wish Pope Benedict XVI long life and improved health in retirement, till the Lord invites him to His closer embrace.