By Nnamdi Ojiego
"Arsene, you have sold all your best players and now you are reaping the consequences, another season without a trophy, how long can this go on.  Your fans deserve more", says a disappointed Arsenal fan.
Many Arsenal fans and indeed, other soccer lovers have concluded that 2012/2013 may turn out to be Arsene Wenger's worst season since he joined the club as the manager in 1996 especially, if the club fail to make the top four on the league table.
Eliminated from both domestic cup competitions and 21 points off the pace in the Premier League, Arsenal know the Champions League represents their only chance of picking up a first piece of silverware since 2005.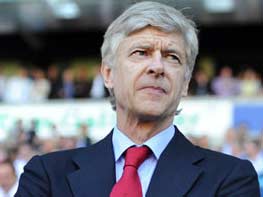 However, Arsenal's 3-1 defeat to Bundlesliga leaders, Bayern Munich after the first leg of their Champions League last-16 clash at the Emirates Stadium has compounded their woes.Wenger admitted his side had been outclassed in their 3-1 loss to Bayern Munich and said it seemed "impossible" to turn the Champions League last 16 tie around.
"Let's not hide the truth: it will be very difficult and we will try to make the impossible possible. Will try to play like we do at home and try to change the score. The third goal makes it very difficult, but we will try",  Wenger told ITV.
Barring a miracle in the Champions League, Wenger's survival at Arsenal now depends on his ability to finish fourth.
So we ask: Is this Wenger's worst season? Is he running out of ideas? Do you think it is time for him to take a bow? When will these trophy-less seasons end?