By Dele Sobowal
"To sleep over problems before they become a crisis is better than lying awake about them afterwards". Anonymous. (VANGUARD BOOK OF QUOTATIONS p 201).
The floods of 2013 will soon visit their fury upon us; large scale destruction of properties will follow and the usual hand-wringing and official excuses will follow. Yet it is an axiom of management science that a disaster which occurred twice should not be allowed to occur a third time because, if it does, it means that those in charge are not alive to their responsibilities. Floods will be back again in 2013; more devastating than ever before. Are we better prepared this year than last year?
The first rains were experienced in various parts of Nigeria last week. In Ondo and Ekiti states, according to newspapers' reports, properties were destroyed and two people lost their lives. In Lagos, there was no much loss of assets; but, a warning had been received that the rains, and the attending floods, this year will be as destructive as those of 2012, the impact of which is still being felt in many places. In fact, if care is not taken, some people might return to their homes after squatting somewhere for months in 2013, only to be sent scrambling for safety a few months after. Lagos might be one of the states where that might occur.
However, while floods are seasonal, fire outbreaks are not. They occur year-round. And when they do, almost invariably, the Fire Services are blamed for tardy responses and sometimes for lacking water to tackle the inferno. So, recently, when there was a fire outbreak at Jayeoba Lane, off Mafoluku Road, Ikeja, I decided to investigate in order to determine if, indeed, the Fire Services were derelict in their duties.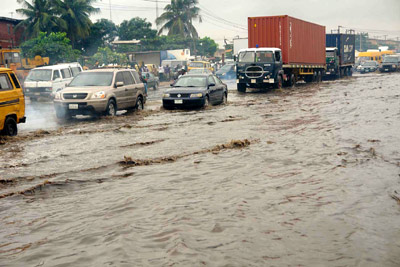 Lest anybody labours under the impression that this is an attempt to undertake public relations for the Fire Services, let me declare, right here, that they are reading this column at the same time you are. I never talked to them. All I did was to go to the scene of the fire accident and, for days, and to interview as many people as possible about the incident. My findings were quite revealing. The men of the Fire Services, on whom we rain curses and maledictions, are sometimes the victims of the environment in which the fire incident occurs.
Here several disenabling factors were at work making it virtually impossible for the Fire Services to perform their duties. First, what started out as a standard lane, wide enough to accommodate cars and trucks had over time been turned into a narrow tunnel which now can only be used by small cars. Buildings constructed, with or without government approval, had encroached on the land reserved for the lane so much the Fire Services truck could not get near the house on fire.
Second, an illegal market had developed around the entrance to the lane. Investigations revealed that the "Omooniles" or "landowners", have for years, been collecting rent to allow people to erect sheds and place tables, kiosks etc on the road – with the full encouragement of the Local Government Council staff. The illegal mini-market, established by the "land-owners", with the connivance of corrupt council officials, made it impossible for the firemen to work that day and that escalated what might have been a minor to a total disaster.
Third is the menace of street urchins and robbers, who, once there is fire outbreak, seize the opportunity to dispossess the victims of the fire of the little they manage to save. The first thing they do is to take strategic positions from which they waylay the fire engines, pelting them with stones and bottles, all in a bid to delay the engines from reaching the inferno. It is possible that nowhere else in the world do fire fighters have to fight for their lives on the way to the scene of fire and risk their lives again after reaching their destination.
Incidentally, a similar set of circumstances were at play when a building went up in flames at Branco Street in Lagos Island. The formerly motorable road, off Massey Street, which is supposed to be a major road had long been rendered all but un-passable by street traders. Fire hoses could not reach the house that was burning away – until there was nothing left but rubble.
To me governments need to do more to help people who, out of ignorance or stupidity endanger their own lives, as well as those of others in this way. Lagos State Ministry of Environment, which admittedly has a whale of a job to do, still needs to do more.
There is an urgent need to re-open the lane at Mafoluku and to restore passage to a lot of roads which had been taken over by illegal markets in all the councils. Crying over spilled milk never makes sense; it makes even less sense when we through acts of commission and omission help to spill the milk.
HONOURABLE MINISTER; PLEASE OFFER PROOF OR STUFF IT
"In 2012, the first full year since the pledge, the West African country [Nigeria] produced an additional 8.1 million tones compared with a million target, Akimwunmi Adesina, said". PUNCH, January 29, 2013, p 23.
Akinwunmi Adesina is, of course, our Minister of Agriculture, who has been going about making this claim without proof or corroboration by any independent institution; not even the Federal Bureau of Statistics. It was only last year that Dr Segun Aganga laid claim to 1.3 million phantom jobs created by the Bank of Industry, BOI.
So Adewunmi cannot expect us to believe anything he says without offering proof. And after that balmy idea about ten million phones, some of us are beginning to doubt the man very seriously. Aganga, meanwhile had retired into golden silence. He no longer announces jobs created. That is fine by me.
I am waiting, and so are millions of our Fellow Nigerians, for the evidence; otherwise, another Minister will be declared a liar. He has two weeks.
WHY JONATHAN CAN NEVER PERFORM
"A large staff around a President can waste rather than save his time; and its simple existence can lessen the time he has for quiet thought and independent thought". Arthur Schleisenger Jr, Adviser to President John Kennedy.
First, when surrounded by too many block-heads, each with his own personal agenda, it is impossible for a president to perform.
Second, when about eighty per cent of a president's time is taken up by party politics, failure is all but assured. For two weeks, I counted all the newspaper headlines concerning President Jonathan, close to eighty per cent were about Jonathan and his power struggles within the PDP. Why? Is he now PDP President.
Madam Annah  Bedwell  Passes On, aged 88 years
The death has been announced of Madam Annah Abiona Bedwell on December 10, 2012.
She was survived by children and grandchildren among whom are: Mr Rowland Bedwell, Mrs Catherine Bose Woods, Pastor Dele Bedwell, Maureen Tokunbo Bedwell, CEO of Maureen's Kitchen, Towry Street, Lagos and others.
Burial service will take place on Thursday, February 7th 2013.
Announcer Maureen Tokunbo Bedwell.