By LADIPO ADAMOLEKUN
This is the second instalment of this piece which was first published yesterday
•ACCORDING to the World Economic Forum's Global Competitiveness Report Index, 2011-2012, Nigeria was ranked 140th out of 144 countries in primary education enrolment.
•"National Planning Minister, Shamsuden Usman, said two years ago… that "Northern Nigeria harboured the highest number of school-age children in the world that were out of school".
•Enrolment of children into schools is as low as 12.0 per cent in some states.
•Six million of 36 million girls out of school world-wide are Nigerians.
•Nigeria is one of the few countries in the world that has had to launch a boy-child education campaign – launched by the Federal Government in the South-east in June 2012
• In 2008, Kwara State tested 19,125 teachers in Primary Four Mathematics… Only seven teachers attained the minimum benchmark for the test in Mathematics. Only one of 2,628 teachers with degree passed the test; 10 graduates scored zero. The literacy assessment recorded only 1.2 per cent pass.
B. Secondary education: Students' poor performance records
•The following are the percentages of students who obtained five credits, including English and Mathematics in the May/June WAEC over the last five years: 23 per cent (2008), 26 per cent (2009), 24 per cent (2010), 31 per cent in 2011 and 39 per cent in 2012.
• Regarding NECO, failure rate was 98 per cent in 2008, 88 per cent in 2009, 89 per cent in 2010, 92 per cent in 2011, and 68 per cent in 2012.
• Percentage of students who scored 200 and above (out of 400 total) in JAMB in the last four years ranged between 36 per cent (2010) and 46 per cent (2009) – overall average of 42 per cent. In 2012, only three of 1,503,93 candidates scored above 300 and only five per cent scored 250 and above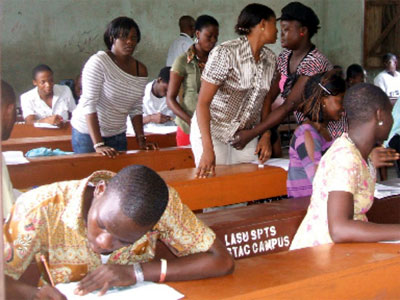 • "The single biggest problem (in Nigerian universities) is the abysmal quality of the intake; the vast majority of my students barely know their grammar, never mind the poor quality of their knowledge."
•According to the World Economic Forum's Global Competitiveness Report Index, 2011-2012, Nigeria was ranked 120th out of 144 in secondary education enrolment.
C.  Universities: Some specifics on decline
•"The most ridiculous indication of the rot in our universities was the recent reported dismissal of three graduates of the Enugu State University of Science and Technology from the National Youth Service Corps scheme for falling below the standard expected of graduates." (The university is reported to have declared "an academic emergency.")
•"…Nigeria's university system is in crisis of manpower (italics and bold added). Instead of having no less than 80 per cent of the academics with Ph.Ds, only 43 per cent are Ph.D holders while the remaining 57 per cent are not. And instead of 75 per cent of the academics to be between senior lecturers and professors, only about 44 per cent are within the bracket while the remaining 56 per cent are not. The staff mix in some universities is alarming…Kano State University, Wudil (established in 2001) has only one professor and 25 Ph.Ds".
•Almost all the universities are over-staffed with non-teaching staff: in many universities, the number of non-teaching staff doubles, triples or quadruples that of teaching staff; and in some, the number of senior administrative staff alone is more than the total number of teaching staff.
•"There is an average of four abandoned projects per university in Nigeria" – with negative consequences for classrooms, laboratories, students' hostels, and staff accommodation. Poor infrastructure adversely affects teaching, research, learning and students' health and safety.
•Minister decries lack of Nigerian academic journals (that are cited) abroad.
•There are 75,000 Nigerian students in Ghana who pay not less than N160 billion as tuition alone annually, compared with the annual budget of N121 billion for the entire federal universities in Nigeria.
• In 2010, Nigerian students spent about N246 billion in tertiary institutions in UK, more than 60 per cent of education sector budget in 2012.
•Universities do not have adequate supply of Ph.Ds but Ph.D holders seek graduate-level positions and some compete to be truck drivers.
In addition to the above sector-specific illustrations, broad-gauged evidence of huge decline in all aspects of quality education measurement on an African comparative basis is provided in Table 1 above. It is based on the 2012 Mo Ibrahim Good Governance Index, Education Sub-Category of the Human Development Category. (The three other Categories of the Index are: Safety and Rule of Law; Participation and Human Rights; and Sustainable Economic Opportunity).
The six indicators used to calculate the scores recorded in the Table are: education provision and quality, ratio of pupils to teachers in primary school, primary school completion, progression from primary to secondary education, tertiary education, and literacy. According to the evidence, education performance in Nigeria declined significantly between 2006 and 2011: score declined from 51 per cent to 47.6 per cent in and Nigeria's rank declined from 21st to 30th.
It is striking that there was improvement across the continent: from an average of 49.4 per cent score in 2006 to 53.8 per cent in 2011, an increase of 4.4 per cent contrasted with Nigeria's decrease of 3.4 per cent. Nigeria's poor performance in the Education sector is typical of the country's performance in respect of all four Categories of the Mo Ibrahim Index in2012: Nigeria dropped into the bottom 10 countries in the overall rankings for the first time: 14th out of the 16 countries in West Africa and 43rd out of the 52 countries in the Report -Nigeria was 41st in 2011 and 37th in 2006.
Part three: Causes of the crisis: Three major causes of the crisis in the education sector are examined in this Lecture: (i) over-centralisation; (ii) implementation failure; and (iii) de-emphasis on the value of education and decline of the teaching profession. Some other causes of the crisis are linked in varying degrees to one or the other among the three main causes highlighted and they will also be mentioned, as appropriate. The problem of corruption deserves special mention. Although it is not highlighted as a major cause of the crisis, it will feature prominently as it is uniquely linked, in varying degrees, to both over-centralisation and implementation failure.
(i). Over-centralisation: Over-centralisation is, without question, a major cause of the crisis in the education sector and its origin is unarguably the intervention of the military in the governance of the country. The fact that military rule lasted for almost three decades (one of the longest in Sub-Saharan Africa) and was extended by a former military ruler and strong believer in centralisation who served as the first civilian president from 1999 to 2007, has resulted in the entrenchment of over-centralisation in a constitutional federal system.  The following are five key misbegotten legacies of military-imposed centralisation in the education sector:
Military imposed centralisation
(a) At the primary education level, former President Obasanjo, the civilianised military who served between 1999 and 2007, invented a role for the Federal Government in primary education that was different from what the 1999 Constitution prescribes: Universal Basic Education (UBE) was designed as a Federal Government policy and programme in defiance of the provision in the 1999 Constitution that assigns responsibility for primary education to state and local governments.
The role of the federal government in primary education is limited to prescribing minimum standards as provided in the Constitution's Second Schedule, Exclusive Legislative List, 60 (e). Sadly, two civilian presidents have maintained this usurpation. Former president Yar'Adua committed to abandoning this bad practice but he died within a year that he turned his attention to the subject. ("I have also directed that all laws be examined that go against the federal system so that they will be amended to be in conformity with the federal system of government" (interview with London's Financial Times reported in various national newspapers, May 20/08).
By LADIPO ADAMOLEKUN