By GABRIEL ENOGHOLASE
BENIN—THE move to retrieve looted ancient Benin artifacts, now adorning European museums, by Nigeria appear bleak as a meeting between Nigerian officials and representatives of five European museums on Benin bronzes ended, yesterday, without hope of getting back the priceless artworks.
Professor Emeritus and Consultant to the Nigerian National Commission on Museums and Monuments, Prof. Folain Shyllon, who cited the United Nations Economic and Social Cultural Organisation, UNESCO's 1970 and 1995 Conventions, during an interactive meeting with journalists in Benin, Edo State, explained that the issue of getting back the stolen artifacts was complicated.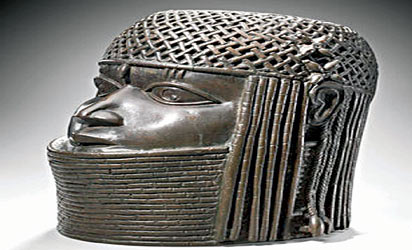 Nigeria being a signatory to the two Conventions, he explained, could only employ mediation and negotiation through UNESCO's Inter-Conventional Committee on the return of the arts works to pursue its goals of retrieving Benin artifacts carted away by the British during its invasion of Benin Empire in 1897.
Fielding question on the matter, Director-General of National Museums and Monuments, Mr. Yusuf Usman, insisted that the Benin meeting and others before it were giant steps aimed at discovering where the arts works were in the various Museums all over the world.
His counterpart, Dr. Peter Juuge of Ethnological Museum, Berlin, Germany, said the new dialogue will change the minds of people on Benin objects, assuring that "the objects will be in Nigeria for public display" in future.
The interactive meeting with journalists was attended by officials from Nigeria, Sweden, Netherlands, Germany and Austria.
in a statement, agreed to develop a data bank by the collaborating institutions on Benin art collections in their holdings in form of a digital archive of electronics and hard copies, which will be submitted and made available to the general public.
It resolved that "the National Commission for Museums and Monuments and collaborating museums shall create an enabling environment for an increased exchange of touring/traveling exhibitions for Benin art objects and other art traditions, where the European and Nigerian Museums experts will work together in the planning and execution of such exhibitions.
"That these individual steps are part of the dialogue which goals are to lead to the display of objects in Nigeria."