BY MONSUR OLOWOOPEJO
HARD times now await illegal occupants of government property and unauthorized areas in Lagos State, as the state government, weekend, commenced fresh onslaught against all forms of environmental nuisance.
Meanwhile, some of the displaced occupants at Ijora under Bridge, last week, staged a demonstration in protest against their eviction from the place, which they described as their abode and means of livelihood for many decades before the state government bulldozers moved in. They, however, called on the state government to have a rethink on the ejection order and allow them to do their legal businesses with a promise to observe environmental laws of the state.
Lagos State Taskforce on Environmental and Special Offences (Enforcement) Unit, raided some areas in the state to dislodge squatters and demolish several shanties erected under the bridge, along the road and on drainage channels. Some of the areas raided by Taskforce led by its chairman, Superintendent Bayo Sulaiman, include Oshodi, Orile, Iganmu and Mushin. During the raid 84 miscreants were arrested out of which 30 were under-aged male children who would be transferred to one of the Lagos State Correctional Centres for Boys.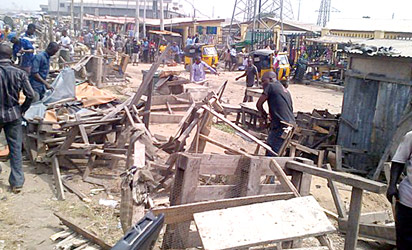 The state government stated that the demolished structures were erected illegally by the occupants, adding that they pose security and environmental threats to the state.
Meanwhile, Governor Babatunde Fashola, while on an inspection tour of projects in the Lagos State University, (LASU), Ojo Local Government, last week lamented that the only issue "still affecting infrastructural development in the institution and other parts of the state is land squatters who have constantly encroached on land and open space belonging to the state government."
After raiding Oshodi Bus stop at 5:00 am, the taskforce raided Iganmu under Bridge, behind the light rail system being constructed by the government in the afternoon. At this place, oil bunkerers have turned the premises to depot for selling diesel and petrol. Several drums of diesel were recovered by the Taskforce at the scene. They also destroyed shanties erected by the squatters under the bridge.
Vanguard gathered that the oil bunkerers had fled the area few minutes before the arrival of the Taskforce officials.
Speaking to pressmen after the exercise, the chairman of the Taskforce said that the raid was meant to give Lagosians a crime-free and conducive environment.
He said: "At under the bridge in Iganmu, Apapa-Iganmu Local Council Development Area, (LCDA), government does not want a situation where the volatile diesel and fuel products being traded under the bridge would affect the light rail bridge."
Sulaiman added that the bridge was being weakened by activities of oil bunkerers, saying "we have evacuated them from that place before. We are going to monitor that place effectively from now on so that they do not return."