By Chino Obiagwu
In the last three years, the situation of human rights in Nigeria has deteriorated more than in any other time in our history since the civil war. It is time to call up activists, NGOs and democrats to the trenches: marshalling the strategies and combativeness with which we fought the military regimes.
With return to civil rule, NGOs and activists changed strategies and adopted more engaging and constructive methods. But it is clear that the Nigerian politicians are not ready to engage in good governance. In all angles, there are obstinate resistance public officials to meet popular demand for good governance.
From the north to south, east to west, there are huge insecurity of life and properties,  huge wastage in governance, high level corruption and failure to prosecute corrupt officials, increased rape of women and other gender-based violence, hyper-inflation resulting in rapid increase in poverty rates,  high unemployment of young people, deteriorating social infrastructure, etc.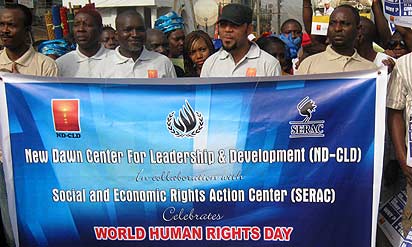 Nigerian human rights NGOs have recently rallied together under the umbrella of Human Rights Agenda Network reaching and calling out all civil society actors to the trenches, so as to strategize on effective ways to challenge public mis-governance. It is an urgent call, an agenda for 2013.
The reasons are obvious. They stare us on the face. We must rise up now or be damned.
In every angle of life, the situations are deplorable. Poverty levels are escalating and respect for life and rights are daily plummeting.  Government officials are adamant and uncaring of the needs of the people.
Corruption is now on mind-blowing proportion: most governors, ministers and personal assistants buy up houses on the entire streets and steal away billions of naira to foreign banks. Legislators take home more than a quarter of national wealth as earnings, and almost 85 percent of the country's income are stolen away or spent maintaining public officials.
Schools, hospitals, roads, railway, refineries, airspace, etc are completely unattended to and in deplorable conditions. Nigerians are so numbed and stunned by the huge levels of stealing of public funds. Even when government says it investigates corrupt officials, no one is punished. Since 2007, no politically exposed person has been effectively prosecuted and jailed for stealing public funds. We must not allow this charade  and travesty to continue.
There are six critical areas of human rights that must form our joint NGO human rights agenda in 2013.
The first is unlawful killing and insecurity. A recent report by NGO LEDAP said that gun violence is the highest cause of untimely deaths in Nigeria, with an average of 6 Nigerians being killed every day since 2010. More worrisome is the lack of prosecution of the perpetrators. It appears that the government has lost any more ideas on how to deal with the insecurity situation.
Several other expert reports confirm deploring insecurity and severe threat to right to life. UN Special Rapporteurs on Torture and on extra-judicial executions, summary and arbitrary killings recently reported that excessive use of force are acceptable tools of policing and law enforcement in Nigeria.
The total failure of government to punish perpetrators of unlawful violence constitutes high level impunity. It encourages potential offenders and result in increased loop of violence. The use of arms in law enforcement should be revisited, and easy access to small arms and light weapons be seriously addressed.
The circle of violence that engulfed north central and north west Nigeria since 2004 have resulted in killings of hundreds of thousands and displacement of many more across the country. On 18 November 2010, the International Criminal Court (ICC) expressed concern over these unresolved killings and the absence of government's redress to the victims.
* Chino Edmund Obiagwu is chair of Human Rights Agenda Network (HRAN)