By Adisa Adeleye
THE impression of the year 2012 by many Nigerians is that, though the Government of President Goodluck Jonathan has tried to transform the economic and political scenes, the efforts have been less edifying.  Many commentators and analysts believe that the country has got much less than it desired in the past years, considering the opportunities afforded by immense material and human resources.
It might look as if Nigerians are becoming more impatient and less tolerant of the present government which has been adjudged to be slow and awkward in its operations. On security, it might be true that the government is putting up its best in curbing the menace of the Boko Haram insurgency, but the truth is that, the murderous sect could conveniently choose its targets and victims at any moment before the security forces could mount its counter action.
Insurrection of Boko Haram
It might also be true that the security forces are winning secretly against the dangerous body.  If this is so, there is a need for Nigerians to continue to pray for the success of all our Security agencies in their various operations to ensure the return of peace to the country soon.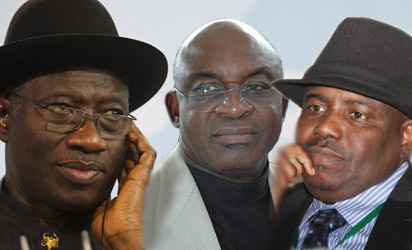 However, it is not the insurrection of the Boko Haram sect that is causing serious problem; it is the ease with which any group of people could form themselves into a notorious gang without early detection by the intelligence and security operators.  It is in this respect that any government of the day would bear responsibility for inefficiency and careless attitude towards matters of great importance, like security infraction.  It is recognized that insecurity, and the growth of it, has been the bane of any authority that is carefree and careless.
It is a pity that many Nigerians had got it wrong in examining the problems of general insecurity in the nation.  To me, insecurity with its violence should be regarded as a national problem which should not be placed at the doorstep of President Jonathan or his government.  It should be a national problem which should be tackled seriously and nationally, too.  Security is a desirable target for a united action by all Nigerians.
The fear of the killings and destruction of the Boko Haram sect have tended to overshadow another devastating consequence of armed robberies and kidnappings.  There is also the rise in the activities of a group commonly known as "Unknown gunmen".  The nefarious activities of all these groups have put the country under a siege, and driving the nation to the precipice of a deep valley.  It looks as if the government and the people are bemused and confused – thus giving the impression of a failing state.
Many analysts have attributed the growth of insurrection, greed and all other forms of violence to growth in the rate of unemployment in the country.  In spite of promises by governments at all levels to initiate policies to tackle unemployment, the reverse seems to be the result.  Most of the policies could only scratch the face of unemployment, but not comprehensive enough to tackle serious unemployment.
Mass unemployment is a problem of the economy which is showing paper growth only, without positive impact.  The uneven growth in the economy could be attributed to the decline in the manufacturing sector which has been characterized, for a long time, by low capacity utilization, as a result of weak domestic demand and severe foreign competition (of cheap goods).  Also, the cost of domestic production has been comparatively higher owing to poor infrastructures, high cost of power and high cost of imported components.
It should be recognized that a flourishing manufacturing sector would aim at 90 per cent capacity utilization to produce enough for home demand and for export, if necessary.  This condition would depend on reliable power supply (electricity or diesel).  Unfortunately, electricity supply, though thought to be improving, yet retains its epileptic stance, and the price of diesel has been rising unjustifiably. Thus, average capacity utilization in the manufacturing industry has been less than 50 per cent.
Recently, the Central Bank Governor in his series of lectures has been able to cite Singapore as an example of economic prosperity under good leadership.  Infact, by 1965, Singapore depended mainly on provision of services for British Military bases, it had no natural resources (or oil).
Today, Singapore has been transformed into a rich country by embracing developmental strategies in some phases – import substitution, export drive, industrial reconstruction and diversification.  All the points mentioned above are not new but might have been forgotten in the current drive to transform our national economy.
It should not be forgotten that in the drive to curb unemployment under depression (sluggish demand), it is desirable to encourage lavish spending as opposed to savings as being widely suggested in some government quarters.  The right action is to, "let as much money as possible fructify in the pockets of the citizens, rather than to fritter it away on government activities not absolutely necessary".
As it has been stated several times in this column, that it is impossible to have the real economic growth (as opposed to paper growth) under condition of high employment with so many capable hands kept idle when they should be producing economic goods.
NATIONAL GOVERNMENT
As I have stated before, in order to save the country from further economic, political and social decadence, widespread rural poverty and drift into urban centers with its attendant filth and disease, it is necessary to seek a new solution in the idea of a genuine national government of varied and tested talents under the present President, Dr. Goodluck Ebele Jonathan.
This is a better option than any idea of a military coup.  A sensible political move could be for President Jonathan to invite ministers from states not controlled by his party PDP which has convinced many Nigerians of its inability to grapple with its complex problems of modern Nigeria.  This does not dismiss the idea of a National Conference or a National Discourse on the future of the country.