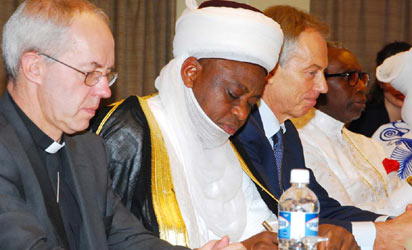 From left Bishop Justin Welby, Archbishop of Canterbury Designate, the Sultan of Sokoto Alhaji Saa'ad Abubakar; Former British Prime Minister Tony Blair, President Christian Association of Nigeria CAN Pastor Ayo Oritsejafor and the Estu Nupe Alhaji Yahaya Abubakar attend the launching of Tony Blair Foundation Led-work in Nigeria to Encourage Reconcillation Between Christain and Moslems Communities in Abuja on November 22, 2012AFP
By John Amoda
THE front page of Friday, November 23, 2012 Vanguard carries the prominent picture captioned  "Reconciliation: From left were: Bishop Justin Welby, Archbishop of Canterbury Designate; the Sultan of Sokoto, Alhaji Sa'ad Abubakar; former Prime Minister Tony Blair; President, Christian Association of Nigeria, C.A.N, Pastor Ayo Oritsejafor, and Estu Nupe, Alhaji Yahaya Abubakar at the launching of Tony Blair Foundation Led-Work, to encourage reconciliation between Christian and Moslem communities.
Tony Blair in his speech tasked Nigerian politicians, saying "there was need for them to really imbibe the true qualities of leaders not just politicians…". He said: "My foundation and I are deeply committed to addressing the challenge of religious reconciliation in Nigeria".
According to him, understanding and respecting different faiths is central to securing peace, particularly where those who seek to misuse religion for violent ends aim to destroy it. President Jonathan in his own address blamed "the current security situation on the handiwork of "false prophets".
He said: "I commend you (Tony Blair) for this singular and timely joint initiative. The idea is not only creative, it is also consistent with our efforts to promote inter-religious dialogue and harmony.
Our country, Nigeria, is blessed by the Almighty God with two of the world's great religions which honour Him in their different ways. For generations, the two religions have co-existed and their proponents have lived side by side, in peace and harmony, knowing that both religions espouse the universal values of peace, freedom, human rights, dignity and the oneness of humanity.
Our young people can easily be seduced by false prophets who take them down the path of violence and hatred. It is very important that religion is not misused to justify violence. Inter-religious dialogue is already playing an important role in our society.
The Federal Government continues to promote religious harmony by constantly engaging the Nigeria Inter-Religious Council, jointly chaired by the President of the Christian Association of Nigeria, CAN and the Sultan of Sokoto. While progress on this front is satisfactory, it must be pointed out that some of the religious tensions in the country are politically motivated.
We must use both platforms to call on all believers to reject religiously anchored violence, advance tolerance, and promote mutual understanding. We must emphasize the imperatives of dialogues as part of our efforts to create peace and advance development".
The President's statement on inter-faith ecumenism could not be better phrased and the values of reconciliation Government seeks to advance better articulated.
Critique of Ecumenism
To be opposed to intra-faith and inter-faith ecumenism is not the same as commitment to anti-reconciliation sectarian fundamentalism. The President has well stated that some religious tension in the country and in the world for that matter "are politically motivated".
I will, in fact, argue that all inter-faith tensions are politically motivated in order to make the point with respect to the core values the "God" of each religion declares to be His values.
There is a world of difference between what the Scriptures declare and what religious adherents pursue as faith-beliefs. There are personal testimonies that preface my position on ecumenism.
My family history is one of inter-faith tolerance. My father, Amoda Alli Elenpe of 10 Robert Road Warri, was a Muslim who lived in the Niger Delta for over six decades and married wives who were not Muslims. I grew up in my mother's family where sacrifices in home shrines were openly made.
My Uncle, Walter Anukpe became a life-long Baptist and Deacon coming out of the Okere heathen background.
My father enrolled us in Roman Catholic School Warri and when the school presented the three of us in the school with the ultimatum to be baptized or seek another school, my late brother Ganiyu Amoda was admitted to Government School Warri, and the present head of the Amoda Family, Alhadji Fasasi Amoda and I "converted" by agreeing to a name change upon baptism. My brother took the name Michael and I the name of John after the Italian Saint John Bosco.
While my father, a staunch Muslim, did not mind hearing me called John whom he named on my circumcision Moyibi, my uncle, the late Alahdji Ladejobi required my brother to 'reconvert' and resume the use of his name, Fasasi. My brother, whom I love, has performed the Hajj several times.
From the political history of Jesus of Nazareth
As a teacher and leader in Roman controlled Judea- Jesus of Nazareth made it very clear he was not an anti-Roman or pro-Roman Jew. His kingdom was not of "This World".
When his Jewish adversaries wanted to entrap him on the issue of payment of taxes to the government of Rome, his answer was a nuanced one: God's demand on Jews are different from Caesar's demands on Jews; Caesar requires his taxes to be paid with Roman money- so give unto Caesar what is Caesar's and unto God what is God's; there are no conflict between these two separate demands; what is God's is our soul and what is Caesar's is the coin that bears his image.
When Satan asked Jesus to worship him and to receive proprietary ownership of 'all the kingdoms of the world in a moment of time. And the devil said unto him, all this power will I give thee, and the glory of them; for that is delivered unto me, and to whomsoever I will I give it.