By Kole Omotoso
Introduction:
WHAT constitutes power and influence? The most powerful and most influential among us invariably becomes our leader or is made our leader. Information and the acquisition of which constitutes knowledge becomes the leader. Secrecy, the hoarding and guarding of knowledge, becomes the 'sole preserve' of the powerful. When we choose our leaders we have hand over the power we have to them. If that power is misused, we have the right to take back our power and give it to someone else. Until now, the Secrecy of the powerful and the consequent ignorance of the people have always made such processes of taking back the power from an erring leader virtually impossible.
Information sets us free. The greatest contribution that social media has made to modern democracy is making information available at the touch of a mouse. The career of Julian Assange, the Australian IT genius who founded Wikileaks demonstrates the highest level of the struggle of those in power to keep information and the efforts of the people to have access to information. Wikileaks uses social media software to collect information that governments and diplomats would rather keep secret and then distributes these thousands of cables worldwide through the Internet etc. Says Mr. Assange about Wikileaks: "We are a people's bureau of checks and balances, working internationally, and knowing that the things that governments and diplomats do behind closed doors is entirely our business. The people elect them, pay for them, trust them, and are bosses of them. And governments who allow themselves to forget that will hear the voice of the people in every chatroom, on every blog, on every Twitter feed and, eventually, from every square, rising from Tiananman Squire in Beijing to Tahrir Square in Cairo, from Trafalgar Square in London to Times Square in New York, with ripples through every letter of the alphabet. And governments who stand against this truth are done for." (Julian Assange: The Unauthorised Autobiography).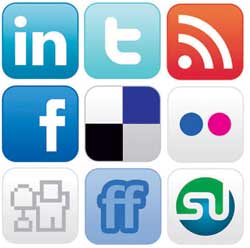 Further on Julian Assange gives details: "There were some incredible stories  in the cables: $25 million worth of bribes to politicians in India, given with the knowledge of apparently sanguine US diplomats; signs of continued American  interference in Haitian politics; revelations that a Peruvian presidential candidate had taken money from an alleged drug trafficker; unprecedented levels of lobbying of foreign governments by diplomats on behalf of American corporations; politicians in Lithuania paying journalists for positive coverage; and even spying by American diplomats on their colleagues at the United Nations." The struggle between power and powerlessness is the struggle to know and to prevent others from knowing. Social media is at the heart of this struggle in the 21st century.
The use of Social Media (Internet, email, chat rooms, blogs, twitter feed, facebook and pinterest – an online pin board) in recent years have demonstrated that both social exchange theory – SET –  and strategic contingencies theory can be validated. Two examples of social media during this period are President Barack Obama's use of social media in 2008 for his presidential campaign (with a passing mention of social media in the campaign of 2012) and the use of social media in the Arab Spring of Egypt between June 6 2010 and 18 February 2011.
Barack Obama and the First Social Media Election:
The presidential election of 2008 is considered the first social media election because of the strategic use which Barack Obama made of it. In February 2007, Barack Obama met Marc Andreeseen, the founder of Netscape and a board member of Facebook to ask him "if social networking, with its tremendous communication capabilities and aggressive database development, might help him beat the overwhelming odds facing him" in the forthcoming presidential election of 2008. Marc Andreeseen summed up Barack Obama as "a man who saw the world and the status quo as malleable", a summation that was spot-on. What was done then was to "bolt together social networking applications under the banner of a movement". In this way an unforeseen force was created to raise money, organise locally, fight smear campaigns, get out the vote and topple both the Clinton machine to win the Democratic Party nomination and to defeat John McCain for the presidency. Going into the White House in 2008, Barack Obama had a virtual political base as well as a data base. Social media became not only a campaign tool but also a means of gathering and sharing content.
As a campaign tool Barack Obama had access to the social media tools such as blogs, social networks, photo-sharing sites and video sharing sites. These social tools were used to get voter turn-out up and also to urge people to go out and vote especially in swing states. The use of social media as a means of gathering and sharing content also worked for the campaign. During that 2008 campaign, photo and video sharing sites were used to announce mal-functioning voting machines in Florida, ballot shortages in Virginia and absentee ballots because of late delivery of ballots in Georgia.
Subscribe for latest Videos