By Obi Nwakanma
Basket mouth – that's how a buddy of mine describes Lamido Sanusi, Governor of the Nigerian Central Bank – "e done start to leak again o." It is a moniker appropriated from Fela's forceful description of uncompromising truth-telling. Mr. Sanusi speaks his mind, form be damned!
He is certainly the most public of any other former occupant of his current office, most of whom were withdrawing and self-effacing men. But Sanusi has taken a different style, and intervenes publicly on fiscal as well as social issues affecting Nigeria's economic and political development.
He is no withdrawing man, nor does he think he should keep his light under the bushel. Well, good for him. It is just that he gets into trouble for candour, and some also think much of his candour comes from bloated self-regard. He's gained something of a reputation for abrasive loquacity in the Nigerian public imagination. But Lamido Sanusi is not about to be silenced. He said so himself just this past week, when he teed-off yet another storm with his comments on the structure of Nigeria's bureaucracy.
The Central bank governor basically advocated that the Nigerian government should reduce its public personnel expenditure by sacking 50% of its civil servants. It is the call once more for rationalization by which the public sector always bears the brunt of discrepancies and instabilities in Nigeria's public finance.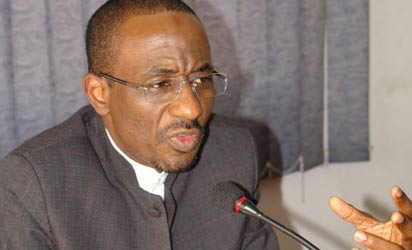 However, I think it is also important to listen carefully to what Lamido Sanusi has to say, because indeed we pay him to say this stuff. He brings his expert opinion as Nigeria's chief banker and economic policy analyst-in chief. Sanusi's comment at the second annual Capital Market retreat in Warri has thrown a necessary spotlight on the key and abiding question of the structure of the Nigerian state.
Does the Federal government of Nigeria need to fund the current 774 local governments nation-wide? Does Nigeria need its current number of 36 mostly non-performing and non-viable states? Do we need the current number of civil servants? There can be no doubt that Nigeria struggles with the question of resource management as a result of the inchoate and extremely bloated government it has created since July 1966.
Sanusi asks very pertinent questions, and we may certainly have to step off our high horses and pay attention to at least two proposals: Nigeria does not need the current number of states.  Thirty-six states is a burden on the resources of Nigeria in many ways. It is expands the epicenters of public governance in ways that are unnecessary.
The current number of states, some of them in conditions of abjection and stupor cannot be called states because they lack the organizing capacity to produce and manage resources for the highest number. Many thoughtful Nigerians have advocated seriously for a collapse of the current states into a six- regional structure with more critical devolution of power.
It is in fact incumbent on the National Assembly in their current moves to amend the Nigerian constitution, to pay attention to this necessity and return the laws of the federation to its pristine purpose as contained in the charter of the Republic of 1963. The federation of Nigeria cannot function effectively with its many "magi cube" administrative units now called states, created under military edicts as a means of creating a more organic command and control system for military rule.
It no longer works for us. It never did. All that the creation of the 36 states did was to bloat government without creating organic and efficient systems of the delivery of public service. Let us abolish the states and start afresh. Let us return to the constitution of the Republic and reconstitute this federal republic on the principles contained therein, with the single advance of creating a six regional federation to be agreed upon by referendum. I also agree with Sanusi that we need to embark on local government reform.
Let any municipality capable of its own independent and organic interest charter a local government, raise its own tax, and determine its own independent source of funding within its own unique municipal laws. One of the most unfortunate developments in Nigerian public administration was the creation of a uniform local government system by the Obasanjo transitional government in 1979.
I think it damaged the local government system. For example, the East had a system of local administration developed since 1954 along the county council model that suited the democratic culture of the people. The six regions must be allowed to create and sustain municipal laws and local government administrations as they find suitable for as long as they are self-funding. This proposition does not in any way support Mr. Chibuike Amaechi's lobby, on behalf of the governors for the abolition of the local government as the third-tier of the state.