By Dele Sobowale
NLNG is one of the big success stories in our country. From what I am told, the company has invested $13 billion since inception, and has become a pace-setter in terms of revenue generation for the government". Minister of Trade and Investments, Dr Olusegun Aganga; in THE NATION, November 28, 2012, p. 29.
"There are three kinds of lies: lies, damned lies and statistics". Mark Twain, 1835-1910. (VANGUARD BOOK OF QUOTATIONS, p I30).
The Minister of Trade and Investment is an incurable optimist. Unfortunately, his search for "good news" to frequently, deliberately or inadvertently, make pronouncements which may not be correct in all material particular. We cannot easily forget the phantom 1.3 million jobs which he claimed were created during the year; when indeed the Bank of Industry acknowledged only 300,000 unsubstantiated jobs. The Minister was carpeted on this page for that demonstrated penchant to grab any rumour pointing to improvements and achievements by the government.
Unfortunately for the Minister, the statement credited to him about NLNG appeared the same day that an editorial was published by the same newspaper – THE NATION. Titled "MDAs jamboree", the paper informed its readers, of whom I am one, that, "The House Committee, briefing journalists, noted that it was investigating the activities of a sample of 60 out of 601 MDAs.
Citing some examples, the committee stated that the Nigerian National Petroleum Corporation (NNPC) alone had $7 billion recorded against it as unremitted revenue within this period. Another example is the Nigerian Liquefied Natural Gas (NLNG) where it was discovered that not a dime had been remitted to the Federation Account for over seven years. (Underlining mine).
The Minister and I totally agree on one point – the NLNG, which is also under the Ministry of Petroleum, is a success story. I have never been deluded that it is a pace-setter in terms of revenue generation for the government". Instead, it is a pace-setter for corrupt self-enrichment by a few people at the top.
Aganga might not be one of the beneficiaries (and he is obviously innocent if he talks like this), but, he should be aware that after investment of $13 billion, Nigerians are receiving no dividends from the colossal investment. Most of the revenue is going into private pockets. In fact, the scandal in NLNG ranks with the scam in the power sector where $13-16 billion went down the drain with little to show.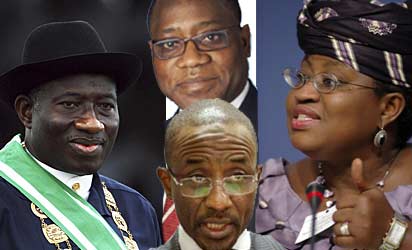 Incidentally, the NLNG was in jeopardy right from its inception as its gas production for several years were already pledged by the a certain administration in return for the private investment in the venture as well as to pay the external debts incurred by that government.
Aganga should check this out. Pace-setting revenue is indeed being generated by the company, but it might not even be our own. Statements such as this one credited to him detract from the good work he is in doing trying to promote trade and investment.
AUDITOR'S REPORT
The report of the Office of the Auditor General of the Federation, OAGF, makes interesting reading. But, since not many people will have access to it or have the time to read and understand it, let me quickly point to the aspect which should be of interest to all of us.
According to that report, between 2006 and 2009, Federal Government Ministries, Departments and Agencies (including law-enforcement units) failed to remit about N4 trillion to the Federation account. That translates to NI trillion per annum or 25% of the annual budget for those years. Obasanjo, ever so self-righteous, was the President for two of those years; Yar Adua was responsible for the rest; ably supported by Jonathan.
Till today, no Minister, head of department or Director General had suffered the consequences which would have followed had the same offence been committed in Singapore. At least now we know why that tiny nation is in the first world and Nigeria is still condemned to third world status.
More to the point, there is still no change. Till today, Ministries, Departments and Agencies continue to withhold revenue from the Federation Account thereby criminally impeding progress.
The obvious question is: who should act? The answer is all of us; starting with members of the National Assembly, who should cast aside ethnic or party or state sentiments and ask for sanctions against Ministers and others who are found guilty of the infractions. Lamido Sanusi's purge of the public service should start by relieving the worst twenty officials of their posts and probing what happened to the revenue they withheld for so long.
CHIP  SHOTS
• From him that had not it shall be taken and given to him that hath. N2.3 billion is not enough for food and drinks in Aso Rock according to an official who went to the National Assembly to defend the profligacy. We deserve the insult.
• Building Hall for talk-feasts. Another N2.2 billion is proposed to build a hall to accommodate 150 people in a Federal Capital Territory crawling with halls and International Centres capable of accommodating 150 or more. We deserve the insult.
• External Loans grew by N2.57 trillion since Jonathan became Ogapatapata. Nobody can point to what has been done with it. Now government is asking for NASS approval to borrow more. At this rate, we will soon reach the debt level which in 1999 was described as unsustainable. We deserve the insult.
RESPONSES
0803-915-6613 I read your right of reply published two Sundays ago. And was dismayed by the writers blindness in the face of glaring truths….  Posterity will be the judge…
0803-355-2187Mr Alapatira is a fool. Eghosa Uwaifo.
0803-509-0255. The truth is usually difficult to fault and this is what Alapatira has struggled to do without making a point.
0805-300-7531. Thanks for organizing free education at Unijankara for Jonathan. He needs it most desperately. I would like to add that IFURA a subject in premonition be added..Honestly, I doubt if Nigeria had ever had so "hellish' a government.