By Tonnie Iredia
Early in the year, this columnist and 5 of his friends set out to determine the best of our 36 Governors in year 2012. Each of us was to follow the activities of 6 Governors. The assignment ended a few days ago with a few complexities.  First, we found a common public feeling that to describe any Governor as the best for the year would not be well received.
This is because many people see Governors as responsible for the nation's woes. This damaging but widely held view almost pushed us into aborting our plan but we remembered that even among the bad there would still be a best. We then proceeded with the job using the process of elimination.
Governor Rotimi Amaechi of Rivers, Chairman of the Governors Forum and Babangida Aliyu of Niger, Chairman of the Northern Governors' Forum were the first to go on the basis of vicarious liability as leaders of a despised team.  We also decided to be ethical in the business. As a result we dropped Governors Uduaghan of Delta, Aregbesola of Osun, Lamido of Jigawa, Amosun of Ogun, Shema of Katsina and Yuguda of Bauchi who are either our friends, relations or clients.
We had to drop Governor Ramalan Yero of Kaduna who just assumed the post. Also dropped were Danbaba Suntai of Taraba who had been involved in a plane crash and Liyel Imoke of Cross River who was said to be on a two-month cumulative leave.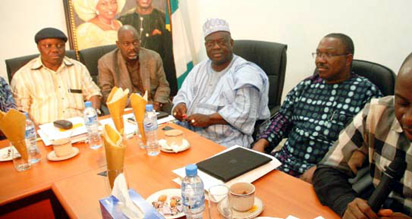 It was significant that Imoke missed even the colourful Calabar festival. The case of  Governor Sullivan Chime of Enugu was slightly more striking. The last time he was seen in Enugu was September 19, 2012. Having thus been off duty for over 100 days we were being persuaded to see him as incapacitated.
Notwithstanding the commendable health care strategy evolved by Governor Olusegun Mimiko of Ondo, we were unable to allow his participation.  The problem was that Mimiko was yet to perfect his victory at the election tribunal.  The situation was the same with Governor Adams Oshiomhole of Edo State who was being required on the basis of Section 182(j) of our constitution, to prove his ownership of his professed educational certificates. We were not quite sure if Governor Nyako of Adamawa was fully out of election petition.
Whereas we didn't get much from Zamfara and Kebbi, it was even more difficult to consider 'troubled' Governors like Kashim Shettima of Borno and Musa Kwankwaso of Kano. Only last Monday, the Joint Military Task Force (JTF) discovered and detonated explosives planted in strategic locations in Kano. Yobe State was not that lucky as gunmen attacked a Church at Piri village near Potiskum and killed the pastor, Yohana Sini and five other worshipers in the early hours of Christmas day.
We could not give due consideration to Governor Jang of Plateau whom many believe is unmistakably maligned and detested by some interest groups. He has himself alleged severally that his life was under threat.  Similarly Governor Gabriel Suswan of Benue told a Church in Makurdi last week that "going by security reports available to me, I may be attacked any day, anywhere, anytime and this is the reason I call on you Christians to pray for me and my family".
With such a terrible frame of mind no Governor can be a winner in this special contest. Even those who face mere political blackmail like Al Makura of Nasarawa State cannot win either. His State House of Assembly made up mainly of the opposition party will not allow him to even source for loans to prosecute developmental projects.
From the findings of our research team, we do not expect people to readily accept any Governor that we consider to be the best. If we pick Governor Fayemi of Ekiti because of his care for the aged,  teachers who are upset over  his 'Teachers' Development Needs Assessment Test' which makes them look like pupils will kick.
PHCN workers allegedly manhandled by the Governor's aides in June will also disagree with us. But the PHCN would prefer Fayemi to Governor Aliyu Wamakko of Sokoto State who reportedly flogged one of their managers on October 20, 2012.
Governor Ajimobi of Oyo State does not need to win any award because his party members in no less than eleven local government areas in his State have already endorsed him to be Governor again in 2015. At the time of our compilation the entire government apparatus of Imo State was in limbo following the strange innovation of Governor Rochas Okorocha to send all his workers on a two-week Christmas holiday.
Accordingly Imo had no contestant.  Another Governor with a 'senior prefect' posture is Martins Elechi of Ebonyi who sent 3 of his commissioners on a three-month suspension for not dressing his own way. Half way through, he recalled them in the spirit of Christmas.
May be Elechi would do with a Father Christmas award. In order to reduce wage bill, Governor Idris Wada of Kogi successfully uncovered over 2,000 ghost workers in his education sector, but he must have been overwhelmed when over 800 ghost schools (not teachers) were also found!
Both Wada and Governor Peter Obi of Anambra would obviously be more interested in the struggle to claim ownership of some recently discovered oil wells, than our award.  We suspect that Governor Ahmed of Kwara State would prefer to meet the convention of completing a befitting home for his predecessor than showing interest in our award.
The contest for the best Governor of the year ought to have a level playing field. Last week 3 States- Enugu, Niger and Bayelsa announced their budgets. The money available to Bayelsa to prosecute capital projects alone was about the same as the total budgets of Enugu and Niger put together.
Would it be fair for Governor Dickson of Bayelsa to be declared a winner under the circumstance? It appears rational not to allow Governor Fashola of Lagos State that can have almost twice the budget of Bayelsa to be in the same race. For the same reason, Governor Akpabio of Akwa Ibom whose activities get daily media LIVE coverage should not be in the race. Instead, Nigerians should look towards Governor Dankwambo of Gombe who does so well with the little he has.