By Dele Sobowale
Nigerians are, as a whole, not very comfortable with quantitative analyses. Our kids fail mathematics in droves at the School Certificate level and most of us, adults, are just a little better than our young ones. Yet, the entire argument about VISION 2020:20 is a simple matter of arithmetic; not even secondary school, but, primary school stuff.
God bless my late Primary Four teacher at St Peter's Faji School in Lagos, who drilled into our heads the concepts of simple and compound interest. Mr. Udoh, of blessed memory, in 1956, tested us with questions such as "at what interest rate will you grow ten pounds to fifty pounds in fifteen years, at simple and compound interest rates?" With tender love and a strong cane, he taught us how to derive the answers.
Fortunately, the lesson we learnt about the application of simple and compound interests with tears in our young eyes can now be found painlessly in financial tables with which the bankers, insurance magnates and other financial experts are very familiar. They don't vary and they are universally applicable, universally, that is, except in the corridors of power in Aso Rock.
That explains why our Minister for National Planning, the ring leader of this conspiracy to deceive Nigerians has never announced the annual growth rate which will lead us to the top 20 in the year 2020. President Jonathan, unfortunately, not being an economist does not know that in a matter like this, the most important questions to ask about this project are the following?
*At what rate must our GDP grow for us to reach the top 20?
*What will happen if the nations in the top 20 to 30 also continue to grow?
*What is the GDP of the nation in the 20th position at the moment?
*Will all the twenty or so nations standing between us and that coveted spot stay still while Nigeria alone grows?
*Which countries now stand between us and the top 20 –including number 20?
As an economist, let me assure you that there are literally thousands of questions which must be answered by the apostles of VISION 2020:20 before anybody should accept their assurances on this matter. Deliberately, they have avoided all of them.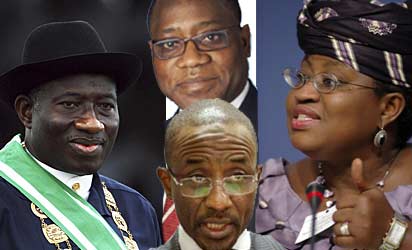 While government officials can be evasive because that is the professional practice of politicians and political appointees, the rest of us whose fate hangs on this matter cannot afford to avoid painful facts. So, permit me distinguished gentlemen to lay them bare before you.
Now the year is 2012, and the government of Nigeria and its voodoo economists, have been promising us, since 2007, to increase the country's Gross Domestic Product, GDP, from $167 billion to over $440 billion in 2020; just fourteen years, and nobody, except troublesome Area Boys, have asked the most obvious question: "at what rate of GDP growth?"
The Minister for National Planning, a former banker, who knows the truth, but does not want to state it because if he had, it would not have been necessary for your august Alumni Association to invite me for what essentially is a "free lunch" for me. I thank Dr. Shamsudeen Usman for this opportunity to enjoy the best banga soup with fresh fish and starch available anywhere on earth.
However, the truth still remains to be faced because there is no need to raise hopes for eight years of transformation only to break the promise to the people in 2020. It is even more pertinent to lay the facts on the table because it is uncertain who will lead the country from 2015. It will amount to a cruel hoax on a successor, who will be left holding the can of VISION 2020:20, if Jonathan does not continue to 2019. It will be worse for us as a people because with the second term secured, we might then be told that the VISION 2020:20 was a swindle all along.
FROM 2007 TO 2020
As the Chinese have taught us, "one picture is worth a thousand words". However, before proceeding to interpret the graphs below, a few explanations are necessary. While some individuals in government have been promising top 20 position without mentioning the GDP that would earn us that spot; others have stated $900 billion as the goal. There is a wide variance between the two.
In 2007, the abridged GDP World Map looked as follows:  Indonesia and South Africa will feature repeatedly in this discussion for two reasons. The first was in the 20Th position in 2007 when we launched out on our quixotic venture; the second was, and is still, the largest economy in Africa.
Indonesia is an oil producer, just like Nigeria which also exports close to 10,000 finished products; South Africa is one of the globally recognized BRICS (Brazil, Russia, India, China and South Africa) – the nations projected to lead the global economy in the next twenty years. There is only one reason why it is BRICS and not BRINCS (N for Nigeria); nobody believes in our self-delusion of grandeur. We will soon find out why.
Obviously, if we target $900 billion GDP by 2020, then we are aiming for top 15, assuming that all the other countries stand still. If, on the other hand, our ambitions are limited to top 20 then we are hoping to dislodge Indonesia. The graphs below demonstrate the progress we must make relentlessly in order to reach our goals – which ever they are.
Meanwhile, we can also see where we stand by 2012 in relation to where we should be by now. So, at least you know that Nigerians are being deceived when the President and his spokesmen and women tell us that everything is on course. Nothing is on course except self-delusion.
As the learned men, lawyers, including our distinguished Senior Advocates of Nigeria, SANs, would often declare in court, "the facts speak for themselves". However, economists are not always contented to allow the "facts to speak for themselves"; we find ourselves having to interpret them. So, kindly allow me to make of few explanations to support the facts that stare us in the face from the graphs presented above.
By themselves the graphs do not constitute sufficient proof of my position; but they point to the same conclusions which a longer lecture would have reached. Let me plead with all of you not to race to the answer which stares you in the face by looking at our position as at 2012. Let us all, as leaders of thought, leaders of our communities, leaders of our families and homes go through the entire process of interpreting these graphs.
From the graphs, it is clear that irrespective of whether our ultimate goal is $424 billion or $900 billion, by the end of this month, we would have fallen very far behind. To make up the deficits accumulated over seven years will call for annual growth rates which no nation has ever achieved and which are perhaps impossible to attain.
*To be continued