SENATOR Emmanuel Bwacha (PDP, Taraba South) is the Chairman of the senate committee on agriculture and natural resources. Bwacha who recently returned from a visit to ailing Governor Danfulani Suntai in Germany speaks on the governor's condition, the reported religious crisis in Taraba State among other issues. Excerpts.

You just returned from Hannover, Germany to visit Governor Danbaba Danfulani Suntai and his aides hospitalised there. Did you get to see them?
Yes I did. Everyone who went to see the governor saw him and his aides.
So how is he doing?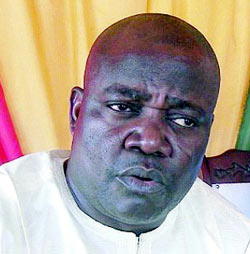 He is doing very well. And I can assure you he would soon be back to continue the good work he has been doing. And contrary to the rumours I heard on getting in here, the governor is doing very well. He didn't sustain any life threatening injury. He doesn't have any brain damage or spinal cord issue and he is recuperating by the day. In fact, for a plane crash, this is nothing short of a miracle.
I know people are apprehensive, worried about him because he is a true leader, a good man. But they would have to be patient. He would return to continue to do what God has asked him to come and do. So people should just keep on praying. And the aides too are doing great.
Expression of surprise
There was a day we went to see Dasat, the ADC, and he recognised all of us, calling us by name. He was even humorous about it and laughed when we expressed surprise.
What was your encounter like with him?
It was fantastic. I saw God at work. You know, there was a day I sat by his bed and was just silently singing a certain gospel song I liked. He was silent all the while, and then he suddenly looked up and smiled at me. Then he said "Amen". I just started shedding tears of joy. I've seen many things in my life but nothing compares to this.
In your absence, the House of Assembly mandated the Deputy Governor to act as governor.
That was the right thing to do, it is a constitutional thing. And the house exhibited great patriotism and political sagacity in doing what they did. I commend them really. That is the sort of thing Gov. Suntai would have encouraged anyway. If you know him, he has always supported his deputy to act whenever he is not around. So it is not like this is something strange we are seeing in our state. So it is the right thing and from what I have seen, the Acting Governor is making the most of the situation, given the circumstance and continuing with the good works. In all his broadcast, he has been consisted with the fact that he would continue all the legacies on ground.
Also, while you were away, Ibi erupted in crisis. It was Christians fighting Muslims and vice versa.
I disagree. The Ibi crisis in regrettable and I'm sure we would soon unravel the causes of the skirmish. But I reject the theory that suggests it is wholly religious crisis. It is impossible to have religious crisis in that part of the state.
Of course I can relate to the sentiments that because Christians were attacked in churches, so it would be seen as religious. The truth though is that it is a few hoodlums who take advantage of religion to cause mayhem. All the religions do not teach that we should attack another faith. May be you don't know but true Muslims would not burn down a church.
True Christians would not burn down a mosque. So the crisis, is only religious to that extent but beyond that, it is some rascals hiding behind religion who normally unleash mayhem on helpless people. And Taraba has peculiar traits that make a religious crisis impossible. Like almost every home in Taraba has both faiths in the household.
And I know Ibi quite well. They overwhelmingly supported me in my elections. They are peace loving folks who do a lot of fishing. sIn Taraba, we have come a long way for that sort of a crisis. No one can even divide the people along religious lines as everyone is wiser than that. The state is for everyone- Christians, Muslims, and traditionalists. And it is home to many ethnic groups. We all live together and have learnt to accept one another.