Belgian married and Nigerian born writer, Chika Unigwe last week in Lagos became the second Diaspora writer to win  Nigeria Liquified Natural Gas, NLNG $100,000 prize for literature. Her entry, On Black Sister Street, which explores sexual slavery and other precarious situations of women floored Olushola Olugbesan's Only A Canvass and Ngozi Achebe's Onaedo: The Blacksmith's Daughter to clinch the coveted literary prize. In this  interview, the serial award winning writer fielded questions about the book and her perception of the prize. Excerpt:
What is your candid assessment of the NLNG Prize ?
I think the LNG Prize is a generous initiative, which not only enables LNG to plough back into the community, but promotes Nigerian literature as well as encourages it.
Do you think the prize  contest has significantly impacted on the development of literature in Nigeria?
I think it does , if only for the fact that many people are encouraged to read the shortlisted books, many more people are introduced to books they might not have heard of and many more are encouraged to write. With the emphasis of the jury on overall packaging, writers and publishers are encouraged to produce works that can stand alongside books written and published anywhere else.
'Besides the book party introduced by Committee of Relevant Art, CORA  for the promotion of shortlisted works for the context, do you think that winners and their works have gained the kind of popularity and exposee expected from the stature of this prize?
I am not in Nigeria, so quite unaware of the kind of promotion made in Nigeria, but on social media, certainly a lot of buzz  was generated around the shortlisted works. What might be another way to promote the books would be to organize LNG shortlisted writers' readings, a format the Booker Prize , for example, uses.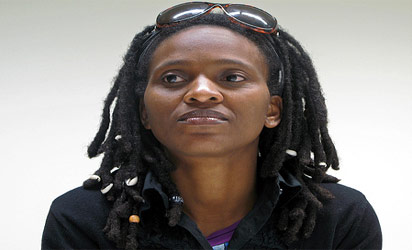 The LNG could organize readings in different locations where the shortlisted books would be available for purchase. They could also organize competitions around the shortlisted books, a format the Orange Prize uses. It also gives readers a chance to win the books in addition to creating more buzz around the books.
Why did you write On Black Sister Street?
I come from a very conservative, catholic home where 'sex' wasn't a word we could use. Then I moved to Belgium and to my shock, saw prostitutes behind display windows. When I was told that a majority of the black prostitutes in Antwerp were from Nigeria, my curiosity could no longer be contained. I had to find out why anyone would come so far to work as a prostitute , I had to find out their stories
Prostitution, loneliness and  human trafficking are issues in Diaspora narratives. How much of these issues form the aesthetic strands of On the Black Sisters Street?
Whatever theme I pursue in my works, I strive to write pleasurable prose. I see that as one of the most fundamental obligations of a writer: to write prose which is beautiful, that entertains the reader.  Tolstoy in Anna Karenina writes of Anna's suicide in such delicious prose that the darkness does not completely overwhelm one.  On Black Sisters Streets' themes of loneliness and prostitution are not the lightest of themes, but I hope the prose makes the themes much more digestable to the readers.
Would you have explored these thematic strands if you were writing in Nigeria?
I have absolutely no idea what themes would have haunted me had I remained in Nigeria. What I do know is that I would have still written. And I would have written as best I could.
What are the greatest challenges that confronted you when  researching this story?
I had to rid myself of whatever prejudice I might have had about prostitutes; I had to come to the women with a blank slate. I also had to get over my fear and discomfort , and go to the red light district. I wanted to feel what it was like to be a Nigerian woman there, not as a tourist, but as a possible 'new girl.'
Who are your anticipated readers?
I never write with an audience in mind. I just hoped that it would find a good home, and find its way to readers who liked good books
To what extent do your dominant white readers connect  with the narrative of prostitution, loneliness and human trafficking?
I think that first and foremost, On Black Sisters Street is a human story. We empathize with characters because they are human like us, even if their situations are strange to us. When we read novels, we put ourselves in the body of the characters (even if the characters have human qualities but are not human).
That is why children enjoy folktales where animals talk and laugh, yet they have never seen a talking, laughing animal.  We also read to discover the unfamiliar, so they leave the book with a knowledge they did not hitherto possess.
We are told that you  first published the novel in Dutch. Does translation from Dutch to English  distort the geography and idiom of the narrative?
Every translation is a work of art.  A translation approximates the original, it can never copy it word for word. Often a translation enriches because it is doing something different to the text. ' Translation' replaces the Old English word, 'awendan' from 'wendan' which means 'to turn, to direct.'
I think a good translator  aims to direct the original in a way that the translated work remains true to the original, while at the same time infusing it with a different kind of life. I did not do the Dutch translation myself, but I am delighted with the result.
Extract from On Black Sister Street
The buka was a small building, ambitiously named Mama Eko's Cooking Empire. The billboard bearing its name also carried weighty promises inscribed in cursive gold: delectable finger-licking dishes. an orgasmic experience. one trial will convince you!
Beside the promises, the face of a man with his tongue hanging out lusted after a bowl of pounded yams. Lining the front of the Empire, cruel-looking cacti. Mama Eko said they brightened the building better than flowers, which needed watering and love, caring for like a child. "These don't mind whether you remember them or not. They just keep growing!"
In the ten months Ama stayed in Lagos, her life followed a routine that began to bore her in its insistent constancy. Every morning from Monday to Friday, she would get up at half past five, have a quick shower, dress up, and take the molue to the Empire.
She would arrive just before seven. Jangling keys, she would open first the burglary-proof door, a blue construction of security grille, and then she would open the wooden door, draw the curtains, dust the chairs, and start slicing bread for the breakfast customers.
Mama Eko would come about an hour later, and Uju would be there in time for the lunch rush. On Saturdays Ama went food shopping with Mama Eko and Uju. And on Sundays they rested. There was no frantic hurry up or we'll be late for church.
Just a stretching out on the bed with the ease of a pampered cat, yawning at leisure and watching TV while Uju whipped up delectable dishes in the tiny kitchen, sending Mama Eko into realms of culinary pleasure where she haahed and ahhhed and said Uju could not but marry a good man. Any girl who cooked the way she did was sure to end up with a good man. That was how the world worked.
It was a better life than Ama had in Enugu, she could not contest that, but its predictability, its circular motion that took her from the small flat to the tiny Empire and back to the flat, nibbled at her soul, which still yearned to see the world.
During the week, the breakfast run was fairly easy; it was slow, and many people asked for buttered bread and tea. Ama could butter bread with her eyes closed, and mixing tea and milk was a child's chore. The afternoons were hectic. The food got more complicated, and customers were more exacting, having spent the morning shut in their offices, chasing deadlines, listening to impatient bosses tell them what to do. They came to the canteen for a world far removed from their offices. They wanted their fufu to be the right consistency, the soup to be just right, and would complain if it was not.
"Ah, Mama Eko, this fufu dey like water oo."
"Sister Ama, na so fufu dey dey for where you come? Dis one na for to drink?"
"Na small child cook dis food? I no go come here again if na like dis your food dey!"
"Dis food no sweet today at all at all. Na so so salt full am."
"Dis na soup abi na water?"
"Wey de meat wey suppose dey dis soup? Na ant you give me
make I chop?"
Ama and Mama Eko would apologize, promising better food;
blaming inclement weather or the time of the month for the fall in standard of the food; offering an extra piece of meat, a bottle of something to drink. Any incentive to keep the customer happy. Ama looked forward to the customers, for sometimes they came with bits of her dream.
Reminding her of what she might otherwise have forgotten, keeping her on her toes, so that she could never be complacent: young women slinging expensive handbags, coming in from the bank on their lunch break. Sometimes they came ac- companied by eager young men in suits and ties.
But mostly they came alone, bringing into the buka the sweet-smelling fragrances of perfume and freedom. And the elegance of perfectly groomed nails and expensive hair extensions. Ama spoke to them. She always spoke to them. They had a charm that pulled her, so that after she had taken their order, noting it in meticulous handwriting on a sheet of paper, she hovered around.
"Sister, your hair is very well done. Where did you have it fixed?" "Oh, thank you. Headmaster's. I always go to Headmaster's." Ama could see the smugness in their eyes as they announced the salon, lifting hands with painted nails to the hair, touching it as if in reassurance that it was indeed well done. Ama could not afford the exorbitant rates charged by the hairdressers at Headmaster's.
She always got her extensions fixed at small salons, cubicles with one hairdresser or two, who charged her sixty naira for their labor.