By Jamiu Alapatira
Perhaps, some columnists would need to be re-educated to understand the harm in over-generalisation. Being a columnist does not give any individual the magna charta to write about fellow individuals as if playing god.
Well, they could play god if they choose to, but when such acts begin to impugn the character of others, there is need for caution.
Which is why the article published in this paper last Sunday about the person of Diezani Allison-Madueke, Minister of Petroleum Resources, was not only despicable but was filled with bile.
If the article had been published based on facts and facts alone, it may have represented a contribution to the need for transparency and also a good contribution to anti-corruption that we all must strive for. But what Dele Sobowale wrote was nothing more than an undue over-generalisation presented as facts about the minister.
Before I am confused for one of your run-of-the mill jobbers seeking favor, let me state here and now that I have never met Diezani before.
And that is the truth, and I do not think I want to meet her.
But as I write this, I write because it is a bounding duty that I feel I must discharge so that we do not continue to needlessly embarrass public office holders because we have the right to publish as columnists. And I do not think any columnist can get his material published if the editor does not sanction it. But the editor did.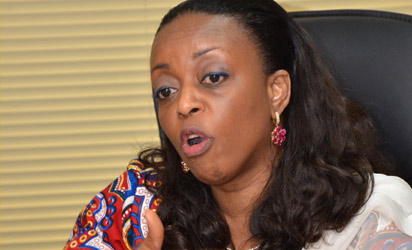 So, do we then conclude that between the editor and Dele Sobowale, there is a conspiracy of Diezani haters – I am coining this from the front page of that publication about the 'Conspiracy of the corrupt?', a story about how members of the National Assembly are planning to remove the Code of Conduct Bureau.
Bad as the move by some members of the National  Assembly is, it would be wrong to just conclude that  all the lawmakers  are corrupt. It can be argued that there was a question mark to that headline, suggesting that the editor was merely asking a question; but how many Nigerians would place premium on a simple punctuation mark?  Bad news is good news they say.
Back to Sobowale on Diezani. In his column of last week  entitled,  Alison-Madueke's self-delusion of innocence', Sobowale quotes Diezani thus: "Those fighting the government in the media are doing so because we have been able to frustrate their efforts in strangulating the economy through their devilish black market and questionable profiteering at the expense of the Nigerian  people…What is hurting them is that we have put policies in place where they can no longer cheat the government and cause untold hardship to millions of Nigerians".
Sobowale then goes on to regale the reader about his personal experience in America while in school, something he does every time as if all the readers did not attend good schools or some did not school abroad.
In learning about mental processes, he claimed to have later worked, part-time, during the summer, at "Belleview Hospital, New York City where  I worked briefly in the psycho ward. There, I found nothing less than twenty men claiming to be "God".
The point he was trying to make here was about quasi-insanity. So, when in trying to make a point about an individual along lines of quasi-insanity, you are not only being unfair, you are linking the individual to same. That is bad manners.
Part of the few statements of fact that Sobowale made was that "I have never been involved in the oil sector in any form. She on the other hand had worked for one of the most indicted oil companies in the world".
When Sobowale goes about castigating people, he should try to remember that some responsibilities come with the authority to write a column.
So, because Allison-Madueke worked in an international oil company, she becomes liable for whatever acts committed by the company?
But more importantly, Sobowale continues with his argument about a woman whom he claims is deluded. He says because N1.3 trillion was the figure released as subsidy while the House of Representatives' probe panel discovered much more, the minister knew about it and was only trying to cover up.
It is convenient for Sobowale to write that every other Nigerian in public office is corrupt.  There is some truth in Sobowale's assertion that, as petroleum resources minister, she ought to have gotten her facts right, just as President Goodluck Jonathan and Madam Okonjo-Iweala should have also gotten their facts right on the entire petrol subsidy saga, but  labeling her alone makes Sobowale's engagement smack of deliberate mischief.
Pray, if some fellow in Sobowale's Vanguard plants a story in the paper; or more directly, a Judas in his family (as there are in every family), who goes ahead to misbehave and commit a crime and a columnist picks that up and alludes that the editor of Vanguard or the head of Sobowale's family, respectively, is the Judas, how would that feel?
Yes, there is the point of vicarious liability! But there is also the issue of thinking straight and not allowing sentiments and a mentality that feeds on being perpetually cantankerous to overcome us.
Sobowale is a columnist I enjoy reading regularly. There are times he had taken on some causes which are noble. There are other times he takes on causes that some of us see through as being products of sheer mercantilist arrangement. But he owns the column. He is intelligent.  And we respect most of his views.
However, I have never felt so strongly to correct the impression he runs away with when he writes about people any which way he wants than now because the argument just does not hold water.  In fact, his logic about Diezani should go for all Nigerians when the issue of 419, drug pushing, corruption is discussed. Because, he seems to be saying to us that if a human being has two legs, then every moving object with two legs is a human being, and  therefore a chicken is a human being.
Sobowale can criticize but he should be more constructive. His attack of Diezani  is  tantamount to saying that Speaker Aminu Tambuwal should answer for the alleged crimes of Lawan Farouk in his dealing with Femi Otedola.
*Alapatira is based in Abeokuta