By Dele Sobowale
"Those fighting the government in the media are doing so because we have been able to frustrate their efforts in strangulating the economy through their devilish black market and questionable profiteering at the expense of the Nigerian  people…What is hurting them is that we have put policies in place where they can no longer cheat the government and cause untold hardship to millions of Nigerians", Mrs Diezani Alison-Madueke, Minister of Petroleum Resources, in PUNCH, Friday, November 9, 2012, p 13.
Back in 1968, as freshman in an American private university, I was encouraged by my academic adviser to take an elective course titled Psychology 1a. It was one of the greatest favours anyone ever did me. On my own, I later enrolled for Psychology 1b in the second semester.
From psychology one invariably learns about various human attributes; especially about mental processes. Later, as a part-time worker, during the summer, at Belleview Hospital, New York City, I worked briefly in the psycho ward. There, I found nothing less than twenty men claiming to be "God".
Even here in Nigeria, as a young man, I recollect that "Jesus of Oyingbo" started his ministry at Denton Street, Ebute Meta, Lagos Mainland. Delusions don't come bigger than that. They come in different variants – delusions of grandeur (e.g the Giant of Africa), delusions of invincibility (e.g Falcons will beat everybody silly), etc, etc.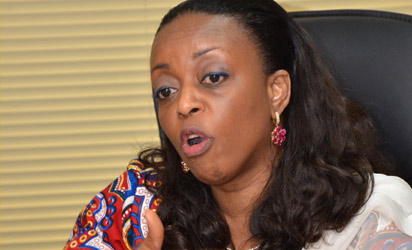 One type is delusion of innocence. Football lovers witness this in every match played. A player who had just hackd down an opponent and is about to be given a card throws his arms up as if wrongly accused by the referee. Ministers and other public figures, especially in Nigeria do it all the time. Since somebody died of "tummy tuck" abroad, no wife of an incumbent governor now goes abroad for medical attention.
They go to rest. And, when they return, a bevy of government appointed ladies will receive them at the airport thanking God for "Your safe return, Your Excellency".
So, when I read that pronouncement by Mrs Alison-Madueke, it was clear we are witnessing another case of self-delusion of innocence. It invariably starts with two lies – the first about self and, the second, about those who refuse to succumb to the first. Since I am one of the Minister's critics in the media, let me expose the lie about many of us who remain her critics.
When she announced that "we have put policies in place where they can no longer cheat the government", I know she is lying. Unlike her, I have never been involved in the oil sector in any form. She on the other hand had worked for one of the most indicted oil companies in the world. So how can the so-called policies hurt me?
But, like most people imbued with delusion of innocence, she had convinced herself that she is the innocent party being unfairly victimized. Truth is, she was the Minister who told the Federal Executive Committee, FEC, that there was N1.3 trillion subsidy to be removed; when there was actually over N1.3 trillion fraud to be recovered.
Thus, her self-proclaimed role of the protector of the Nigerian masses is false. She is the arch enemy. And she had been one of the oppressors since she worked for one of the International Oil Companies; she was there when the atrocities against the people of Ogoni in particular and Nigerians in general were being perpetrated. I challenge her to deny that charge.
Cheating was a game invented by the IOCs; and she knows it. Loading more crude than is declared to the Nigerian authorities is as old as when the first shipment left Oloibiri. It probably continues till today. One truly patriotic Nigerian, name withheld for obvious reasons (these are vicious people), followed one shipment from Nigeria to its destination abroad and discovered a difference of about 25%; more crude was delivered to the customer than was declared loaded in Nigeria. That was not the exception; it was the rule when Mrs Diezani worked for one of the oil companies. And she knows it.
So, we have heard the Minister, but we are not convinced. In fact, she can go and tell those fairy tales to the marines.
NUHU RIBADU: SOME PEOPLE JUST NEVER LEARN – 2
"A man cannot be too careful in the choice of his enemies", Oscar Wilde, 1854-1900.
Or for that matter in his choice of friends and associates. When Nuhu Ribadu accepted to serve on Mrs Alison-Madueke's committee, he most certainly did so with different objectives in mind than those of the people who appointed him. According to the newspaper on Saturday, November I0, 2012, a presidential source was reported to have said, "The President had thought that Ribadu needed to be rehabilitated and that he was going to do away with his rascality". That was the first cynical view of Ribadu's selection by his new employers.
The source went further. "Don't forget that he had no job at that time. The government had just commuted his dismissal from the Nigeria Police Force to retirement and we all know he had not been paid his entitlements. The little money he had, he had wasted on his presidential campaign". So, there you have it. Government had offered Ribadu a bribe covertly and he was expected to engage in cover up.
In the first part of this series, I had made the following observation, "At NNPC and Ministry of Petroleum, everybody invited to "come and eat" is expected to come to the table, not with a spoon, but with a shovel. It is an establishment for gluttons not for whistle blowers".  Ribadu as an established whistle blower should have known he was in the wrong place and risking disgrace – if not something worse. He might eventually lose his retirement entitlements.
Meanwhile Oronsaye's ambush of Ribadu is easily understood. Fact is, it is impossible to rise to the top of the Nigerian Civil Service if, by your ethical conduct, you are eligible to be anointed a Cardinal or Chief Imam. New public servants start by burying their sense of integrity in a hole.  Promotions to higher levels call for deeper holes.
By the time they reach the top, honour had disappeared from sight. No top civil servant will fail to exchange their designer apparels for prison-designed uniforms if all their criminal escapades were revealed. Ribadu should have expected the attack from those quarters. These are experienced warriors or saboteurs.
More to the point, Ribadu was naïve to imagine that the Federal government need a honest report; which will be fully implemented. All they needed was a cover up or a collaborator. He was even more self-deluded to think he was receiving free food. He forgot that the only "free food" is found on mouse-traps.
Nuhu Ribadu, of course, now knows that his report is headed for the garbage can. My colleagues in the media who have written tropes of words and the editorialists who have urged government not to discard the report are wasting their time. It is a "done deal". Nothing will ever come of it again.
Poor Ribadu, the Police Staff College and the National Institute of Policy and Strategic Studies, NIPSS, did him no good. They don't teach much that is worthwhile at the Staff College or NIPSS anyway.  He should enroll at Unijankara; where we teach Street Wisdom. Certainly, the Committee will soon be dissolved and Nuhu will need another job. But, he can forget Jonathan; he had foreclosed anything from that angle. Wahala ya so.
SPECIAL ANNOUNCEMENT FOR A FIRST CLASS LADY – MRS ALISON ATTAH
"Most are created; some are born". Anon.
She was a special breed of women who played prominent roles in our public life; truly, the "better" half of a remarkable couple. Now she is gone forever. Words can never fully express what someone feels in his heart at a time like this; and I am not gifted with words. Permit me therefore to make an announcement; the tribute will come later. Right now, I can't find the words.
Burial at Uyo on November 30, 2012. Arrangements are being made to provide flight to Uyo from Lagos and Abuja and return on the same day for those interested. They will also have air-conditioned buses to coney them to the church as well as to the reception and finally to the airport. Those interested in this arrangement should visit the website set up for this event or get in touch with me as soon as possible. It will be strictly "first come; first booked" on the flights.
There will be further announcements on the website.