Obi Nwakanma
Chinua Achebe's much anticipated memoir, 'There Was A Country' finally came, hot off the press from Penguin, but one cannot but feel that there is no second door into the book. There is rather a powerful familiarity with the subject of the story and the landscape of action in which that subject exists. If you were Chinua Achebe, already well known and well scrutinized, there would be high expectation for newer, more engaging, more startling detail in a well-storied life.
But Achebe's story seems all too well known to offer us any more than the current memoir. For those who already know the writer of Things Fall Apart, this book will emphasize and elucidate certain intricate or fuzzy details in the circumstances of his already well-known life.
For those who do not know much of Achebe's life, fragments of which he has however revealed through his numerous autobiographical essays, these details in this new book would acquire a new life. Those seeking new revelations will be disappointed.
What comes mostly out of this new work is certainly not the mnemonic energy of the grand autobiography, but the subtle and graceful power of Achebe's taut prose; his mastery of the form and economy of memorable language. Achebe does chronicle and preserve for us nonetheless a powerful memoir of a lost and increasingly ambiguous time.
Achebesets the core of his life's story in the rise and fall of another country; or to be more specific with the symbolism, in the birth of another life- the republic of Biafra – one of the greatest events of the 20th century, and in its death, one of the more tragic, more brutal events of the last century also.
But there is a span that takes us also to the beginning at Ogidi in Eastern Nigeria, where Chinua Achebe was born. Indeed he gestures to the necessity of that beginning in a very brief introductory statement in the book, and writes: "I begin this story with my own coming of age in an earlier and, in some respects, a more innocent time. I do this both to bring readers unfamiliar with this landscape into it at a human level and to be open about some of the sources of my own perspective."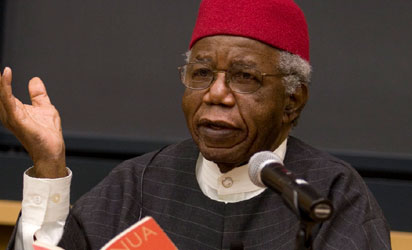 There was a Country is structured as a four-part movement of stories. It seems like a deliberate and highly-thought, and well-wrought structure corresponding with the four Igbo market days – Afo, Nkwo, Eke, Orie (Oye) and the general four elemental structure of Igbo life and experience on which  the balance of that world revolves and is consecrated.
At every beginning, there is a cause, and Achebe establishes the moment of his shaping in the part he titles "Pioneers of a new Frontier." It is the story of his own father's transitions, from an orphan to a missionary teacher, one of the pioneers of Christian evangelism and missionary education in Igboland in the early 20th century.
"My father" Achebe writes, "was born in the last third of the nineteenth century, an era of great cultural, economic and religious upheaval in Igboland.  His mother had died in her second childbirth, and his father, Achebe, a refugee from a bitter civil war, did not long survive his wife. And so my father was raised by his maternal uncle, Udoh."
We certainly suspect that we have heard that story before of Isaiah Achebe and his generous uncle, the sagely Ozo Udoh Osinyi who had provided the early Christian missionaries in Ogidi with their first hospitality. However, Achebe fleshes out the fragments of that story a bit more in this memoir by providing a more dialectical interrogation of his own place within that relationship.
Achebe's father attends    the St. Paul's Teachers College Awka by 1904, and his mother, Janet Anaenechi Iloegbunam, a recipient of the English elementary education under the famous missionary educator and evangelist at St. Monica's Ogbunike, Edith Warner, a contemporary and collaborator of the famous Basden; and this makes them among the very few Igbo of their generation educated in the Western Christian tradition in Igboland at a powerfully transitional moment.
This of course is significant – a significance which Achebe pays some heed certainly, but not enough, and only in the sense of his own dialectical navigation of that new world of Christianity and the west, embodied by his parents, and the disappearing world of Udo Osinyi, his father's uncle, at that crossroads between which Achebe stands.
We certainly see a bit more of Achebe's mother in this memoir, but only just a glimpse, enough to give us, in one incident – the kolanut tree incident – her strength and resolve, and the forge from which Achebe claims the shaping of his own consciousness: "It is her peaceful determination to tackle barriers in her world that nailed down a very important element of my development – the willingness to bring change gently" Achebe writes. And there, we have Achebe's philosophical measure of himself as an incrementalist rather than a revolutionary intellectual.
The young Chinua first leaves home from Ogidi to Nekede, near Owerri, southerly of Ogidi, and in the Igbo heartland, to live with his older brother John, who was then a teacher at the Central School, Nekede in the 1940s. "Nekede was a treasure trove of Igbo culture" Achebe writes.
Among Achebe's discoveries was the Igbo Mbariculture and "the sophistication of Igbo phenomenological thought." Mbari was the quadrennial ritual of collective creation, in which select members of the community were anointed by divination and kept in ritual seclusion through a period when they erect a mud museum of life dedicated to the earth goddess. This shrine of creativity and museum of the lived life is nonetheless allowed to decay and collapse back to nature.
Achebe comes to understand the Mbari as a celebration of life – or what he calls "art as celebration" – an echo of his earlier interrogation of it in Herbert M. Cole's powerful study of Mbari in his, Mbari: Art and Life among the Owerri Igbo. Achebe writes here in broadstokes, and offers no new insight to enrich his earlier views of Mbari. A more detailed description of life at Nekede in those transitory years would have enriched the narrative of this memoir.
From Nekede Achebe passed to the elite Government College Umuahia, and he also gives us broadstrokes of life at Umuahia shared with his close friends like the famous poet Chris Okigbo, C.C. Momah, Francis Egbuonu,  Vincent Ike, BNC Uzochukwu, the remarkable Ekpo Etien Inyang among others, under remarkable and compelling teachers.
From Umuahia to the University College Ibadan, where he was admitted in the pioneer years to study medicine, Achebe, also in broadstrokes moves us to the bigger events of his life. Of these big events, the Biafra war – the Nigerian civil war- was to prove the most emblematic.
Achebe spends parts 2 and 3 of There Was A Country treating this subject of war and peace, and part 4 treats the post war society, ending with an appendix, Brigadier Victor Banjo's radio broadcast to the Midwest during the Biafra invasion of the Midwest and the failed crossing from Ore into the West.
There is no nostalgia to these events, only a powerful sense of tragedy. We sense the deep scars of the war on Achebe in this melodic, threnodic, but measured narrative.
My one disappointment is in the missed opportunities to offer closer details to the unique moments of these experiences; more interpretive reading of the events in themselves, and a profounder analysis of the a priori situations of the histories in which the famed writer of Things Fall Apart participates. There is the feeling that Achebe gives us but the surfaces – a quick march through the sacred groves of his own era.
Even his paean to his generation – to those whom we quickly judge to be his closest peers – gives us but scant illuminations into their more fragile lives. And in the memoir, fragility is all. Nonetheless, There Was A Country offers us a powerful story interlaced with poetry, of an uncommon time – a time of innocence that quickly dissolved into the iron years of the postcolony.
It is a great gift from the writer, Achebe, one of the greats of the 20th century, and it will add to the debate on the situation of Africa in the postcolonial moment seen through the powerful reflection of the memoir.