By Soni Daniel
…Says 'We documented OBJ's anti-North actions'
In this concluding part of the interview with Prof. Ango Abdullahi, a former Vice-Chancellor of Ahmadu Bello University (ABU) and spokesman for Northern Elders Forum (NEF), a think thank for the 19 northern states, he speaks on the relationship of President Goodluck Jonathan and Chief Olusegun Obasanjo with the North.
What Alhaji Ahmadu Bello wanted was competetence. He showed  this in the civil service as  well as in the politics of the North at the time. The biggest story people will say about Sardauna's attitude to good people was when he saw Ibrahim Imam from Borno State going to lose a seat in Borno to return to the Northern House of Assembly as an opposition leader and he was afraid to offend his party-the NPC.
The NPC in Borno insisted that Ibrahim Imam must not come back to represent them. But the Sardauna wanted Imam back and he had the problem of either fighting his party for Imam and that would create a major problem because the governor of the north came from Borno. So he called Joseph Tarka from Benue State to come to Kaduna but the latter refused to come initially wondering what he was calling an opposition leader to come and do in Kaduna. He might have thought he wanted his head being an opposition figure at the time.
He refused to come and then the Sardauna appealed to the Tor Tiv to ask Tarka to come and see him in Kaduna and he eventually went to see him.  On arrival in Kaduna, the Sardauna explained to Tarka that he wanted him to assist in  getting Ibrahim Imam to be allowed to continue in the House of Assembly as the opposition leader. Tarka was shocked. Tarka told the Sardauna he could allow Imam to contest in Borno and not in Benue and he said he did not also want any problem with his party.
So, he pleaded with Tarka to give Imam a seat in Benue and he accepted to give him a constituency in Benue. He contested and won election there. When Tarka went back to the Tor Tiv, he said he did not know that the Sardauna was such a wonderful and selfless leader. He was surprised that the Sardauna still found value in an opposition figure who nonetheless had so much to offer to the generality of the people. This is the kind of leader that he was. From that time on, Tarka was an active contributor to northern unity.
But what actually happened about the divisive thing in the North is that in our fathers' days, there was really not much room for tribalism and religious hatred. Awolowo respected Azikiwe and so on. But what actually led to weakening the fabric of unity was the creation of states and, before you realise it, elements of statetism began to creep in-rivalry among leaders in the various states which was not there began to creep in but the most potent division which was introduced from outside was religion.  And this was done very well by no other person than former President Olusegun Obasanjo.
How did he do it?
He knocked heads, made pronouncements about the North demonizing the region and its people and he did not hide it. He even wanted to recruit Senator Joseph Waku into the demonic campaign of calumny against the North. Not only did he want to demonise them but he also wanted to cripple them. Waku was taken aback. He could not help but to remind him that he was a northerner. He said, 'No, I am not talking about your kind. I am talking about Hausa-Fulani'. So whatever pretences Obasanjo might have had, it is clear that he was a major instrument in the introduction of divisive tendencies-tribal and religious that weakened the North as a geopolitical entity.
But Obasanjo can defend himself since there is no concrete evidence to support what you are accusing him of…?
No, no no, there is evidence. For a sitting president to call somebody to say that he wanted  to destroy a certain section of the country?
But what could the person do about it?
You mean Waku?
Yes.
Yes, he reported to us at a meeting what Obasanjo wanted him to do against the north and how he reminded him that he was also a northerner.  In response, Obasanjo said he did not mean the Tiv people but the Hausa-Fulani.
But what do you think Obasanjo would want to achieve by demonising the North and its people?
Obasanjo's quarrel, I understand has to do with the fact that a northerner sent him to jail. And that he could easily remove his garment and show everyone the scars left on him by the beating he got from northerners.  So, all these actions have been properly documented by us. You remember how he wickedly retired so many military officers from the North on the grounds that they served as politicians whereas such postings were purely military assignments. He retired all of them without caring about their careers and future so that they would not work against him and his government.
But the retirements affected all parts of the country and not the North alone.
But it affected the North most. The North had the largest number of military officers retired by Obasanjo. Of course if he did not pronounce it, he would have had a hiding place.  But Obasanjo could not contain himself. He called somebody-a northerner but nor Hausa-Fulani-to tell him that he wanted to harm the North and its people and he reminded him that he was one of them and he quickly said no, not your type but the Hausa/Fulani people'.
And here is Obasanjo still running around, pretending that he is a Nigerian leader and that he wants to still impose his wishes on us. But just like we stopped him from imposing himself on Nigerians through a third term, we will stop him from any of his imaginations. He succeeded with imposing the late Umaru Musa Yar'Adua for a simple reason.  Umaru was not a popular northern candidate. He was Obasanjo's candidate.
But Yar'Adua could have served the interest of the North and Nigeria if he had not died.
No, that is not the point. The reason is that Yar'Adua's upbringing is typical of northern leadership of the past, deeply rooted in selflessness and humility. You can go to Shagari's village and check what is there and confirm if he kept anything there for his personal gratification. He was president of Nigeria but did not do anything for himself and his village. But he did for other places. This is the leadership style of the North. We have this culture rooted in our religious belief that you must do to others first before you do for yourself.
If you saying  Obasanjo weakened the North , why didn't north confront him since then?
Yes, he did substantially. We did confront him otherwise we would not have succeeded in stopping  third term. He had already bought over the Igbo into his programme. He was confident of the South West with Bode George and the rest  of them and had already cornered all the PDP states. It took us a lot of effort outside ACF to stop him. We  created the Northern Union, with Olusola Saraki as the leader and myself as his deputy to run around, canvassing for support to stop Obasanjo's third term and that was how we eventually worked together with people like Edwin Clark. That was what brought us to Edwin Clark.
You know I wrote Edwin Clark an open letter while he was canvassing for Jonathan to contest the 2011 election, reminding him of what we did with him under an arrangement that Obasanjo was a beneficiary of zoning. I sat with him in Otta and under the constitution he did his first four years and asked for another term as allowed by law. Obasanjo accepted it and signed. Audu Ogbe has the list of the 47 persons who attended the meeting in Otta in 2003. Only four persons refused to sign the zoning agreement. And Jonathan was there, representing his governor.
He signed as number 37 on behalf of his governor for Obasanjo to do another four years-that is the North conceding eight years under the zoning arrangement to the south so that it would take its eight years after Obasanjo. Obasanjo even tried to exceed the two terms by trying a third term. He may deny it but everyone knows that the man was working for a third term by sidelining our constitution. Here is a man who was the first to say that he was not aware of zoning in PDP.
That was what he said. He said he did not recognize zoning. But what is most surprising was that when Jonathan was about the contest the 2011 election,  he did not know about zoning the Presidency. What we were quite willing to accept was that since Yar'adua had died prematurely, he should serve out his remaining term as provided for in the constitution.
But people running around Jonathan said no and that he is the custodian of the mandate of Yar'Adua and he should be allowed to run as if Yar'Adua was not a candidate representing northern interest under the zoning arrangement reached with Obasanjo and other leaders of Nigeria in Otta in 2003. So, how could Jonathan then represent us under the zoning arrangement? He should have stopped at 2007 and for the North to take on the remaining four years.
But Jonathan went ahead and got the support of  some of these northern lackeys who were running around to get either second term as governors or ministerial appointments and the like to say that he could run. They manipulated the congresses and the primaries to his advantage. Each governor was given a box to return Jonathan otherwise they would forfeit their four years with a threat that only the party has the power to submit the names of candidates to the INEC. So the governors struggled to return Jonathan.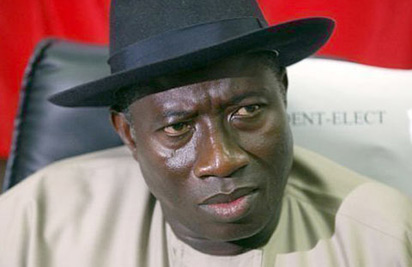 Could that be the reason why some people say that the North is angry with Jonathan?
Yes, it is true. It is true because Jonathan is untrustworthy; he cannot keep a promise. There was a promise that the North would do eight years after Obasanjo. Yar'Adua died midway and they reneged. We had expected that the North would at least be given back power in 2011. But Jonathan argued it in his own way and was supported by some northerners who sold out and pretended that they are were out to protect the interest of the North and we will expose them at the right time.
But the people you are referring to are top political leaders from the North who are either governors or ministers and lawmakers who are playing normal course of politics and I doubt if there is anything anyone can do to them.
They are playing politics with the interest of their people and they want the people to respect and support them? Is that what you mean?  We will expose them at the right time. We will. When we reach the point, you will see their names in the paper.
There is controversy over the onshore/offshore dichotomy, which had long been laid to rest. Why the renewed agitation by the North?
No, it has not been laid to rest. There is a constitution even though some  say it is not good enough. But it is still there serving the people of Nigeria.
Under the law, there is a certain distance between  land and the continental shelf and this is what all other countries of the world apply in the sharing of resource from the sea. They use that law to decide what should go to the state and the entire country. This was the case and this is what really should have been the basis upon which the National Assembly should have based its decision. But the truth is that what drove the process was corruption.
Who was corrupted?
The National Assembly was influenced by those who were interested in abrogating onshore/offshore dichotomy.
But northerners were also in the National Assembly and they could not have been induced to work against their collective interest.
They were the ones who were induced and that is why I tell you that their names will be in the papers very soon. Northern lawmakers sold out. And this is costing the North at least N20 billion monthly. They may have been induced but now their selfish action is costing the North at least N20 billion every month.  But where were the governors?
They were there. Where were the members of the North who were serving in the National Economic Council and others? All the top persons in the government of Obasanjo from the North are all guilty of selling out the interest of the north as far as the onshore/offshore dichotomy is concerned.
But Masari has argued that the action was a national compromise position to save the country from protracted crisis since the oil producing states were insisting on revenue for oil taken from as far as 500 feet isobaths.
No it is absolute nonsense because it is still against international law. They could have adopted another approach and not violate the law.
So what does the North really want concerning the oil law?
Nigeria should comply strictly with the international law of the sea in sharing oil revenue. That is the position of the North. We should be able to decide what to do for the environmental degradation done to the oil producing states by giving those states some level of compensation above others but not to compromise international law the way we are doing. But as long as this law is being distorted to serve an interest that does not appear to be national, then it remains an area of contention.
Given what you have said about the breach of zoning arrangement by Jonathan in 2011, will the North want to support him to contest the 2015 election so as to complete his eight years?
Well I will answer that question by asking you to go and see those governors who supported Jonathan in 2011 and find out whether they are ready to support him in 2015. I never supported him in 2011 and I am not going to do so in 2015. The North that I know and belong to did not support Jonathan in 2011. It is governors who supported him on behalf of the people of the North and I think that question should be directed to them.
But what will the North do?
I can assure you that the North will not sit back for 2011 to repeat itself. That is what I can say at this point in time. We cannot support someone who reneged on a 'gentleman agreement' that disqualified him from contesting in the election on purely moral grounds. Again, it is left for Nigerians to judge whether the man has come close to being an effective president for Nigeria since he took power,  whether acting or substantial. And even on the basis of that I thought that the man should disqualify himself from seeking an office even if it is legally feasible for him to do so.
Why should he disqualify himself from seeking office?
He should do so because even those who supported him initially have come out to say that this is one of the most incompetent presidents that this country has ever produced. Incompetence is the key word. What has he done that this country wanted that he has done? Corruption is at its peak under his leadership and that is why the country is reversing to the debt trap.
Even Obasanjo left some substantial foreign reserves and virtually cleared the debt burden of the country before leaving office. But now the reserves are  gone and we are back in debts. Subsidy is at the forefront of corruption. Over N2.6 trillion gone in the name of oil subsidy and it is evident that most people who fronted this scam did so to return most of the money to the electioneering campaign of 2011. Many of them are anxious to go to court to say so and that is why the government is reluctant to prosecute them.
So, under this government, you can individualise cases of corruption and they have not had the courage to convict one person for stealing public wealth with impunity. And you have this cumulative exhibition of incompetent president in his pronouncements. When he was in Anambra the other day, he said, "I have come to my people". So they are his people and other states are not his people?
All these crises that have happened in Jos, Maiduguri, or Yobe where hundreds of people have been killed, Jonathan never showed up even once. And he is claiming to be president of Nigeria. He has made all manner of statements that portray him as totally incompetent and totally unsuitable for a nationalistic disposition. He cannot be the national leader. And perhaps that is why Obasanjo his godfather has given up on him and abandoned  him to his fate.