By Dele Sobowale
"If you can keep your head while all about you are losing theirs…you'll be a Man my son".
Rudyard Kipling, 1865-1936'
I wept for Nigeria when the excerpts of Chinua Achebe's MEMOIRS, were published in Nigeria. I instinctively knew that the season of media and social lynch-mobs had started. It is one of the inevitable, but unintended consequences of that book.
Wounds which were gradually healing might once again be re-opened depending on how we handle the intellectual bomb handed to us. It is my strong belief that we should defuse it; for, if we fail, the results will be disastrous beyond our wildest nightmares.
If you are wondering why a normally "combative" columnist has turned mediator or peacemaker, then, let me declare my stand. I strongly believe in the unity of Nigeria and I will do anything to promote it – including holding my pen when it will be divisive to express my opinion on any subject.
This is one of them. I will neither defend Awolowo nor attack Achebe. I will plead for all of us to lower the tension which this book has generated. As Shakespeare, 1564-1616, had said, "I will blow the wind that profits nobody" (VANGUARD BOOK OF QUOTATIONS p273). Nobody will benefit from this one. Indeed everybody, Awo and Achebe included, will lose.
Who among us, over 60, who attended a good school, up to the time the barbarians took over secondary schools, can fail to remember the advice to young men, and presumably young women as well, by Kipling? It is the sort of admonition which should be inscribed in the heart of everyone.
Perhaps, if it is, we would not have lynch mobs who kill and maim without asking for evidence first. And lynch mobs don't have to carry jerry cans of petrol or clubs; some of the worst now carry laptops, blackberries, and are called COLUMNISTS.
"When all think alike; no one thinks very much", Walter Lippmann, 1889-1974. (VANGUARD BOOK OF QUOTATIONS p245).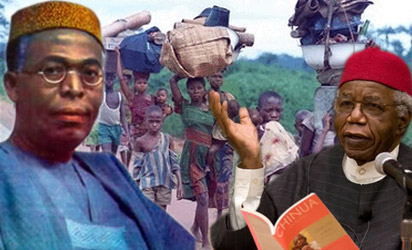 There was no doubt in my mind what was going to happen once the excerpts were released. So, I deliberately paid more attention to two national newspapers, SUN and NATION. The two papers served as the weather vanes for Igbo and Yoruba currents of thought on this matter.
I deliberately left out the TRIBUNE  because its own position is understandable. Even before the first articles were published, I knew that ALL Yoruba columnists would condemn the book and excoriate the writer; ALL Igbo writers would commend him for speaking the "truth". I was 100 per cent correct.
All sorts of "facts" and fiction were employed on both sides to score cheap points. Even the letters to editors and replies to columns followed the same pattern. It was totally depressing. Here are "the brightest and the best" from both ethnic groups parading prejudice and fanning the embers of latent mutual hatred – all in defence of two individuals; one dead, the other at death's door,  without a thought to what they are doing to the living and the unborn. It is simply incredible.
Unfortunately, among the first casualties of this season of journalistic lynch mobs are the journalists themselves. In virtually every leading print media house – DAILY TRUST, GUARDIAN, LEADERSHIP, NATION, PUNCH, SUN, THISDAY, TRIBUNE and VANGUARD (Note the alphabetical order; it is deliberate.
Nobody should read bias even into the order) – Igbo and Yoruba columnists/journalists are almost evenly divided. Friendships have arisen out of these associations, joint ventures have taken place and even inter-ethnic marriages have occurred (one of our daughters is married to a journalist from  Enugu State).
Suddenly, a permanent schism threatens the working relationships in the news rooms nationwide. The first battle grounds for this senseless (no other word for it) "war" are the news room and the editorial board meetings. If care is not taken several newspapers will be destroyed by this conflict. For once, we have an event of great importance about which no paper should write an editorial other than an appeal for peace.
Permit me to end, at least for now, with a personal experience. I went to Vanguard on Tuesday October 16, 2012, to invite Uncle Sam to a book launch and to discuss the NATIONAL FLOOD MENACE. While waiting for the Publisher of the paper at the Canal Bar, one of my Igbo colleagues came in. Hitherto, we greeted each other warmly and even shared a few jokes. As usual, I started with a joke to which no reply was given.
Then, I said "Good afternoon"; to which there was no reply. He had a copy of the day's Vanguard, which I took and wanted to read. He asked me to bring it because he has not finished reading it.  Obviously, he assumed he knew my position on this issue. I went to the toilet and cried for Nigeria. How on earth do we build a strong nation out of this sort of thing?
ONDO GOVERNOR'S ELECTION: BEFORE THE BLOOD-LETTING STARTS
"Politics is a thoroughly foul, rotten world, we get nowhere through politics. It debases everything". Henry Miller. (VANGUARD BOOK OF QUOTATIONS p 192).
Yesterday, an "election" took place in Ondo State; if what preceded it can be called election campaigns. The three leading candidates, Akeredolu (ACN), Mimiko (LP) and Oke (PDP) would be regarded as solid citizens in any country in the world – including Nigeria.
To my mind any of them can lead Ondo State. But, such is the nature of politics in Nigeria that voicing a preference for one or the other two subjects the individual to personal attack. On two occasions, after listening to supporters of the candidates and the candidates themselves, I came away with the impression that Nigerian politics invariably destroys those relationships which should have been forged for progress to take place. Not only that, violence follows.
Mark my words, irrespective of who wins, peace will not be restored in Ondo for years to come. The blood-letting is just starting. Unfortunately, we have run out of the Yoruba Elders who could mediate the conflicts that will surely follow. Almost anybody worthy of the title Elder had taken sides openly and Yoruba politicians and their echo chambers in the media, never forgive or forget. Pity.
CORRECTIONS
*Dr On Bicycle. Last week there were two errors in the details of Chief Olufemi Daramola, KJW. The correct details are as follows. Sir (High Chief) Olufemi  A. Daramola, (KJW). Alage (Okoba Igi II), Ilawe, Omou Ekiti, Ekiti State.
* Dr Victor Hammond: He was the Managing Partner NOT Managing Director of Akintola Williams as written.
My sincere apologies to the two Elder Persons; they know that I hold them in the highest esteem always.
OCTOBER 1; OLDER PERSONS DAY
We still need your help to pay Glover Hall for the use of the Hall on October 1, Any amount will be appreciated. Next year will be better.
JUDICIAL "MURDERS" AND NIGERIAN POLITICS – 4
One Election Tribunal justice has dismissed virtually all cases before him on technicalities. For how long must justice be hostage to technicalities. This series continues next week.