By Onochie Anibeze reporting from London
It may be our day of glory," was the simple way Technical Director of Athletics Federation of Nigeria, Navy Captain Omatseye Nesiama described today.
Blessing Okagbare  last night failed to qualify in the Long Jump event as she jumped 6. 34m.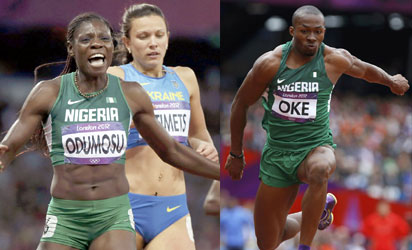 Before then two other Nigerians qualified for the final of their events today. Nigeria has never had it so good in these London Games.
Ajoke Odumosu had pushed in the race of her life to set a national record in the Women's 400m Hurdles event. She finished first in her semi-final heat with a time of 54.40 secs and
yelled "I'm feeling good. This is great."
On getting to the finish line Ajoke screamed, celebrating her feat."I'll give it the shot of my life," she said of the final today.
Tosin Oke jumped 16.83 to place 9th in the Triple Jump. 12 jumpers are in the final.
The jumpers did not generally have a good day here. Christian Taylor of USA won the World Championship with a 17.96 jump.
"I think it will be our day of glory," Nesiama said, referring to the way Ajoke powered home to win her event. She is now enjoying rave previews but the Nigerian camp is being careful in order not to mount pressure on her.
Blessing Okagbare ran the 100m final carrying the weight of 160 million Nigerians. She cracked. And out of the blues(in terms of global standard) came Ajoke Odumosu who has shown great prospect of winning a medal here.
"I think Ajoke is up for a medal," said Mark Ouma, a reknowned athletics writer from Kenya