By APOLLOS IBEABUCHI OZIOGU
AUGUST 2012 marks nine decades of the museum movement in Nigeria which started in 1922, with Esie museum, being the first to be established in 1945 by the colonists.
Museum is described as an institution, building or room for storing, preserving and exhibiting artistic, cultural, historical or scientific objects. The term, Museum is derived from the Greek word "museion:  which means abode of muses. Muses were the daughters of Zeus, the kind of the Olympian deities.
Since they were very good at singing and dancing, they helped men to forget their cares and concerns of life's challenges or their sorrows and anxiety through these activities. Hence, "museion" came to be associated with a place where man's mind found rest and aloofness from day-to-day affairs of life.
Muses were also credited with a great deal of imagination, inspiration and infinite memory. They were spirits that are thought to inspire poets or other artists. Thus, apart from being a place where man's mind found rest and aloofness, "Museion" also was associated with learning of encyclopaedic character .
Owing to the encyclopaedic nature of this institution, the early museums tried to hoard virtually everything that contributed to knowledge and learning. For example, the Museum at Alexandria contained statues of thinkers, votive donations, astronomical and surgical instruments, elephant tusks as well as rare animals among others.
Museum has indeed  been a research institution or centre of learning right from time extending back beyond memory or record. It could be recollected that Karl Marx, a revolutionary leader, social philosopher and political economist in London after 1850, who became the founder of modern socialism, used the British Museum and Library to write his famous Des- Capital which shook the world to its foundation.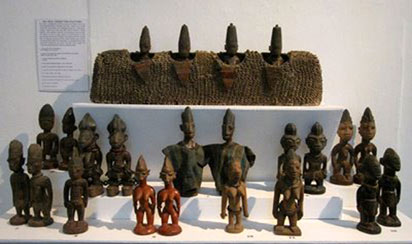 The Museum movement in Nigeria started in the 20th century or to be laconic,  in August  1922 but the earliest reference to Museums in Secretariat files was made in 1929 when a file, NO 23004, entitled "National Museums and Galleries" was opened with a circular from the Colonial Office, asking for information about museums in the colonies.
The same file contained a request made in 1932 for information about museums for the Museum Association. Consequently in 1934, a Directory of Museums in British Africa was published in which a brief description of the Mines Department Museum at Jos was made.
Another file, NO 31346, entitled "Nigerian Museum" included a suggestion made in 1936 for a museum of local products. But such moves and associated ones concerning exhibitions such as the Wembley Exhibition in London and the Calabar Exhibition in 1927 did not produce any meaningful museum policy.
The idea of museum movement in Nigeria emanated from Mr. E.H. Duckworth, who is best described as an indefatigable champion of the need to preserve the Nigeria's works of art. He was a member of Education Department in Nigeria and held the position of Editor of the Nigeria Teacher (Now Nigeria Magazine).
He relentlessly worked towards the development of museum in Nigeria. He used the magazine as a medium or rather, a means of organizing his powerful crusade for museum movement in Nigeria. Indeed, the first article , entitled "A Plea for Museums" published in No 1 of the Nigeria Teacher of 1933 was written by one of the staff of  Mr. E.H Duckworth in the Department of Education.
In 1937, Late Kenneth C. Murray, an arts teacher in various Government schools of the country, held an Exhibition of works of the arts students in London which opened a campaign for Nigerian Museum. By this way, he re-introduced "plea for museums" into the notes for the opening speech by the Secretary of the State for the colonies. Thus, an intensified campaign began with article in Nigeria Teacher, Nigerian Field and the Journal of the Royal African Society.
The first step taken towards the fulfillment of the robust but laudable idea was the inauguration of the Nigerian Antiquities Service on July 28, 1943 at the Government House, Lagos. Sir Alexander Granthan, being the Officer administering the government at that time, invited Kenneth Murray who has already been  making private collection of antiquities, and appointed him a surveyor of Nigerian Antiquities, and charged him to make recommendations on the practical steps to be taken to preserve the known antiquities, which he eventually did. He submitted a report in which he recommended the erection of museums at the three centres across the country, one being in Lagos. But because of the world war, action on these proposals were deferred.
In late 1945, a further step for mu
seum movement was taken when Mr. H.J. Brauntholtz of the British Museum visited West Africa on behalf of the Colonial Office to advise on the preservation of antiquities.
Tremendous impact
His report had a tremendous impact on the museum movement. Again, the museum movement was re-enforced by the important discovery of brass-head in Ife, and by Mr. E.H. Duckworth's pressure for a museum at Ife, which led to a successful application by the Government for a grant of £1000 from the Carnagie Foundation. The Nigerian Antiquities Service, inaugurated in 1943 later metamorphosed into the Federal Department of Antiquities under the Federal Ministry of Education. As the crusade for Museum movement grew an geometrical progression, museums were established in  some zonal cities of  Nigerian
Besides the British Nationals who were the vanguard for Museum movement in Nigeria like K.C. Murray Bernard E.B. Fagg, E.H. Duckworth, H.J Brauntholtz, other crusaders for museum movement in Nigeria include top Nigerian politicians like late Alhaji Abubakar Tafawa Balewa and Chief Obafemi Awolowo etc. There were also traditional rulers like the Oni of Ife, Oba of Benin, Obi of Onitsha, Akarigbo of Ijebu-Remo , Akenizua of Benin, Akaran of Lagos, Alafin of Oyo, Olowo of Owo, Obong of Calabar, Sultan of Sokoto, Atta of Igala, Shehu of Borno, Tur of Tiv and Lamido of Adamawa  and others.
Subscribe for latest Videos