BY HENRY UMORU
ABUJA—ELDER statesman and prominent Ijaw leader, Chief Edwin Kiagbodo Clark, yesterday, stoked his campaign against Northern leaders over the activities of Boko Haram by asking security agencies to go after former Minister of Finance, Mallam Adamu Ciroma and former Governor of Kaduna State, Alhaji Lawal Kaita.
The former Federal Information commissioner, who challenged former President Ibrahim Babamasi Babangida to a joint public debate on national issues to ascertain who is actually senseless or senile, insisted that northern leaders must speak out on the activities of Boko Haram if they were not backing the group.
Reading a prepared text on behalf of Chief Edwin Clark at a Press briefing inAbujayesterday, Legal Adviser to the Ijaw leader, Kayode Ajulo, said that Ciroma and Kaita's comments before the massive killings could serve as substantial evidence against them.
The E.K Clark statement
The text read in part: "Chief Clark's challenge to the leaders of the North is predicated on the misguided statements of some of the Northern opinion leaders since the inception of this administration. For example, in October, 2010 during a build up to the last presidential election, Alhaji Lawal Kaita, a prominent Northern leader promised to makeNigeriaungovernable if the President did not come from the North.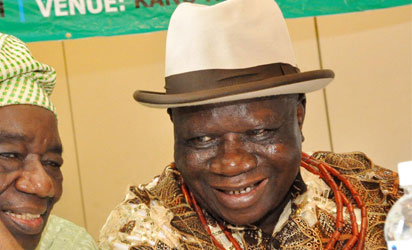 "And as if on cue from Lawal Kaita, several other leaders of Northern Political Leaders Forum, headed by Alhaji Adamu Ciroma, of which Gen. Babangida is a prominent member, followed suit with similar reckless comments which might not only threaten peace in Nigeria but also Nigeria's very existence.
"Recently in March this year, Lawal Kaita issued another threat to the effect that the only condition forNigeriato be one is for the presidency to come to the North in 2015."
According to Clark, northern leaders must show genuine commitment, be proactive and speak out now towards addressing the challenges posed by the Boko Haram insurgency against the backdrop that precious lives of Nigerians were being wasted daily across the country in Borno, Yobe, Sokoto, Kano, Katsina, Kogi, Abuja and Bauchi among others.
On General Babangida's reaction to his public lecture last Wednesday, particularly where it was alleged that senses had since departed him,Clarksaid that the public debate or discourse with Babangida must be free of interference and prompting from aides.
He added: "Let it also be noted, for the record, that Chief Clark delivered a one hour, 20 minutes lecture very coherently and articulately without having to refer to a written text. Nigerians stand a better position to judge as to who is senseless or senile as suggested by Gen. Babangida who can only make public utterances through texts prepared by aides and speech writers."
Insisting that the former military president was side-stepping comments on Boko Haram,Clarkurged Nigerians to ask why he had been silent for so long on the issue.
How it all started
The exchange of brick-bats between Clark and Babangida started last week Wednesday when Clark at theSecondStateof the Federation Lecture organised by the Nigerian Institute of Advanced Legal Studies, NIALS inAbujaclaimed that some northern leaders were not speaking out against increasing spate of violence in the country.
He had specifically challenged Babangida and former Head of State, General Muhammadu Buhari to condemn the activities of the Boko Haram group that have claimed responsibility for the insurgency campaign in many parts of the country.
But replying the elder statesman on Sunday through his spokesman, Prince Kassim Afegbua, Babangida slammed Clark for not recognizing the historic role he played in unifying the country, just as he warned Clark not to crucify him, adding that with his age, what should be the cardinal posture of Chief Clark was to proffer solutions to the problem of insecurity in the country.
According to Babangida, "we view this misguided and senseless statement in very bad taste and we take very strong exceptions to his drooling and implied conclusion."
Countering yesterday, the elder statesman, who described Babangida's statement as total insult and total misconceptions, said, "the statements showed nothing but insulting miscomprehension and misconception of Chief E. K. Clark's innocuous expressed opinions and the challenge thrown down to the leaders of the North on the need to resolve the Boko Haram menace.
"Ordinarily, Gen. Babangida should have joined many other Nigerians who applauded Chief E. K. Clark for crying out over the wanton loss of lives being experienced daily over the senseless killings ofNigeria's women and children, Christians and Muslims alike.
"Chief E. K. Clark is committed to the unity ofNigeriaand peace within its borders. This was aptly demonstrated when some youths in the Niger Delta took arms against the Federal Government of Nigeria, resulting in the near total shut down of oil production; crude oil production which normally stood at 2.5 million barrels per day was reduced to 700, 000 barrels daily. Chief Clark led a delegation of Niger Delta leaders into the creeks to appeal to the youths to lay down arms and embrace peace.
How Clark ended militancy in Niger Delta
"Chief E. K. Clark also went to the creeks with the then Vice President, now President Goodluck Ebele Jonathan, particularly to Okerenkoko and Camp 5 (which was the headquarters of the militants), thereby laying the foundation for late President Yar Adua's amnesty programme.
"Therefore, amnesty did not come on a platter of gold, but through the genuine determination of the leaders of the Niger Delta, led by Chief E. K. Clark. Today, crude oil production inNigeriahas risen to about 2.7 million barrels per day.
"It is therefore imperative, irrespective of the name calling, to restate what was said at the NIALS lecture on the state of Nigerian Federation that "Gen. Babangida and other Northern leaders must speak out, be proactive as well as demonstrate genuine commitment to address the challenges posed by the Boko Haram." This is more so as precious lives of Nigerians are being wasted daily across the country in Borno, Yobe, Sokoto,Kano,Kaduna, Kogi,Abuja, Bauchi, etc.
"Chief (Clark) is surprised that Gen. Babangida would belatedly suggest that President Goodluck Ebele Jonathan should use Moslem clerics, when he, by his experience, and position is fully abreast of what to do in the circumstances of Nigeria bearing in mind his exalted membership of the Council of State and his former position as President and Commander-in-Chief of Armed Forces of Nigeria. After all, Gen. Olusegun Obasanjo, a former President like Gen. Babangida not only spoke out strongly on this issue but went toMaiduguriin the aim of securing peace for the country.
"The attempt to label Chief Clark as an ethnic jingoist has no basis whatsoever as he has always believed and maintained that no ethnic group should be a second class citizen in Nigeria and that no Nigerian life whether from the North or South, East or West should be wasted.
"Taking regard of his age and stature, Chief Clark wants to state that he fully forgives Gen. Babangida whom he regards as a younger friend for the unfortunate statement attributed to him. If anything, Chief Clark holds the view that the thoughts and energy exerted by Gen. Babangida against him should urgently be redirected towards finding a lasting solution to the Boko Haram menace in the North.
A call for dialogue
"It should be restated that Chef Clark has severally emphasized the need for dialogue with Boko Haram and other aggrieved groups with a view to resolvingNigeria's current security challenges.
"It is in this vein that Chief Clark speaks to his good friends in the North, including General Babangida once again, irrespective of Gen. Babangida's threat of litigation, that they should openly condemn Boko Haram and join hands with the Government and good people ofNigeriatowards finding a lasting solution to the challenge posed by the Boko Haram menace. Any laxity on their part would, either wittingly and unwittingly, potentially put them out as accessories to the present security scourge in the Northern part ofNigeria.
''If this simple advice above is urgently heeded, it will save Gen. Babangida the need to wear uniform once again at the age of 71 to fight for the unity of Nigeria."