By Douglas Anele
The caption of our discussion today is cloned from Walter Rodney's How Europe Underdeveloped Africa, but its major thrust is not the recurrent problem of underdevelopment in Nigeria.
Indeed two recent incidents motivated me to write this essay, because although at first sight they might seem trivial or insignificant when compared to the critical issue of underdevelopment, the underlying themes of civility, humaneness and duty of care embedded in them call for rigorous interrogation.
The first one took place at First Registrars, Iganmu, Lagos, whereas the second happened at the Faculty of Arts, University of Lagos. But before I discuss them, Ishould make it clear that by far the most atrocious oppressors of Nigerians are members of the business and ruling elite, both military and civilian.
Nothing emblematises this ugly situation better than the brusque response of President Goodluck Jonathan to the issue of declaring his assets publicly and the kid-glove manner the police, anti-corruption agencies and judiciary handle elephantine corruption cases against "big men and thick madams."
Therefore, the best concrete evidence of the oppressive character of our ruling class is deepening pauperisation of ordinary Nigerians in tandem with increasing Sybaritic lifestyles of top government officials and their cronies in business and finance.
These large-scale oppressors are well known to Nigerians. Unfortunately the people do not have enough courage, moral indignation and revolutionary spirit to, in the words ofthe German philosopher, G.W.F. Hegel, "negate the negation."
The critical point here is that Nigerians are in existential bondage and they seem powerless to do anything about it, apart from endless armchair complaints and prayers to an impotent God who seems to enjoy the theatre of the absurd playing out in the country. But then, aside from oppressors "from the top," ordinary Nigerians also oppress one another with impunity.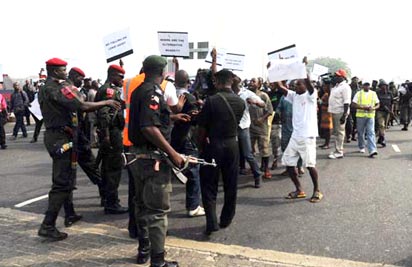 The unsavoury incident at First Registrars which I mentioned a moment ago is a case in point. Such incidents make one wonder whether Nigerians working for big corporate organisations really understand the meaning of civilised behaviour in a globalising world. It happened like this: Last month I had three expired dividend warrants from Sterling Registrars, Africa Prudential Registrars Plcand First Registrars. I asked a doctorate student in my department to help me revalidate the documents.
A few days later he called me and said that he had successfully revalidated the first two and that he was having problems with the one from First Registrars, because the lady he met there refused to process the document despite my letter of authorisation. I asked him to give herthe phone so that we can discuss. A few seconds later he replied that the "thick madam" does not want to speak with me. I was surprised and disappointed that a supposedly reasonable employee who should be considerate to customers would behave that way.
Anyway, on June 19 I went to First Registrars myself, with my drivers' license, international passport and statement of account for proper identification. On getting to the large office for revalidation, I was allotted booth 326. After about half an hour my number was announced and I went to meet a bespectacled lady who I suspected might be thesame person that refused to speak with me some days ago.
I gave her my dividend warrant of N8, 605.44; she looked at it brieflyand nonchalantly gave it to a male colleague on her left. The fellow took a signature confirmation form, wrote briefly on it and condescendingly handed the paper and my dividend warrant back to me.
He then told me to come again after my banker had confirmed my signature on the form. I was crestfallen; I just could not understand why I have to come back again since I have the necessary documentsto prove thatthe dividend warrant was truly mine.
In any case what point was First Registrars trying to make, I wondered, when two other registrars had even revalidated my dividend warrants through proxy – was it that the company suspects I might defraud the firm of a paltry N8, 605.44? My dejection turned to anger when the bespectacled lady ordered me to leave my seat so that that she could attend to another customer.
I bluntly told her that I was going nowhere, that I was very unhappy with the way my matter was being handled. She angrily repeated her "order" as if my complaint meant nothing to her, as if I was a nuisance. Instinctively, I wanted to tear the dividend warrant in her presence, but I managed to control myself at the last second.
To be candid, I could not see why I should abandon my work and go through the stress of chaotic Lagos traffic for the second time, in addition to the insult I had received already, just because of N8, 605:44. I demanded to see a superior officer to lodge my complaint.
Luckily, another female staff who graduated from UNILAG invited me over: after a brief explanation she asked the man who gave me signature confirmation form earlier to revalidate my dividend warrant"on personal recognition."When the process was completed I thanked her and left. My first thought as I drove off was that,if I had an account with First Bank I would close it immediately I get back to the office.
Honestly the uncivilised attitude usually exhibited by employees of big companies towards the average Nigerian is deplorable. Probably, the imposing office building, intimidating interior decoration and expensive clothes and cars give them an over-inflated feeling of self-importance and power, which is a psychological foundation of the illusion of grandeur. For example, the irascible lady in First Registrars thinks that working in a big financial institution has transformed her into a tin-god such that she could treat an "ordinary customer" like me anyhow.  TO BE CONCLUDED.