By Charles Kumolu
SHE comes across as a fearless and courageous person. And indeed she is. Whoever encounters her must definitely be
amazed by the manner she conducts her daily affairs with the dexterity of someone in his 30s or 40s. But that is Chief Ritalori-Ogbebor, the Igba of Warri Kingdom and a woman who got the Ritalori story started. While this revealing chat with Sunday Vanguard lasted, her intelligence radiated from the way she responded to questions.
Though Ritalori-Ogbebor is a household name in Nigeria, following her various philanthropic activities, business tentacles and particularly her persistent calls for a better life for the citizenry, this piece presents Ritalori the journalist, hotelier and activist in a manner that has never been seen.
From your background, we discovered that you were trained as a journalist in England and rose to become the first Director of Programmes at the then Nigerian Television Service ,NTS. Today you have built the Ritalori brand which includes world class hotels, shipping companies, oil companies, commercial farming, among others. How did you get the Ritalori story started?
To talk about my present, you must go back to my past because where I am coming from is very essential. What pleased me when I was growing up was that I had disciplined parents, who were so concerned about integrity. I was born with integrity. And the tribe from which I come from also has integrity. My great grand mother was a princess. So that tells you that I have a royal background. But the first thing that makes me proud is that I am an Itsekiri woman. And when you come from a tribe that people respect for integrity, then you are expected to be a disciplined person.
When you also have parents with integrity, you will have no choice than to live an exemplary life. So, this is my beginning. My immediate father and mother were instrumental to who I am and what I am today. I am very proud of them.  That is why in everything I do, I pray hard I do it diligently like them. I do so to ensure that I preserve their good names. And if I can not preserve their legacy, then I step aside. It is for that reason that I have been working hard all my life to keep that priceless name going for generations yet unborn, so that they can have a role model and carry on with their lives.
So, this is where I am coming from and this is what motivates me everyday especially when I am down. For example, I learnt something from my grand mother. She was a composer and composed all her life experiences into songs. She had catalogue of songs, which she sang whenever she was happy and when she was down. This is what has been guarding me.
You schooled in England at a time schooling abroad was a rare privilege. Did you school in the UK because you had a rich background and what were your memorable experiences while there?
No.There was no money, because I was not left with wealth that made me school abroad. But I met the palace of my great grand mother, who lived over two hundred and fifty years ago. My grand father also lived two hundred years ago. But these people left behind integrity that opened doors for me.
If you go to Warri today and ask of Ritalori, immediately people will remember that I am the daughter of Princess Igba because she founded a town.  And that town is still existing, because my grand father lived to look after the town. And  today, we are still looking after the town. We are proud that my great grand mother protected foreigners, indigenes and slaves in that town.(I am sorry to talk about slave).
Now that I am what I am, I am following her footsteps. So, it is not the money, but integrity and I inherited that. A man must live with integrity, your yes must be yes and your no must be no. And you should always pray to God that under no circumstances, should you drop your integrity and honour. I want to dispel that idea that my parents had money, hence I was sent to school in England. In those days before and after independence, young girls were going to study Secretarial courses and I happened to be lucky to have a scholarship.
So, I went to England on scholarship. And getting there I saw many avenues, which I utilised to prepare myself for the task ahead. I was just studying from one school to the other. I did journalism and script writing. After my secretarial course, I got a job with the Nigerian Television Service in England.  I did not stop there, I kept doing everything that was interesting. I was not born a poor person, I was born with a rich soul. While in England, I got a job with ATV, which is Associated Television. Nigeria Television Service, NTS, was already established in Lagos here, it was from there that I got the job with NTS as a Programme Director. Ever since, I have been on the move.
Like I said, one of my greatest influence in life was my father, he was a perfectionist. Anytime we thought our father had achieved something, he would carry a straight face. You don't see him jubilating. And when he smiles, it would be like a million dollar smile. My father smiled only rarely.
When were those times?
He hardly tells you his mood. For instance, I have always done well during my school days, but my father has never said I was brilliant.  Also, when I was building the hotel, I did not tell him. I was already at the third or second floor when he knew about it. So, when he came, to Lagos, he did not show excitement, he took one good look at it with a straight face and asked me if my mother was aware that I was building the hotel.
He never said anything. He gives you a feeling you can do more. I have never seen my father drink or smoke. He was soft spoken. But his yes was yes and his no was his no. And whenever I was angry over anything, he would ask why I was being worried having said no. I love him more today, he taught me integrity and how to live by my words. He taught me all that I know today.
At what point did you leave journalism, because the Ritalori brand today, makes it appear as if you left journalism with bag loads of money and why did you take that decision to quit the job at that time?
I left journalism in 1966. I did not leave with money. I left with my integrity. I started a magazine called The Teenager. I was the editor, I was the reporter and the marketer. I had to quit publishing.
Are you saying that you failed as a publisher?
Yes, I failed in publishing because there was no money in it.  I did not relent, I went back to the UK and started working, with a family that was into shoe making. Before I came back to Nigeria, worked with them. Don't foget that, at that time, I was no longer a student. When I came back, Awolowo was the Minister of Finance. Then there was a ban on importation of bags and shoes. I had to put together a factory, which was producing shoes and bags. The company existed until after the civil war. Unfortunately, the ban was lifted and importers came into the business. And it eventually displaced we the local manufacturers.
A lot of shoe factories like Bata, Lennards and Ritalori stated dying. I was into garments production also. I had seven shops across the country.  You can see why I loved my great grandmother, because one difficulty opened new challenges. The same applies to my father, who never talked much, but his body language gave me the belief that I don't have any reason to buckle under any situation.
There must always be challenges in life. The UAC, Esquire had monopoly of importation of goods from their country, I was glad I challenged their monopoly. I started in my living room here, but, within little time, I had opened up places like Ajegunle, which was a place people feared to go. When I started production, I went to Esquire and asked them to give me contract to manufacture for them. Within a little time, I had opened stores at Ajegunle, Idumota, Surulere and other places.  But the ban that was lifted affected the business seriously, I had to quit the business. Again, I failed as a garment and shoe producer. This time, it was a matter of survival, I now asked myself, what next. After that I went into hotel and hospitality business.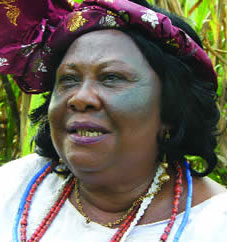 What motivates you in life?
My soul has always been searching for good things, it is the good things that my soul is searching for that is my driving force. I hate poverty and it is the fear of poverty that is driving me to work hard, because I have never experienced poverty. And I can't imagine myself being poor. I hate to see people who are cheated, who can not feed and have to go about begging for food. This is why I have created farms for the then jobless youths of Warri and its environs. Today, they are gainfully employed in the farms.
Today, I have brought those boys out from Warri. We are aiming to transplant on 50 acres and, very soon, we'll start crushing for sugar.  About 3,500 suckers were planted and each sucker has brought forth additional four. Now, the farm boasts of more than 14, 500 suckers to plant. The aim is to provide food sufficiency in Delta and beyond. The youths welfare is very important to the expansion of these farms. This is why I leave the comfort of my homes in Lagos and Abuja to spend time with them.
Are you saying that you abandoned the comfort of the city, purposely for farming in your rural community for the benefit of youths? Can we know what prompted you into commercial farming at this stage?
People see me as a role model and I have strived to remain so. At the moment, I am more concerned with the socio-economic development of my people. So, I have taken the development of my people as a project in totality. At a point in my life, I discovered that after all my achievements, there was still something missing. I felt there was something I had not done. It is for this reason that I found myself going back to Warri.
This decision to go back to my root, Ajigba, was informed by the urge to bequeath a lasting legacy to my people. Ajigba is a village in Warri South local Government Area. Having made up my mind to recreate the place, I decided that it would be a good community that would once more create wealth for people, especially Warri youths, who were jobless. I was not happy seeing Warri youths wallowing in poverty.  This is why I decided to create a farming village in Ajigba. It is not an ordinary farm, it is mechanised farm covering a huge expanse of land.
The idea is not just to produce for subsistence need, it is mainly to create wealth for the youths. We  produce and process raw materials. Already the National Sugar Council has commended our sugar cane plantation. We are into piggery, all forms of mechanised farming. All that I am now hoping for in life is the best, because this project that I have undertaken is a product of vision. And this vision has transformed to good value to Warri people and humanity.
The next five years
In the next five years, Delta State would be one of the major suppliers of rice in this country, courtesy of Ajigba farms. Nigeria would depend on Odogene farms for its wealth. The swamps of that locality would also be transformed to a fully functional town. I have always been a wealth creator. I have been creating jobs. I conceived and built my hotels without anybody helping me. And you should know that building hotels of that magnitude is no joke. And I have been sustaining them.
When your name is mentioned many people describe you as a politician, yet you always maintain  you are not one. Why always refusing this toga of politician?  Have you at any point in your life had an ugly experience that informed your decision of not wanting to be identified as one?
I am still saying it that I am not a politician and have never been. What I do is to speak and act to contribute my quota to the socio-economic upliftment of this nation, because that is the only country we have. With my position, I am directly responsible for the daily lives of a lot of people, so it would not be out of context if I always talk for there to be better life for Nigerians. Perhaps that is why people think I am a politician. I have never accepted political appointments in my life, because I am constantly creating new things which require time and honour to become realistic.
Looking at this your journey through life, can we know, if there was anything, event or people, that left an indelible mark on you. It could be positive or negative, can you share such experience with us?
(Long pause) What I don't like is injustice, because it makes me angry. So instead of being excited, I get angry when things are not done well. I feel pains when I see people who oppress other people being celebrated. And it is evident in today's Nigeria. Each time I see what is going on in Nigeria today, I get sad. Today, I have gone back home to Ajigba, which is the cradle of my life. I have gone back to put up a community, which would be taken care of the way I want this country to be governed. Today, I am the Igba of Warri, which no one had been honoured with since my great grand mother and I am proud of that.
Subscribe for latest Videos