By Emeka Aginam
…Raids Lagos firm, carts away programmes in use
While software piracy remains unabated despite legislation and awareness creation by regulatory authority and relevant agencies, the Nigerian Copyright Commission, (NCC) has warned that henceforth, it is going to be zero tolerance on software pirates, even as it raided the offices of a top, Lagos-based firm of estate managers and valuers (names withheld) on  grounds of software piracy infringement.
82% software piracy rate
It would be recalled that as at 2011, software piracy rates in Nigeria stood at 82% with attendant opportunities for small business in the region of $250 million lost. As a result of this, local Nigerian businesses have had difficulty competing with counterfeiters that have priced their goods at below-market levels and are then forced to cut jobs.
However, the Nigerian Copyright Commission has reaffirmed that it may not be business as usual for software pirates as it is committed to fight the ugly trend to the last with a fresh strategy. The usual clamp downs have been on channel distributors but NCC was trying to take piracy fight to the end-users as well.
NCC raids estate firm
Last week, officials from NCC raided the head office premises of a top, Lagos-based firm of estate managers and valuers in Victoria Island, Lagos. The raid, which followed a tip off and undercover surveillance by the NCC, resulted in the seizure of suspected counterfeit Microsoft software. The commission in tandem with Nigerian Police had swooped into the company at about 2:30pm and carted away some suspected pirated software products.
Although there was initial resistance by officials of the company over claims that NCC had no right to carry out such raid without duly informing them, the Commission however succeeded in making their way into the company's systems.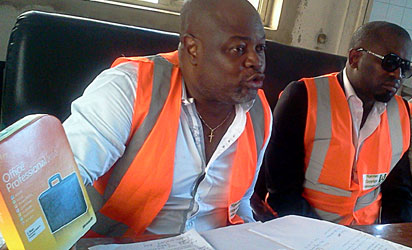 Fake software seized
After series of checks, NCC with their technical staff went into action and discovered that most of the software are fake, including Microsoft Operating Systems Windows XP and Vista, Microsoft Office 2007 and Microsoft Office 2010. Further, the firm's officials could also not provide the client access license for its Microsoft Windows 2003. Some of the suspected physical items taken away from the premises included a media for Microsoft Office 2010, keys for Microsoft Windows XP, Microsoft Vista and Microsoft Windows 7.
All these items have been sent to Microsoft Ireland office for confirmation and an investigation into the matter is currently ongoing. Speaking to IT Journalists shortly after the raid, Mr. A.A Amodu, Acting Head of Enforcement of at the Copyright Commission in Lagos said that nearly all the firm's software were pirated.
"We have checked their activities and noticed that most of them are not licensed. We have sent the digital numbers of the systems to Dublin for checks. We have seized some of them as evidence. End users are warned. We want to warn again that NCC will not tolerate this kind of piracy. A lot of people do it because pirated software is cheap. This enforcement action helps in getting consumers understand the risk they are exposed to when they engage in the illegality of purchasing counterfeit software or mis-licensing software as a whole. It also helps protect genuine businesses whose true purpose is to add value to the customer."
Fake software harms our economy
"We warn people that use fake software. It is a continuous process. We are taking activities to other companies. Piracy harms the economy. We cannot continue like this. We are bent on fighting software pirates. We will not relent in our action. Piracy harms economy of Nigeria and other economies. End users are warned. Companies who engage in piracy are also warned," he said. As a press time, every attempt to speak to officials of the estate firm for reactions failed as non of their staffs were willing to talk to the newsmen.
Counterfeit software is a canker-worm
Speaking further, Amodu, Deputy Director of Enforcement at NCC added: "Counterfeit software is a cankerworm that is eating through the fabric of societies all over the world. Their prevalence has a lot to do with the sophisticated and organized syndicate of pirates but also can be traced to the demand for them.
"Consumers of pirated software must also realize that they will be punished for contravening the law and putting people's livelihoods as well as the economy of the country as a whole at risk. "To win this fight against copyright infringements, it must be a joint effort of regulators as well as consumers."
Reacting to the new development, the Anti-Piracy Manager for Microsoft Anglophone West Africa Mrs Ugochi Agoreyo while frowning at the ugly trend warned that, "End users should be careful when purchasing software on the promises made as the promises made saying that there is no difference between the genuine and counterfeit are not true.
Buying cheap can be costly
"Consumers looking for a bargain should know that the price you could pay in data loss or identity theft by using counterfeit software that is vulnerable to computer viruses, malware and hackers far outweighs the gains you have made from the difference in pricing. Many times, it's just not worth the losses."
Software piracy in organizations is often difficult to trace as the end users already have the software loaded on their systems, however, there is technology that makes this possible and regulatory and enforcement authorities now rely on that to broaden their reach to the demand market. Counterfeit software also includes fake hologram CDs and fake Certificate of Authenticity labels that look like the real thing and which are sold as complete software packages.
Subscribe for latest Videos