By Ogbonna Amadi, Entertainment Editor
Seun Kuti, son of  legendary Afro-beat musician, Fela Anikulapo Kuti in this interview raised an alarm over the dying state of the music that gave fame to his late father Fela saying "if nothing is done to change the trend, we may lose that genre of music to foreigners".
Excerpt;
Seun Kuti
Well its too late to stop the art from being stolen away because it has been stolen already. Afro beat can no longer be termed a Nigerian phenomenon anymore although it was made in Nigeria. But together, we can catch up with what the kids in Europe and America are doing with Afro-beat music as well.
Why is that so?
That is because it has now become a global thing. There are now wonderful bands that play Afro-beat and most do not come from Nigeria.
Have you had an encounter with any of such bands?
Loads of them I'd say. But what really opened my eyes was playing with a band owned by a 16 year old male in Holland called 'Jungle by Night'. It was really fascinating, the level at which they were familiar with the music. I doubt if we have teenagers aged sixteen in Nigeria who can do same. Not necessarily Afro-beat  music but any other good music.
But the major ingredient in Afro-beat is not just playing the instrument but also the ability to sing. Were they also good singers?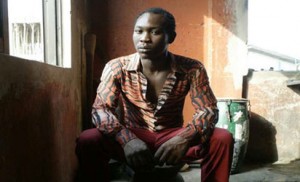 They don't do lyrics in their music yet but I think the major part of Afro-beat is not just the singing but the music because that is what differentiates it from any other kind of music. It is the mode that makes it its own genre and it takes professional musicians to understand that. So to see people of that young age understanding Afro-beat to that level is just wonderful and impressive showing that we in Nigeria have a lot of work to do in order to catch up.
But the essential ingredients like the native African drums and percussion are important. Did you also see that in their music?
Percussion is a musical instrument that people study in the University to be able to play. And if you think that the best 'Konga' players are from Africa, you are mistaken. The best players are from South America, Latin America and some of the other white countries that know their onions. When it comes to professional 'Konga' playing, believe me, Africa is not the best.
So you are facing stiff competition too.?
Of course, and a very serious one at that. You see, music is not sports. There are some good bands out there too.
You must be worried then that aside you and your brother, no one else is doing Afro beat…
Its not just about my brother and I being the only ones to do Afro music, I'm just sad about the level of music in Nigeria generally. We no longer breed musicians rather, they are more of entertainers and Nigeria is loosing the art of music in itself. Good musicians are hard to come by these days unlike in the 60's and 70's when you could disband today and create a new band tomorrow. Good musicians were readily available but today, the story is not the same.
Well everybody wants to get on the fast one…
Yes. But you cannot blame them because the industry does not allow for real growth. They grow in Europe and America because there are lots of grounds and public services that assist young musician to grow and play their music well. But we lack such activities and services in Nigeria and Africa at large. They believe that whatever you are doing has to pay immediately. So most people want to release their album on time and see if they can make some money.
There is this school of thought that says people run away from Afro-beat because it is expensive. How true is that?
That is exactly what I'm saying. To become a good musician, you need to learn your instruments. It is just as hard as becoming a scientist. You have to sit at home, study your music and practice a lot. Unlike science where a field is created with certain laws and one can grow within a specific field, in music, there are no rules.
People do not expect you to say because you play the sax, you would only play Afro-beat. You must be able to play your sax in a Rock band, Jazz band, everywhere. So it is a science that encompasses everything and so you have to continually expand your skill.
Are you aware that some concerned practitioners have come up with a reality show that will help discover new talents in Afro-beat?
Yes, I have heard about it. I believe that it's a step in the right direction. Nigeria is ripe for a show like that and it would go a long way. Sometimes we are used to copying too much and I feel its time to do something by us and for us.
I don't like to predict the future but what I can say is that; it is a step in the right direction towards developing music and quality musicians here in Nigeria and the entire Africa. The organizer of the reality show, Mavina Entertainment limited have my seal of approval.
Subscribe for latest Videos